Moroccan Style Balsamic Cornish Game Hens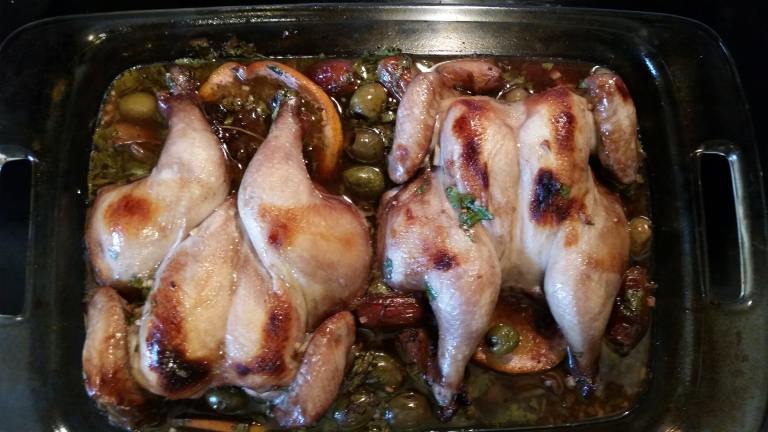 I've made this recipe often in the past, and while putting together my LJ recipe entry list (see http://www.julesong.com/cook/LJentry-recipes.htm ) I discovered it again! I adapted it to our tastes. It was one of our favorites, is perfect for romantic dinners, and it's absolutely delicious! Although it's easy to make, it takes a bit of time but is worth every minute. In my Sunday, February 10th, 2002 LJ entry, and her original was posted by KC at Gail's Recipe Swap. Thanks, KC! She said "I always add lots of extra olives and dates. They taste wonderful. I have even caught friends in the kitchen looking through the pan for more olives and dates."
Ready In:

1hr 40mins

Serves:

Units:
Nutrition Information
ingredients
1

large orange, thinly sliced

2

Cornish hens

6

tablespoons chopped fresh cilantro, divided

8

garlic cloves, finely chopped
1 1⁄2 teaspoons cumin, divided

1

cup tawny port

1

cup sherry wine
1⁄4 cup olive oil
1⁄4 cup balsamic vinegar (balsamic preferred) or 1/4 cup red wine vinegar (balsamic preferred)

2

tablespoons honey, to taste

20

whole pitted dates (or more to taste)

10

large green pitted olives (or more to taste)

salt & freshly ground black pepper, to taste

1

teaspoon butter, for sauce (optional)
directions
Rinse the game hens under running water. Pat dry and cut them in half lengthwise (kitchen scissors work fine).
Arrange orange slices in bottom of a 9x13" glass baking dish. Top with game hens.
Mix 4 tablespoons fresh cilantro, chopped garlic and 1 1/4 teaspoons cumin in bowl. Rub mixture all over hens. Wash your hands well with soap and hot water.
Whisk together port, sherry, oil, vinegar, and honey in small bowl. Taste it to see if the mixture is to your taste, then if it is, pour over hens. (There is quite a difference between the taste of balsamic vinegar – which is sweet – and red wine vinegar, so if you use wine vinegar you'll definitely want to taste the mixture and adjust the amount of honey to your preference before pouring it over the hens.).
Tuck dates and olives between hens and season with salt and pepper.
Cover and refrigerate at least 12 hours or overnight, turning hens once. (I've made this recipe beginning in the morning and marinated it 6-8 hrs during the day, too, and it was still delicious.).
Remove hens from refrigerator and place on counter, covered, for at least 30 minutes. (You don't want to put a chilled baking dish straight into a preheated oven.) Preheat oven to 375 degrees.
Turn the hens skin side up, then bake hens with marinade, dates and olives until hens are cooked through, basting occasionally, about 40 minutes.
Transfer hens, dates and olives to serving platter. Discard orange slices. Pour the pan juices into a heavy small saucepan.
Add remaining 1/4 teaspoon cumin and 1 tsp butter and simmer until reduced to about half, whisking frequently, about 5 minutes.
Season to taste with salt and freshly ground black pepper. Spoon some sauce over hens. Sprinkle with remaining 2 tablespoon chopped fresh cilantro.
Serve, passing remaining sauce separately in a gravy or sauce bowl.
Note: when I first made this recipe, I didn't have fresh cilantro on hand, and couldn't even find dried in our herb stash, which surprised me. Mike collects herbs and spices, and we have a huge collection in the pantry. (I call him Condiment Man.) I had a bunch of a nice Italian dried herb mix (basil, oregano, marjoram, thyme, rosemary, savory, sage), so used that instead. I know it's not really an equivalent to cilantro, but it smelled wonderful anyhow and it tasted great, too. I also add lots more green olives and dates, which the recipe reflects :)
Note #2: if you want/need to serve more than two people, you can use the above marinade for up to 6 hens, then you'll need to begin adding more ingredients.
Submit a Recipe Correction
RECIPE MADE WITH LOVE BY
"I've made this recipe often in the past, and while putting together my LJ recipe entry list (see http://www.julesong.com/cook/LJentry-recipes.htm ) I discovered it again! I adapted it to our tastes. It was one of our favorites, is perfect for romantic dinners, and it's absolutely delicious! Although it's easy to make, it takes a bit of time but is worth every minute. In my Sunday, February 10th, 2002 LJ entry, and her original was posted by KC at Gail's Recipe Swap. Thanks, KC! She said "I always add lots of extra olives and dates. They taste wonderful. I have even caught friends in the kitchen looking through the pan for more olives and dates.""