Mince and Tatties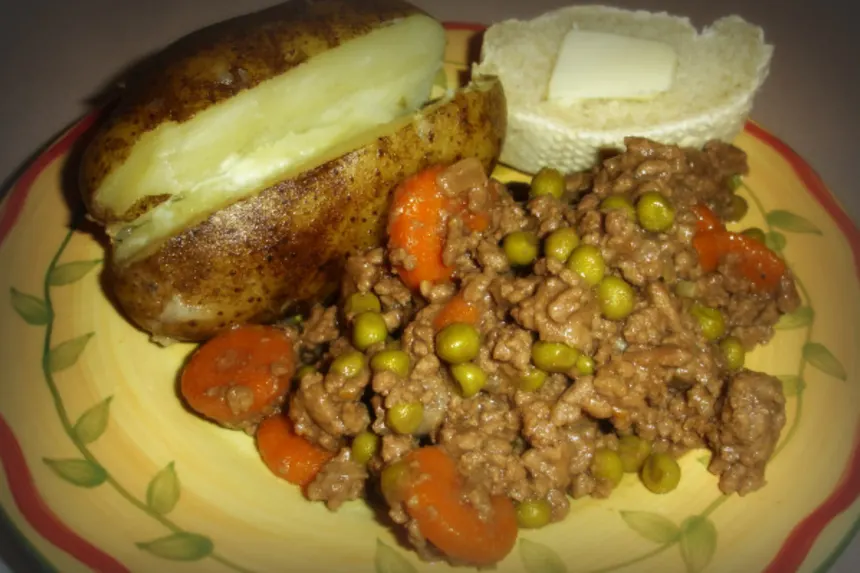 photo by truebrit

Ready In:

50mins

Ingredients:

10
directions
Heat the oil in a pan and sauté the onion until it is brown.
Add in the mince and cook until well browned.
Drain off the liquid.
Add the carrots and oatmeal, mix well and pour in enough water to just cover.
Crumble in the stock cubes, season and stir.
Cover the pan and simmer the mince for about 20 minutes.
Once the mince is cooked thicken the mince with about 3 teaspoons of gravy powder or cornstarch mixed with a little cold water.
Serve the mince with boiled potatoes.
Questions & Replies

Got a question?
Share it with the community!
Reviews
Jings, Crivvens, Help Ma'Boab!<br/><br/>Mince and Tatties with oats? Might be a North East coast thing as Aberdonians use oats a lot in recipes but not to my knowledge in Glasgow and the West of Scotland. having said that, every family has their own recipe of anything so I'm going to try it. My Mum made them plain and simple, onions lightly fried then turn the heat up full and sear the mince, best in a non stick pan. Searing the meat (say 125g at a time and breaking up with a fork) until it's showing edges properly brown, not just grey, releases certain chemicals that REALLY bring out the flavour of the meat (you should do this with any red meat, much tastier) then add some stock. Ideally chicken you have saved from the last chicken you cooked (we all save our stock don't we????) even better if it's beef stock but that's a real faff to prepare properly.<br/><br/>Searing any red meat before casseroling or boiling it (try it with lamb in a curry, you'll never do anything else) is vital and keeping the juices from the process even more so. Use plenty of oil, whack the heat up full and fry it stirring frequently. It's nothing to do with sealing flavour in and everything to do with releasing it.<br/><br/>Mum always added Bisto powder, NOT CRAPPY GRAVY GRANULES!!!!! which thickened it and added colour without the salt and chemicals in granuals. Cornstarch or cornflour as we know it in the UK is fine but might not help with colour, never tried it though. She served frozen garden peas on the side although depending on your preference I guess tinned peas would be OK.......not my choice though. Fresh peas are even better especially if you have grown them but they are a summer vegetable with a meal associated with winter, so peas are unlikely traditional fare, or probably more to the point, mince is not the peasant food it is claimed to be. I don't add Bisto or any thickening agent anymore, well, almost never :).<br/><br/>To encourage her children to eat more vegetables, and to hide them, my mother in law used to finely grate a couple of big carrots into the mince, it adds incredible sweetness, you really don't need salt because of it. I'm now a convert as I never liked mushy carrot slices ruining a perfectly fine dish. Pepper was also an exotic spice not so many years ago but freshly ground pepper at the table is too good an addition to pass up, besides I think it's Indians who maintain it's very good for the stomach.<br/><br/>To finish there is nothing like the cheapest potatoes you can get, boiled until they are floury and soft, drained then mashed with a big lump of butter, boil them well or you will get little crunchy bits that ruin mash. And did you know that potatoes are the vegetable least likely to cause allergic reaction? Make sure it's all piping hot (great meal to heat on the plate in the microwave if someone's late) and serve with the peas.<br/><br/>My opinion is that this started as a middle class dish in the UK after the war. Meat of any description was expensive and a plate with simple vegetables once a week was a real treat. It would probably have been served originally with seasonal vegetables but the 60's and 70's middle class discovered frozen peas and that was that, a seasonal vegetable all year round that added exotic colour to an expensive but simple dish.<br/><br/>Someone commented on having it with turnips and parsnips, not sure if they were mixed in but I believe the mince should be the highlight and not mixed with anything more than the grated carrots (and necessary onions) if anything. Nothing better than with mashed neeps on the side though! (turnips in Scotland, swedes in England) and neeps go especially well with pepper as well.

 

Tonight was my second go around with this dish, having added entirely too much water the first time and turned it into soup rather than the gravy consistency it's supposed to have. So, this time I was cautious and added water to not-quite-cover. Also, having received complaints that the carrots seemed out of place the last time, I used my potato peeler to slice them ultra-thin. That allowed the carrots to blend in more with the meat and onions, and it went over very well this time - everyone thought it was delicious, including yours truly.

 

Love mince and tatties. I'm 69 and my mother showed me how to make it while I stood on a chair beside her when I was a kid. She was from Glasgow,. She didn't brown the meat. She put ground beef, chopped onion, sliced carrots, salt and pepper in a pan. She would add enough water to the top of the meat and stir it into a slurry. She would then cover and simmer until well done. She would do this in the morning and stick it in the fridge. At supper time she would scrap off the congealed fat and heat. She would then add a slurry of Bisto or GraVee and corn starch slowly into the pot. If there was too much gravy she would strain the extra into a bowl and save it for gravy at another meal. Today when I make it I use stock. I love it. Also, the potatoes don't have to be mashed. It is delicious with plain boiled tatties. Think I'll make it tonight with extra lean ground beef. Yum.

 

I was looking for a good British mince recipe, and came across this one. It looked similar to the mince recipes I made back home, so I gave it a whirl! I doubled the recipe, and used lean ground beef. ( I didn't need to drain off liquid in step 3.) I used a can of sliced carrots, and also added a can of peas. I didn't have pinhead oats, so used a sprinkling of mashed potato flakes. Being from England, I did have Oxo cubes and Bisto gravy in the pantry, and for this sort of recipe, nothing else will do IMHO! :-) I boiled the potatoes in the skin for extra nutrients and fiber, and after draining them, tossed them in a small amount of butter. A loaf of homemade, crusty French bread on the side completed the meal, and everyone gave it the 'thumbs-up!' Scrumptious!

 
RECIPE SUBMITTED BY
Gavin "Miller" Duncan passed away November 12, 2004 in Laurel, MD from complications of a "broken" heart. The outpouring of support from the Recipezaar community while his health was declining was a huge comfort to him and even "perked him up" a bit in his final month. Miller was a huge asset to Recipezaar, not only due to his incredible collection of recipes, but his participation in the forums. Miller was known for his wonderful low-sodium recipes, his warmth, and last, but not least, his wicked, dry sense of humor. Liza at Recipezaar ********************************************************* No, the picture to the left is not me. It is, in fact, a picture of famous TV Chef Jamie Oliver (a/k/a Thpit Boy)'s grandfather, the late Sir Topaz McWhacker. Note the strong family resemblance, most noticeable in the nose, eyebrows, and general lack of cleanliness Legend has it that Topaz taught Thpit everything that he knows about whacking and about only washing and combing his hair twice a year. . Instead of the trivia that many Recipezaar members have displayed on their "About Me" pages, I thought it might be a tad more helpful if I were to provide some beneficial information that you can put to good practical use either in your own kitchen or when you are watching the antics of some celebrated TV chefs. So, for your enlightenment..... . . Chairman Kaga: When he says "Ion Shff", he really means "Iron Chef" or, perhaps, "I need a Kleenex" . Chef Paula Deen: When she says "awl", she really means "oil". When she says "y'all", she really means "everyone except m'all". When she says "bring the water to a bawl", I have no clue what she means - I thought you could only make a baby "bawl". And, boys and girls, you can easily Deenize the sentences that you use in your very own kitchen, such as "All y'all can bawl your corn in olive awl or wrap it in aluminum fawl". . Emeril Lagasse: When he says "confectionery sugar', he really means "confectioners' sugar". When he says "pappa-reeka", he really means "paprika". When he says "inside of", he really means "in". When he says "a little", he really means "a lot". Have you ever tried to count the number of times he says "a little" during any given show? Don't – it will drive you nuts. When he says "cardamin", he really means "cardamom". When he says "my water don't come seasoned", what he really means is "I need a new joke writer". When he says "that www dot food thing", he really means "I flunked Computerese 101". . Iron Chef Morimoto: When he says "Foo Netwu", he really means "Food Network". . Dessert Dude Jacques Torres: When he says "I going", he really means "I am going". (The verb "to be" has apparently been deleted from the French language.) . Spit Boy Jamie Oliver: When he says "whack it in the oven", he really means "I am into hot, kinky stuff". When he says "Bob's yer uncle", what he really means is "you'd better ask your aunt how well she REALLY knew that mailman named Robert". When he says "rocket", he really means "an older weapon being used in Iraq". When he says "Fewd Netwuk", he really means "Food Network". . Numerous chefs: When they say "codfish" and "tunafish", what they really mean is "cod" and "tuna", respectively. Please note that they use these terms so that you don't go out and buy "codanimal" or "tunavegetable" by mistake. Having said that, I have no clue as to why they don't refer to "troutfish", "salmonfish", "red snapperfish", etc., etc. . Giggly-Wiggly Rachael Ray: When she says "EVOO", she really means "don't use BOCO (boring old corn oil)". When she says "a little lettuce action going on", she really means "with only 8 minutes left in the game, cabbages are still in the lead, but lettuces are making a strong comeback". . Two Fat Ladies: When they say "I gwing", they really mean "I am going" or "Sorry, but we have been watching too many episodes of Jacques Torres' show". . Please note that the above is not all-inclusive. If there are other celebrity chef words or phrases that have you stumped, please post an "ISO" message in the discussion forums and I will find the translation for you.
View Full Profile