Milk and Honey Bath Bombs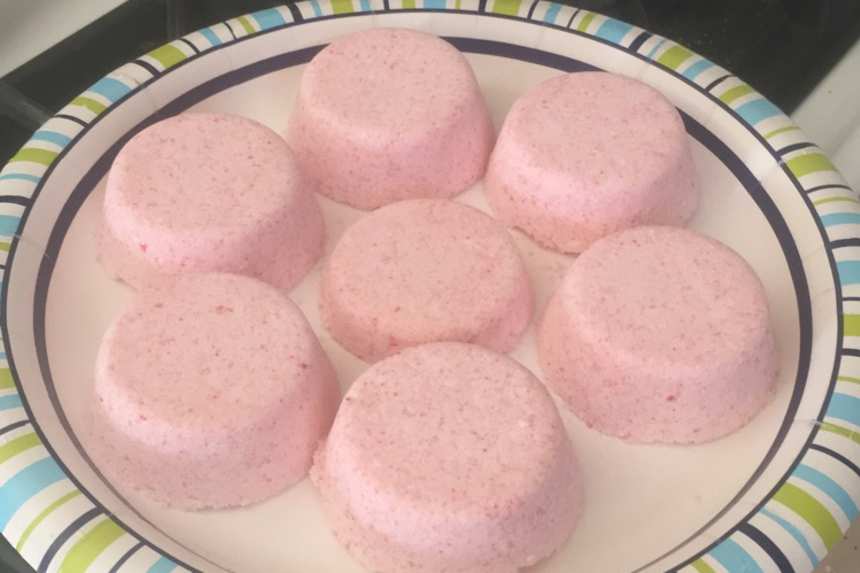 photo by Laura S.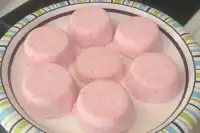 Ready In:

30mins

Ingredients:

8
directions
To make bath bombs successfully, have ingredients ready to mix. Choose your moulds carefully and have, at least, 2 molds ready for filling. Read the instructions first so you know what you are doing. Carefully measure out the wet ingredients (if you have too much, you will end up with "slop", and, if that is the case, just dry the product out and leave it loose (it will still work!).
To Start: Combine the baking soda, citric acid, cornstarch and powder milk.
Melt the shea butter, warm honey and oil in a microwave safe measuring cup or over low heat in a small pot. Add to the baking soda mixture. Combine the mixture and add the essential oils. Mix well. Mixture should hold together when you make a ball.
Working quickly, press the mixture FIRMLY into your mold, making sure the edges are clean. Leave the mixture in to the mold for a couple of minutes, then pop out. While one tray is drying, work on the other (I put a small cutting board over top of the mold, flip over, then lift the mold off). Let bombs dry overnight. Once dried, place them in a decorative bag and tie with ribbon.
To use: Drop 1 - 2 bombs into your tub and relax.
~Or~ leave the mixture in the mixing bowl for 24 hours, periodically mixing the ingredients, breaking up the clumps. Once the product has dried out, place in a nice decorative bag with a colourful ribbon. Makes nice gifts.
Helpful Hints: I have used large ice cube trays that I use just for bath bombs. When picking a mould you want something that is not too big (you end up wasting product) and soft edges (the bombs end up too fragile with sharp angles). When the bombs are in the molds, and I have pressed firmly down, I will run a sharp knife along the bottom of the mold to get a clean, flat edge. You can put lavender flowers, rose petals, etc in your mixture, but sometimes it ends up clogging your drains, so think carefully about what you are putting in the bombs -- if you put too much dried fowers in the bomb may not come together.
Commercial bombs have lots of hidden ingredients it them that are not necessarly good for the skin, like Sodium Laurel Sulphite -- which gives you the "bubbling action" You get nice bubbles, but this product (in its raw state) will actually burn the skin.
Questions & Replies

I made these exactly according to directions but they didn't seem moist enough to hold together well. I went ahead & pressed them into the mold, let them sit & then flipped them out. There was a few areas that seemed to want to fall apart. It said let them sit for 24 hours, so I'll see if they set up more. Does anyone have any suggestions?

 
Reviews
Very nice bath bombs. I used a shea butter that also had avocado, cocoa, jojoba etc - it was a firm butter that melted nicely. I also used a smidgen of coconut oil. In one batch I used EO peppermint, and in another I used vanilla extract and a little gold soap shimmer (found at Micheals in the soap making section). If you find that your mixture is too dry just give it a couple spritzes of water - just so the mist moistens it a little then quickely mix again and mold. thanks for sharing a great recipe.

 

These are fabulous, so much better than the commercially-made ones you pay $5 for. The shea butter and other moisturizing ingredients are wonderful for dry skin. I gave a bunch last year as gifts and they were a hit; am getting ready to make more. These are pretty easy to put together, although I recommend experimenting if you use essential oils as some are more potent than others and may require more or less than the recipe says. I found that molding them is quite labor-intensive, so this year I'm just going to package the mixture loose in decorative jars. Thanks Abby Girl!

 

This recipe is wonderful. You are a genius. I was searching for "milk bath" and this one was included. I was thrilled. They are a big hit. Not at all hard to mold if you purchase a clear, round "ornament" from a craft store and just push the two halves together and pack it in tight. I still can't get them to mold into the full ball but the two halves are still perfect! Very mositurizing. Thanks!