Fizzy Bath Bombs
photo by Chef floWer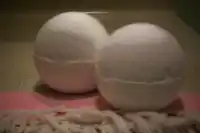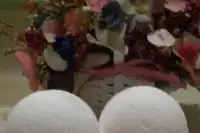 Ready In:

20mins

Ingredients:

5

Yields:

7

medium sized bath bombs
ingredients
1 1⁄2 cups bicarbonate of soda (baking soda)
1⁄2

cup citric acid, powder

2

teaspoons sweet almond oil

essential oil (or fragrance)

food coloring
directions
First you need to make the base mix, to do this sift together the bicarb soda& citric acid in a large dry bowl.
Transfer 1/2 cup AT A TIME to another dry bowl, to this add any dried flowers, glitter etc.
Set aside.
In a small bowl mix together 1/2 teaspoon AT A TIME of almond oil, 6- 8 drops of your chosen essential oil& 6 drops of food colouring.
Pour the oil mixture into the 1/2 cup of base mix& mix QUICKLY before it starts to fizz!
Combine with your fingertips until all colour is evenly distributed.
Wipe a little sweet almond oil inside your moulds.
Fill the moulds with the mixture, packing it in firmly.
Repeat this process with 1/2 a cup at a time, using different fragrance/colour blends if you wish.
Leave the bath bombs to set for 24- 36 hours.
When set lightly tap the mould & ease out gently.
*Hot water activates the fizzy bath bombs a lot better than cold water!
Questions & Replies

Got a question?
Share it with the community!
Reviews
These bombs are really great ones! I allowed them to set for 40 hours in heart-shaped molds. I stored them in a cool and dry place to set in my room and my room smelt really nice that day. I made these as a gift for my mom for the Navratri festival that is going on presently, and she loved them, especially the beautiful green colour that was released into the hot water when I dropped the bomb;-) I used lemon, orange and jasmine essential oils and green food colour. I added 2 teabags of chamomile herbs, 3 tbsps. of powdered cinnamon and red and yellow glitter. I got the citric acid from the pharmacy as it wasn't available in our Asian grocery store. The pharmacist gave it to me with a very sad expression and said he wished that the burning sensation I was suffering in my urine would stop. LOL. I can't tell you how shocked and taken aback I was that day. It took me quite some time to control myself from going into fits of laughter and to explain to him that I needed the citric acid for an aromatherapy treatment and not for a medical problem;-) That guy had my family and me laughing for hours together and we always will remember this recipe for the fun, giggles and smiles it brought into our lives. Thanks for sharing it, Marli! Definitely a keeper!

 

I've been making these bath bombs for about a month now, and it's been a wonderful experience. I do this together with my 14 year old Dornette and we have such a fun time together making up different kinds of bath bombs. The only change we make to the original recipe is that I find that more oil is needed in order for the baking soda and citric acid to become "pack-able". Our favorite so far is vanilla, with orange-ginger a close second. I've also found that a great use for these little babies is as a closet freshener. Thanks Marli, we love making these!

 

I've made these up, they look and smell nice. I had to hand mould the round ones because I couldn't find round moulds. I also used a sea shell moulded which gave wonderful results. I purchased a huge bag of citric acid from the health food store (I thought I was going to have trouble finding it but I didn't). We used individually the red, blue and yellow food colour. For the scent we have used individually Rose, Jasmine, Geranium and Ylang Ylang essential oils. The only problem I had was I wasn't sure if the texture of the completed product (before it was drying). It was a slightly wet sandy texture but didn't hold well. So I added more sweet almond oil to the mixture so it could hold better. I also used Rose petals with the red Rose scented balls. We are planning to make more and give them away during Easter instead of chocolate. Will be back to rate the review once we have used the bombs. Thank you *Marli* for an interesting recipe.

 

These bath bombs are so simple to make. I used lavender essential oil and threw in a few lavender flowers as well. They are so pretty. I plan to give some away as gifts for Christmas. I did find, as Mirj did, that more oil is needed to properly pack the bombs into their container. I have passed this recipe on to several friends already!

 
RECIPE SUBMITTED BY
G'day! I'm from Gippsland, Australia. I am a SAHM (stay at home mum) to my two gorgeous children who are 2 years & 6 months. My passions are cooking, scrapbooking, & reading which I enjoy doing in my rare "ME" time. I love finding & trying new recipes & am very fortunate that my family are not fussy!
View Full Profile