Kerala Lamb Curry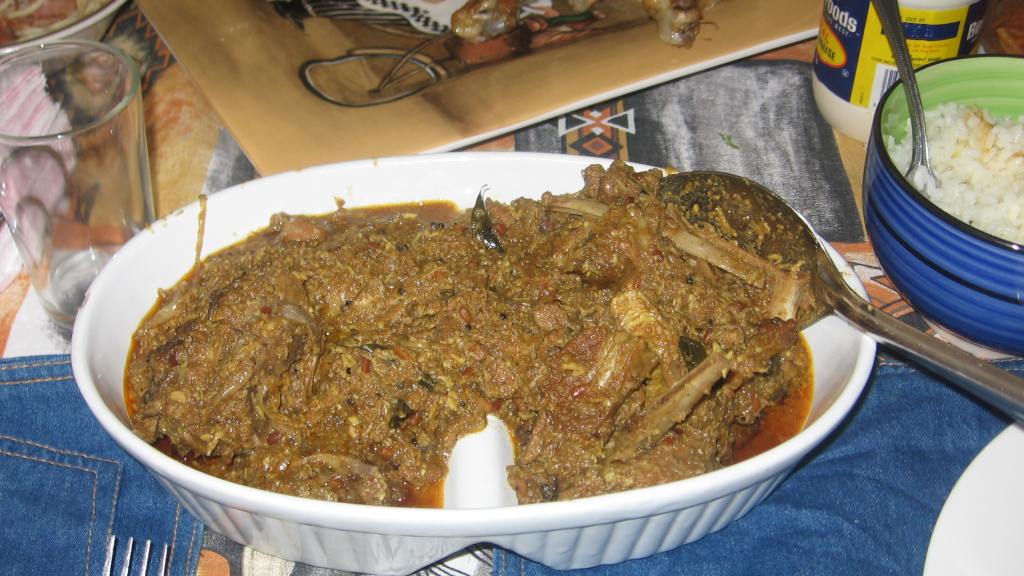 Ready In:

2hrs 15mins

Serves:

Units:
Nutrition Information
directions
To make the spice powder, dry roast the spices in a medium-sized skillet, over medium heat, and stir and toss them around for 1-2 minutes, or until they begin to look toasted and release their aromas.
Immediately remove from heat and place the spices in a clean coffee grinder, and when cooled slightly, grind to a fine powder, then set aside.
If you choose not to grate the coconut, cut the thinly sliced coconut flesh into ¼-½ inch dice.
Next, wipe out the skillet with a paper towel, return to medium heat, and add 1 tablespoon of vegetable oil.
When hot, add the diced coconut, the turmeric and ½ teaspoon of salt, stir-fry for 3-4 minutes, or until the coconut is toasted, then set aside.
Heat 2-3 tablespoons vegetable oil in a large pan, preferably non-stick, over medium to high heat.
Add 1 teaspoon mustard seeds, and stir a few seconds until they pop.
Add 20 fresh curry leaves, 3 oz shallots, and all the ginger and garlic, and saute, stirring, for 3-4 minutes until the shallots are lightly browned.
Now add the meat and the roasted ground spice mixture, and stir well to coat the meat with the spices.
Toss in the toasted coconut dice and ½ teaspoon of salt, and then add the vinegar and 2½-3 cups water.
Bring to the boil, cover, and simmer over low heat for 50 minutes to an hour until the meat is almost tender.
Remove the lid and, increasing the heat if necessary, continue to cook for a further 10-15 minutes or until the sauce is thick and clings to the meat.
Finally, heat the remaining tablespoon oil in a small skillet over medium heat, and when hot, add the urad dhal (optional) and the mustard seeds.
Stir until the mustard seeds pop, and then add 2 oz shallots and 20 curry leaves, and stir-fry until the shallots are golden brown.
Add this shallot mixture to the meat, stir well, remove from heat and serve with rice.
Submit a Recipe Correction
RECIPE MADE WITH LOVE BY
"I was raised in a family that loves to travel, meet people from other countries, and taste new foods. We are quite 'international' - my brother's wife is Indian, my sister's husband is Swiss and my DS's GF is of Swedish origin. My little dogs are of German origin - miniature dachshunds :-) - and my DH is an NZer. Presently my favourite cookbook is Quick and Easy Indian Cooking by Madhur Jaffrey, but that is liable to change as I often raid my library for new and interesting cookbooks."
Join The Conversation
I decided to try this dish for New Years Lunch. I managed to obtain all the ingredients by our local Indian spice store. Followed the recipe to the letter. The end result was worth all the time and effort. So many new flavours and spices. Urad dhal...must look for recipes to use this ingredient. Another successful curry to add to my cookbook. Thanks Daydream

WOW!!!! This was a true curry lovers thrill - the bit of work involved is so worth it. Lol - I had a couple of mishaps (my fault)...I don't have a coffe grinder so I thought I'd be clever and put the dry-roasted spice mix in the small bowl of my food processor...big mistake!! Whole spices flew everywhere..lol...I transferred the spices to my mortar and pestle and ground them by hand. Also when I added the mustard seeds to the hot oil they popped all over the place...heehee, I must get a splatter guard...there were mustard seeds everywhere!!! When I added the garlic,ginger, curry leaves and shallots the mustard seeds settled down and seemed happy to stay in the pan :). I used grated fresh coconut (which my partner cut up with his power saw..lol)and 4 Tbsp of fresh minced chilli...I also used a 1.6kg leg of lamb which I cut into 1/2 - 1 inch cubes and 3 cups of water, cooked the curry for 4 hours over a very low heat....the result was delicious, the kids said they could smell it cooking from up the street!!! This curry got a five star thumbs up from all - and we are big curry lovers!! Unfortunately I couldn't find the Urad Dal - hopefully I will find it before I want to cook this again because I'm sure it will add to the meal. Thanks Daydream for a dish that is more an experience than just something to eat!!

AWESOME!! This is absolutely delicious. It is more time consuming than the other curries I usually cook but that is probably because I had to buy a whole coconut and had the pain of trying to open it, extract the flesh and then grate it (I decided I would prefer it grated). I was starting to wonder if it was worth it but having tasted it I can highly recommend it! I didn't have lamb so used beef instead. I also added the spice mix before the meat because I like to fry all my masala well beforehand to avoid any "raw spice" taste. If you do that, make sure you add a little hot water to avoid the spices from burning... Thanks Wendy - a well deserved 5 star!!