Indian Lamb Curry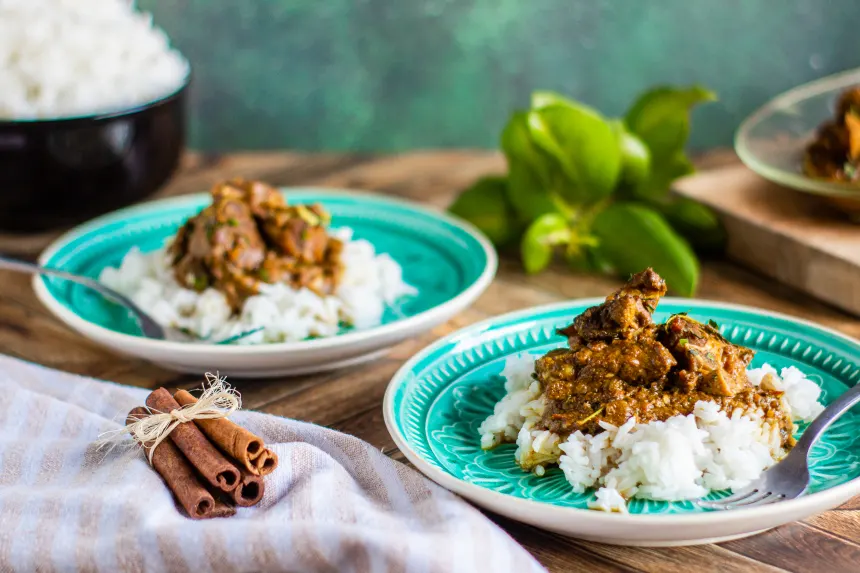 photo by limeandspoontt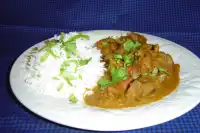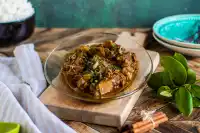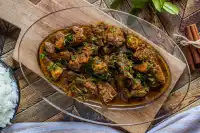 Ready In:

1hr 10mins

Ingredients:

19
directions
Heat oil in large pan; add bay leaves, cardamom, cinnamon stick, peppercorns, and cloves.
When leaves begin to sizzle and fragrance starts to release, add onions and saute until light golden, about 12-15 minutes, stirring frequently.
Stir in the ginger paste, garlic, chile pepper, and lamb.
Season the lamb with salt; continue cooking, stirring mix, for about 20 minutes more, adding a little water if necessary to keep food from sticking.
Add turmeric, coriander powder, cayenne, and garam masala; stir for 5 minutes, adding 2 tablespoons water.
Add diced tomatoes, and cook for 5 minutes, stirring frequently.
Then add 4 cups of water and simmer for 15 minutes, or until meat is getting tender.
Lower heat.
Whisk the yogurt with a fork; and add to the pot slowly.
Then cook until meat is done to your liking and sauce is thickened.
Garnish with cilantro leaves.
Serve with steamed basmati rice, or hot Indian breads, such as Naan.
Questions & Replies

Reviews
I served this last week for our dinner after heading out to the mountains to get our Christmas tree! I made it a few days prior to allow the flavours to develop. It was the best lamb curry ever! And so raved the man - he even said it was the very best lamb curry he's ever had! And we grew up eating curries so!!<br/><br/>I followed the recipe pretty much except 1) I used one 14oz can chopped tomatoes 2) I used greek yogurt (as suggested by some reviews) and 3) I used about 1 1/2 C - 2 C water given the feedback here.<br/><br/>It turned out phenomenal, and on the day itself I heated it up in the oven and took the lid off for about 20 mins to let the sauce evaporate a little more. I do agree that if you put in 4C as the recipe suggests, it's a lot of liquid (like soup almost). And finally, I wouldn't use greek yogurt again, I think if you eyeball the water, normal yogurt will do. The greek yogurt did not thicken things up and I think normal yogurt would have a more impact on the flavour. Enjoy!

 

I made this last Saturday and followed it pretty closely. I used only 3 Serrano peppers, as the ones I had were very large. I did add two tsp of cayenne red pepper to spice it up a bit more. I also added 2 tsp curry powder instead of 1 and added 1 tsp of Fenugreek powder (Methi), as I like that taste. I cooked the lamb slowly, simmering it for about 2 hours with all of the spices added. I used plain yogurt and not the Greek yogurt that others suggested. The sauce came out perfectly, just the right consistency and flavor. All 6 of us loved the taste and texture of this curry. I served it with Basmati Rice and Nan Bread. For an appetizer, we had lentil filled Samosa's (bought frozen from an Indian grocery and a Mint/Cucumber/Yogurt sauce, which I made up without a recipe. This curry is definitely one that I will make again and will not adjust the recipe at all.

 

This was really good, my family really enjoyed this. I have tried many tomato based Indian lamb curries, but I have never found anything I really liked. This recipe tasted like the lamb curry my old neighbors from Pakistan used to make, I am going to keep making this recipe and will stop looking for another one. I think the difference for me in this recipe compared to others, are the peppercorns (they add a really lovely flavor, that matches well with the cinnamon and the brown cardamom). I made a few small changes. I only used 2 tablespoons of oil (for dietary reasons), and I think this recipe would be good with this amount of oil or with more (you could probably get away with one tablespoon as well). I forgot to add the yogurt at the end, but I think I liked it better that way (I will try it with yogurt and with coconut milk some other times as well). The only other thing I changed was to use only one clove because I think too many cloves make food taste bitter. I simmered the lamb for one and a half hours on a low heat, (lamb needs a long cooking time to become tender). If I were to add yogurt another time I would simmer just in tomato and water until the lamb was tender and just near the end add the yogurt (and any excess water can be boiled down on high heat before adding the yogurt, so the amount of water should not be a problem). In the future I will try adding lentils and will also try adding potatoes, I think these additions would suit this curry well. Thank you so much for a great recipe that will be on my regular rotation.

 
Tweaks
For my needs I doubled this recipe, using 4 lbs of boneless lamb for 6 guests so I'd have enough for dinner and leftovers. I cooked it two days ahead, as stews often taste better reheated, and I was able to give it a lot of time, skim off floating fat, and as I was spooning it into containers for the fridge, pull out the cardamom pods, cinnamon sticks, bay leaves, peppercorns and most of the cloves at the end, so my guests don't bite into them.But, if you don't want to leave the whole spices in,(I wouldn't want guests biting into whole cloves) an alternative is, after they are cooking in the oil, take the peppercorns, cardamom and cloves out of the oil and put into one or two small cheesecloth bundles you can float in the stew and pull out later. The cinnamon sticks and bay leaves are easy to find and take out and don't need to be in cheesecloth. I'm convinced the outstanding flavor develops over a lot of cooking time, like any good sauce-- it took about 2-1/2hrs of cooking time for the meat to get really flavorful and soft and melt in your mouth... over very low heat. The sauce did not need much extra added liquid at all, the finely chopped onions, meat and tomatoes constantly stirred over low heat melted down and yielded liquid the whole time. I had read about the 4c of water in the recipe being too much, so I added only 1 c of water to my doubled recipe, which is like 1/8 of what was called for in the recipe, and it still did dilute the stew considerably, but it cooked down again. The extra liquid is necessary in that it does help braise and tenderize the meat, but you need to give it extra time to let moisture permeate and braise the stew. My advice-- If you have the time, let it stew very slowly, over very low heat and it will thicken nicely, never get dry and not be watery. Watch it and stir it over low heat,and also keep it covered part of the time, and let the meat braise for a good half hour covered within the 2-2-1/2 hr cooking time.At the end, Instead of yogurt, because I was both concerned about curdling and not interested in a sour or tangy flavor added to the warm/oniony/tomatoey curry--I chose to mellow and thicken by adding about 1 c of whole full fat coconut milk at the very end...stirred in and tasting gradually, a bit at a time. Meaning, I added 1/2 c, stirred, tasted to see if it diluted the flavor too much, and when it didn't, added the rest. The 1 cup coconut milk is for a doubled recipe., so for a regular recipe add 1/2 c . It's the same as adding milk to an Italian meat ragu sauce, it tenderizes and mellows the sauce. Also, make sure you add sufficient salt when the meat is cooking, it heightens the lamb's flavor-- several healthy sprinkles of kosher salt in the pan and then later again in the finished stew. Make sure you taste the curry several times and add some more spice or curry at the end if it tastes blander. I did also add about a teaspoon of Jamaican curry, in addition to the doubled spices in the recipe as I left out the green chile, which I didn't have. So delicious!!

 

We have several fabulous Indian restaurants in our neighborhood. I followed this recipe to the T. A lot of prep and a lot of ingredients. But if I say so myself, it was as good as any of our local restaurants. I doubled the recipe and froze half of it. And a month later, it was just as good out of the freezer. Let it thaw overnight and you will be delighted :-)

 

A modified but true to base recipe would start out as: In a bowl for atleast 30-60 minutes keep your lamb stew proportions marinated in patak's Rogan Josh mixture with a generous sprinkling of MEAT Tenderizer NOT SALT. add pepper if you wish. let sit with a quarter cup of curd thick again. 1. Pop the cumin ( if you use cumin which is grey or you can use black cumin, called kaala Jeera), one pod cardamom, only one clove, two bay leaves fresh green, stems of cilantro, one or two red chillis or green as per your degree of desired 'hotness'. Add a small quill of cinnamon only not the large one. 2. when you hear crackling, then add finely diced onion then after the onion turns translucent, add turmeric which is missing in the description here. Add also : a half tablespoon of sugar and 1-2 tsp of Kashmiri Deeghi Mirch chilli powder or Rogan Josh Pataks paste. 3. Add nutmeg and Mace powdered and then the Tomato paste and diced tomatoes. Sautee until mushy or cooked through as a grade of doneness. 4. Add Yoghurt now thick and strung curd really thick AND FRY. Now is a good time to add souring agents, two most typically used souring agents are Amchur, Dried mango powder or Anardhana, seeds of Dried pomegranate. Fry Until any odors are gone. Yes you fry the yoghurt too with it, it will amplify the sourness which is another ingredient missing here. 5. Then add the meat and fry. Alternatively I would suggest keeping a separate pan to brown the lamb and then add it to the mix or keep aside the veg base and fry the lamb until browned. Also add cashew butter a tablespoon will do with the yoghurt. Salt and season as you desire, approx. 1-3 sprinklings sparsely. Go easy on the salt let the sour ingredients do the talking for you. 6. Then add water incrementally until you decide the quantitiy that suits you. 7. The best results come from mixing this technique with the use of a pressure cooker or slow cooker set to pressure cook on HIGH function for 20 minutes. 8. Meanwhile prepare Rice but do so with an Iranian method. Wash rice until water runs clear, then soak with hot water until swollen, then boil until the rice is dancing restlessly in water. Drain and strain only leave a hint of water to steam the rice over low heat, dum method almost. In a small cup add hot water, dissolve saffron threads. let the colour disperse and then add milk. spill this over a part of your rice and add butter to the rice. you can add lima or broad beans, shredded carrot and buttered raisin to the rice Also Peas. Let the rice sit and become well separated with the action of steam and the lubricant effect of butter. If you wish in the end drop some rose water over the rice. Enjoy with your lamb curry I'm sure you'd love this try it out as per your imagination and creativity some what closely aligned to the foundations of indian cooking, which definitely employ the use of aromatics and anti-inflammatory agents such as circumin, turmeric and chilli powder ( the Kashmiri sort, deeghi mirchi for north indian dishes like this) Alternatively brown cilantro, Garlic and butter or ghee and pour hot over warmed naan. Or better yet go to an indian grocery and see the varieties of naan you get. Paneer stuffed with cauliflower naan, will give you such an asiating combination with meat or even by itself. For a true indian and Punjabi-Delihi Experience, dry fry cumin and coarsely grounbd pepper in a mojacate or mortar pestle, add to your blended Yoghurt, water mix in a blender only at the end. Add salt only a little or if you must incorporate a 'Carrot Lassi' by steaming carrot before you add to your yoghurt+water in the blender and follow the same suggestion. Indian cooking uses dairy a lot especially in the north, whislt the south veg is mostly vegan oriented strange. coconut milk is a better accompaniment to coastal indian seafood dishes, like Bengali fish curry and mustard oil. Try some Bengali seafood dishes I'm sure you'd love it too.

 
RECIPE SUBMITTED BY
I am a longtime member since 2002. While I have many recipes here, most of my current recipes are on my food blog at palatablepastime.com I may occasionally post something extra I have here. If you have questions, you can always contact me at contact@palatablepastime.com
View Full Profile