Julia Child's Cherry Clafoutis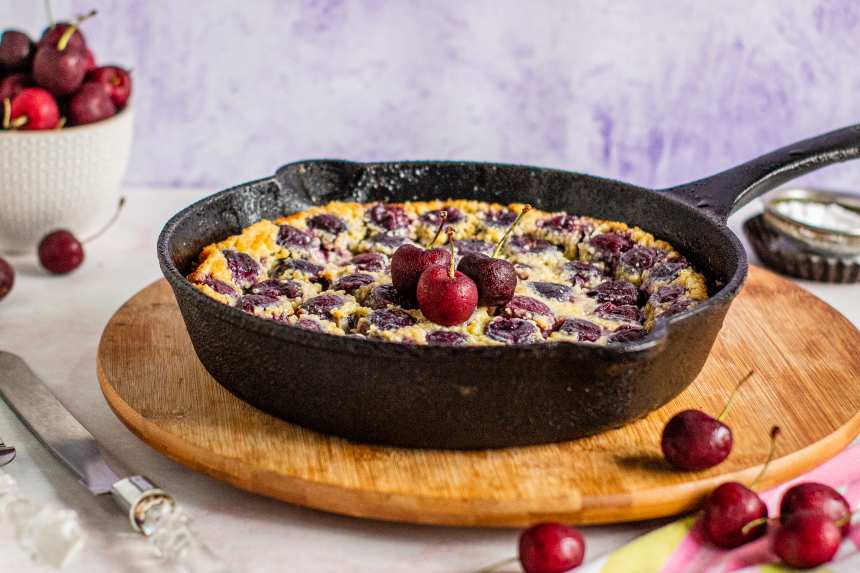 photo by limeandspoontt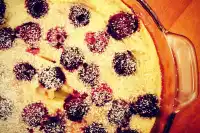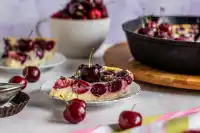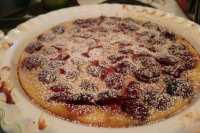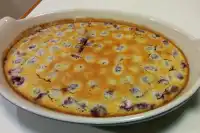 Ready In:

1hr 20mins

Ingredients:

8

Serves:

6-8
directions
Preheat oven to 350 degrees F.
Using a blender, combine the milk, 1/3 cup sugar, eggs, vanilla, salt and flour, and blend.
Lightly butter an 8-cup baking dish, and pour a 1/4-inch layer of the blended mixture over the bottom. Set remaining batter aside.
Place dish into the oven for about 7-10 minutes, until a film of batter sets in the pan but the mixture is not baked through. Remove from oven (but don't turn the oven off, yet).
Distribute the pitted cherries over the set batter in the pan, then sprinkle with the remaining sugar. Pour the remaining batter over the cherries and sugar.
Bake in the preheated oven for 45 to 60 minutes, until the clafouti is puffed and brown and a knife inserted into the center comes out clean.
Sprinkle with powdered sugar and serve warm.
Servings: 6-8 for dessert, 4 for breakfast.
Reviews
First of all, this is not a flan. It is Clafouti. An entirely different recipe, so no comparing. Pouring it over the fruit in the dish before you bake it is exactly how you do a Clafouti. It's more on par of a yorkshire pudding than flan. It's supposed to be eggy. It's clafouti. That all being said, it is wonderful. I have made it many times and it's always delicious. I like the idea of using fresh plums so that will be my next one! :)

 

This was delicious! I had never made clafouti before, and we were very pleased. I used frozen cherry-berry mixed fruit, which includes tart and sweet cherries, strawberries, blueberries and cranberries. I used 1/3 cup of sugar in the batter, and it tasted sweet enough so I didn't use all the rest called for. I did sprinkle about 2 TB more sugar over the top before baking. Also, I did not do the 2-step baking process. After melting 2 TB of butter in the dish and spreading it over the interior, I put the fruit in the dish in an even layer, and poured the batter over the fruit. Then sprinkled the 2 TB sugar over the top. As it baked, the fruit came to the top, and there was a layer of custard under the fruit when it was done. We ate it warm by itself, but it would be good with a little vanilla ice cream on top, or served cool with whipped cream. I will definitely make this again. I will probably add 1/2 teaspoon of lemon zest next time, because it needed a little boost in flavor. It was really good with just the vanilla, though. Definitely a keeper!

 

I loved this recipe! I had some delicious fresh cherries, and I wanted a simple recipe to make something great. This was it! I also added about a cup of blueberries...wonderful! I especially liked that all the ingredients for the batter are things you usually have on hand. I will make this again for sure, and may try it with some other fruits mentioned in the comments here!

 

This was very, very, very good! I made a couple of changes to fit our lifestyle: 1. Rice Milk for the milk 2. Gluten Free flour combo for the flour 3. Only 1/4 cup of raw cane sugar in the batter and none on the cherries. It was divine and I can't wait to try with whatever fruit is in season. Thanks for posting.

 
RECIPE SUBMITTED BY
<p>It's simply this: I love to cook! :) <br /><br />I've been hanging out on the internet since the early days and have collected loads of recipes. I've tried to keep the best of them (and often the more unusual) and look forward to sharing them with you, here. <br /><br />I am proud to say that I have several family members who are also on RecipeZaar! <br /><br />My husband, here as <a href=http://www.recipezaar.com/member/39857>Steingrim</a>, is an excellent cook. He rarely uses recipes, though, so often after he's made dinner I sit down at the computer and talk him through how he made the dishes so that I can get it down on paper. Some of these recipes are in his account, some of them in mine - he rarely uses his account, though, so we'll probably usually post them to mine in the future. <br /><br />My sister <a href=http://www.recipezaar.com/member/65957>Cathy is here as cxstitcher</a> and <a href=http://www.recipezaar.com/member/62727>my mom is Juliesmom</a> - say hi to them, eh? <br /><br />Our <a href=http://www.recipezaar.com/member/379862>friend Darrell is here as Uncle Dobo</a>, too! I've been typing in his recipes for him and entering them on R'Zaar. We're hoping that his sisters will soon show up with their own accounts, as well. :) <br /><br />I collect cookbooks (to slow myself down I've limited myself to purchasing them at thrift stores, although I occasionally buy an especially good one at full price), and - yes, I admit it - I love FoodTV. My favorite chefs on the Food Network are Alton Brown, Rachel Ray, Mario Batali, and Giada De Laurentiis. I'm not fond over fakey, over-enthusiastic performance chefs... Emeril drives me up the wall. I appreciate honesty. Of non-celebrity chefs, I've gotta say that that the greatest influences on my cooking have been my mother, Julia Child, and my cooking instructor Chef Gabriel Claycamp at Seattle's Culinary Communion. <br /><br />In the last couple of years I've been typing up all the recipes my grandparents and my mother collected over the years, and am posting them here. Some of them are quite nostalgic and are higher in fat and processed ingredients than recipes I normally collect, but it's really neat to see the different kinds of foods they were interested in... to see them either typewritten oh-so-carefully by my grandfather, in my grandmother's spidery handwriting, or - in some cases - written by my mother years ago in fountain pen ink. It's like time travel. <br /><br />Cooking peeve: food/cooking snobbery. <br /><br />Regarding my black and white icon (which may or may not be the one I'm currently using): it the sea-dragon tattoo that is on the inside of my right ankle. It's also my personal logo.</p>
View Full Profile