Hot Cross Buns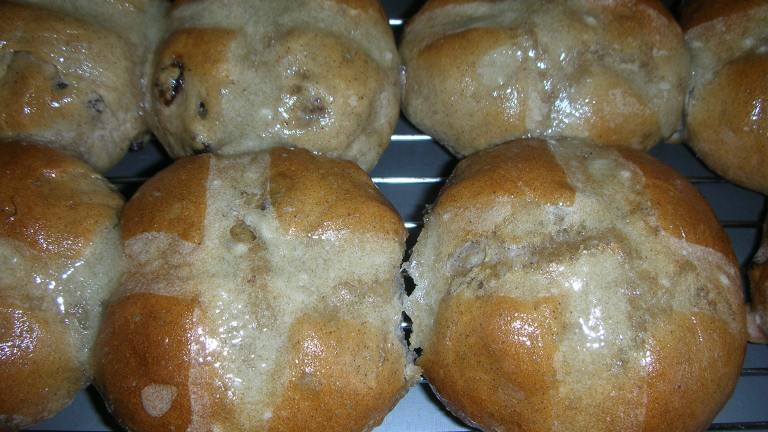 A must for Easter and Good Friday back home in Bermuda! Just add a fish cake and some mayo and ketchup!! Mmmmm! I got this recipe from a bakery in Bermuda. Don't be afraid to add more spices if that's your taste!! (Since the 1st tester, I've tried, tested and fixed the recipe errors and apologise for the mistake.)
Ready In:

2hrs

Yields:

Units:
directions
Mix together the yeast, water and sugar and set aside for a few minutes until the yeast starts to foam.
Mix together the flour, spices and salt.
With a mixer or by hand, mix the flour, eggs and butter into the yeast-water mixture.
Now add the raisins.
The dough will be somewhat sticky, but should pull away from the sides of the bowl and form a ball.
If not, add a little more flour.
Cover with a towel and let it rest in a warm place until it doubles in bulk.
Be sure it's in a large enough bowl to accommodate the new size.
Punch dough down and cut into small 2 1/2-ounce pieces(just eyeball it).
Roll into a ball and place on a baking sheet several inches apart.
When all are lined up, cover again with a towel and put in a warm place away from drafts. Allow to rise for 15-20 minutes.
You'll need more than one baking sheet.
Preheat oven to 400 degrees.
While waiting, make the 'crosses' by mixing together the flour, water and salt so it's thick enough to pipe through a pastry bag fitted with a small round tip, about an inch in diameter.
Pipe a cross on each risen bun.
Bake for 15-20 minutes or until golden.
While the buns are baking, make the glaze. Boil together the sugar, water and corn syrup over moderate heat until the sugar is completely dissolved.
When it looks clear, brush down the sides with a pastry brush dipped in cold water.
Allow to cool.
It'll be sticky, but still brushable.
When the buns are removed from the oven, cool on a wire rack and brush with glaze.
(Please note that the yield is an estimate because it depends on what size you prefer to make your buns.).
Submit a Recipe Correction
RECIPE MADE WITH LOVE BY
"A must for Easter and Good Friday back home in Bermuda! Just add a fish cake and some mayo and ketchup!! Mmmmm! I got this recipe from a bakery in Bermuda. Don't be afraid to add more spices if that's your taste!! (Since the 1st tester, I've tried, tested and fixed the recipe errors and apologise for the mistake.)"
I made this recipe and I'm from Bermuda, so I know what they are supposed to taste like. Thankfully, I caught the errors in time. The amount of butter is way too much (10 Sticks?), as well as the cups of water. I ended up using about 2 and 1/2 sticks of butter (I had to fish out the extra) and adding about 1 cup more of flour, cinnamon and allspice to compensate for the water. They ended up being good, but thank goodness I could fix it.

A must for Easter and Good Friday back home in Bermuda! Just add a fish cake and some mayo and ketchup!! Mmmmm! I got this recipe from a bakery in Bermuda. Don't be afraid to add more spices if that's your taste!! (Since the 1st tester, I've tried, tested and fixed the recipe errors and apologise for the mistake.)