Honey Mustard Chicken Drumsticks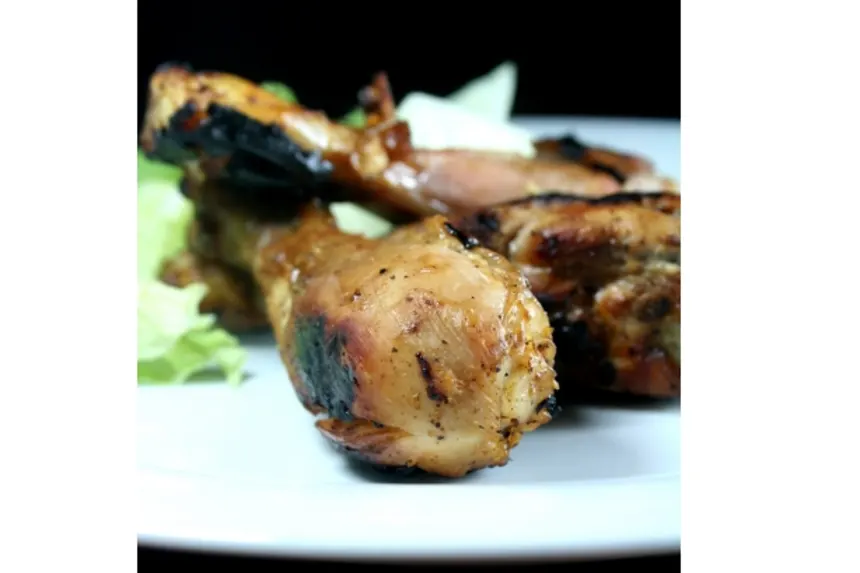 photo by Chef floWer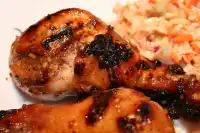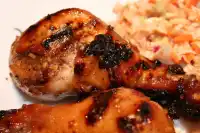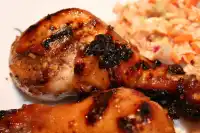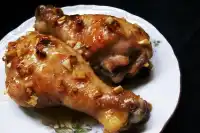 Ready In:

1hr 20mins

Ingredients:

7
directions
Combine garlic, honey, mustard, soy sauce, lemon juice and pepper in a bowl.
Add the drumsticks and toss to coat evenly.
Cover and refrigerate for 1 hour (can marinate for up to 6 hours in advance).
Pre-heat grill to medium-hot, for outdoors medium-hot coals.
Grill turning every 3 minutes and basting with any leftover marinade until the chicken is opaque with no trace of pink, for about 15 minutes.
Serve hot on its own or with a sweet-chili dip.
Questions & Replies

Got a question?
Share it with the community!
Reviews
I put the chicken in the marinade before work in the morning and DH had cooked it by the time I returned home in the evening. It was raining so he did it in the oven at 375F as 2Bleu suggested. It turned out moist and flavorful! The entire family enjoyed it. We will make it again and do it on the grill for additional flavor. Thanks Aaliyah & Aaron's mum :)

 

Made as directed except baked them in a 375F oven for 40 minutes (without slashing) rather than BBQing. The flavors in this marinade are wonderful. We can't wait to make this again, but on the grill. You could do different pieces with this marinade, not just the drumsticks, or even roast a whole chicken with it too. It's wonderful! Thanks for sharing. :)

 

I thought these were very good! Marinated over night. I made extra sauce to baste, but it didn't seem like it would be enough to marinated with. So I just used all of it. I had very big drumsticks. I had my husband sprinkle some with red pepper. But I liked it better without. I will use this marinate again.

 
RECIPE SUBMITTED BY
<p style=margin: 0.0px 0.0px 0.0px 0.0px; font: 12.0px Helvetica;><span style=font-family: Arial, Helvetica, sans-serif; font-size: 13px;><img src=file:///Users/aishayusaf/Library/Caches/TemporaryItems/moz-screenshot.png alt= /><img src=http://i166.photobucket.com/albums/u82/aaliyahsmum_album/bill3.jpg alt= width=402 height=507 /></span></p> <p><img src=http://i166.photobucket.com/albums/u82/aaliyahsmum_album/Untitled-11.jpg alt= /><br />Today, give a stranger one of your smiles. <br />It might be the only sunshine he sees all day. <br />- H. Jackson Brown, Jr. <img src=http://i166.photobucket.com/albums/u82/aaliyahsmum_album/images.jpg alt= /> <br /> <img src=http://i166.photobucket.com/albums/u82/aaliyahsmum_album/Untitled-11.jpg alt= /> <br /> <br />For a hobby, I'm into photography. I thoroughly enjoy baking, but have to admit, I have two left hands when it comes to decorating cakes! I also do a bit of knitting (beginner's stage) and reading. Stephen King and Dean Koontz are my all time favourite authors, and, of course, LOVE Calvin and Hobbes (does it show??!!) <br /> <br /> <img src=http://i166.photobucket.com/albums/u82/aaliyahsmum_album/chch-atheist.gif alt= /> <br /> <br /> <img src=http://i166.photobucket.com/albums/u82/aaliyahsmum_album/Untitled-1-1.jpg alt= /></p> <p>I search for recipes that carry ingredients I can get hold of locally (or I have stocked in my cupboard!). Recipes I have posted are ALL tried and tested and have been enjoyed by all! So, I hope you and your family will enjoy as well! <br /> <br />My rating system is fairly simple. Since I only pick recipes that I know my family will enjoy (looking at the list of ingredients), it's either 5 or 4 stars, I do not go any lower. I may sometimes do a bit of tweaking but that is only due to my family's tastes. If I do have problems with a recipe or if it didn't turn out the way it should have done, then I just leave a comment without any rating. <br /> <br /><img src=http://i166.photobucket.com/albums/u82/aaliyahsmum_album/Untitled-12.jpg alt= /></p>
View Full Profile