Healthy Sorbet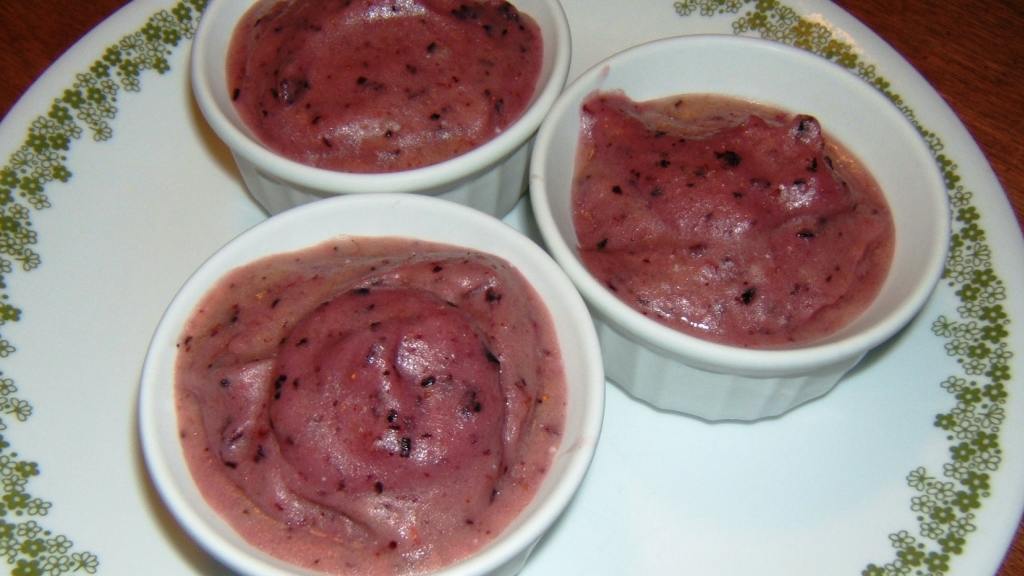 Ready In:

5mins

Ingredients:

3
directions
Add ingredients to a blender and liquify.
Pour into containers, cover and freeze.
Eat with a spoon!

Combination Suggestions:

Apple, Banana, Pear.
Mixed Berries.
Strawberry, Banana, Blueberry.
Mango, Pear, Apple.
Pineapple, Raspberry, Banana.
Notes: This is a great way to cut down on sugar because fruit is naturally sweet when ripe.
If you are an absolute sweet-a-holic, you can mix approximately 1/4- to 1/2-teaspoon of honey (uncooked) for each 1-cup serving of sorbet.
Or, you can add a banana.
You can make a thinner sorbet with more soymilk or juice or add chopped ice to the mixture.
Sometimes I prefer a thinner mixture if I am using grainy berries (e. g., blueberries, raspberries).
You can make sorbet cubes in ice trays with mini-bamboo skewers (you can cut long skewers with a scissors to fit).
You can purchase low-cost, disposable, small containers with lids for easy travel and cook-out fun.
You may even find popcicle trays in your supermarket!
You can cover dishes with plastic wrap, if you wish to serve sorbet in decorative bowls.
This makes a wonderful dessert for parties.
Sorbet is an excellent way to use over-ripe fruit.
When blended together and frozen, the fruit is quite delicious.
Be creative with your recipes and please feel free to share them with me!
Join The Conversation
I had a couple frozen bananas in the freezer so I put those plus 1/4 cup chocolate almond milk in the food processor and blended until smooth - delicious!! I put this in the freezer and although my bf thought it was good, I thought the texture right out of the processor was better than refreezing. This is such an easy and healthy dessert. Thanks for posting! This is a winner!