Guinness and Filet Mignon Chili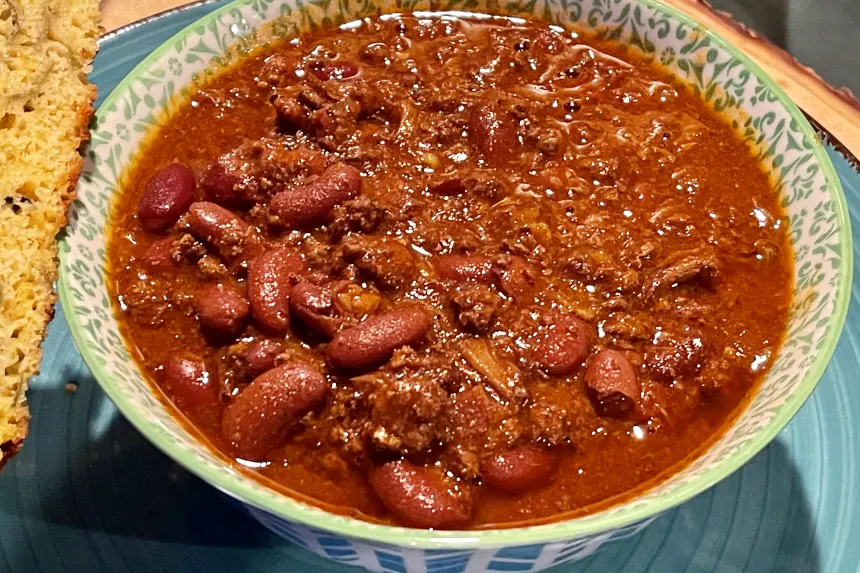 photo by Linajjac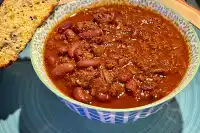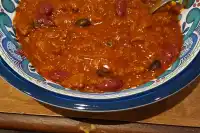 Ready In:

1hr 30mins

Ingredients:

18
directions
Heat up ½ cup of the butter in a large sauce pot over medium high heat until very hot.
Add diced filet and cook until seared and browned around the edges.
Add ground beef and cook until all of the beef is browned thoroughly.
Remove the meat and set aside, draining off ¾ of the fat (leave the rest of the fat in the pot).
Add the diced onions and chile pepper to the pot and cook until soft, about 3 minutes.
Add the meat back to the pot.
Add the Guinness and let boil for 1 minute.
Add the flour and stir constantly for 1 minute.
Add the crushed tomatoes, tomato paste and the beef stock and stir thoroughly.
Reduce the heat to a low simmer and add both of the beans, the chili powder, cumin, salt, white pepper and brown sugar.
Let the chili simmer for 30 minutes, uncovered, stirring occasionally.
Finish by stirring in ½ cup more of the butter and the shredded cheddar cheese.
Garnish or serve with any of the following: sour cream, diced red onions and pepper, shredded cheddar cheese, diced tomatoes, fresh chopped cilantro.
Reviews
This was SUPERB! I scaled the recipe down & cooked it in the slow cooker. I left out a lot of the butter & salt because I felt it didn't need it. Even scaled down it seemed like a lot of chilli powder, so I cut that back too, but next time I'll be braver. It was not as hot as we'd like which was entirely my fault. The depth of flavors & the lovely rich color make this recipe worth more than 5 stars, & my new favorite way to make chilli. I have used beer in chilli before, but the Guiness really added something special. Thanks Miller for sharing, & thanks to Chef kirstin in oregon for making the recommendation! :-)

 
Tweaks
Try this chili recipe -- it's SO SO good! A couple notes -- we didn't use Filet Mignon, we used Beef Sirloin or something like that -- a good cut of meat, but not Filet Mignon. The chunks of steak really do make a difference, I wouldn't skip that part. Other changes we made involve the tomatoes and beans. The recipe didn't call for enough, in our opinion. So instead of 1 cup each of red kidney beans and black beans, we used 2 cans of black beans, 1 can of red kidney beans and 1 can of white kidney beans. The mix of beans was very good, I'd recommend it. And for the tomatoes, instead of what the recipe called for, we used two 6-oz cans tomato paste, and two 28-oz cans of crushed tomatoes. Again, this is a change we'd recommend. The chili is INCREDIBLY filling, very delicious, and goes a long long way. The recipe as it is on the site is 15 servings, with the changes we made, my husband, daughter, and I ate it for four meals on a ski trip out west, and three meals here at home. That's 21 VERY satisfying servings. Hubby and I each supplemented with one slice of whole grain bread, daughter had 2 slices of whole grain bread with butter. We all had an 8-oz glass of milk to go with, and fruit for after. If you like chili, I'd def try this one out. An hour and a half of cooking will serve you for many days, if you are only cooking for a few. We just put the servings in zip lock bags (one for each day) and chucked them in the freezer.