Guava Jelly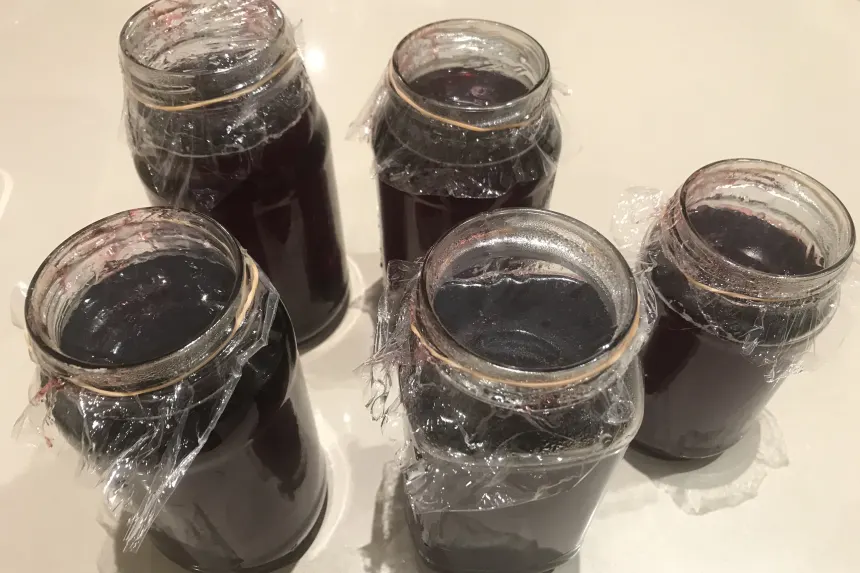 photo by Sophie P.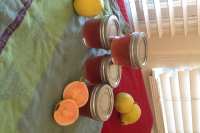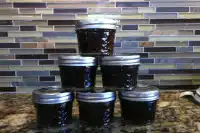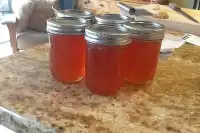 Ready In:

1hr 15mins

Ingredients:

4
directions
Dice guavas into one inch cubes.
Place in a large saucepan and cover with just enough water to cover the fruit well.
Cover and cook till guavas are very tender, about half an hour.
Cool.
Cover a large bowl with a muslin cloth and invert fruit onto the cloth taking care to catch the liquid that drips through the muslin, into the bowl.
Gather the four ends of the cloth and tie a knot and hang this'bag' for about four hours and collect all the drippings into the bowl.
LIGHTLY squeeze out any juice left in the cloth.
Discard pulp.
Measure the liquid.
For every cup of liquid add one cup of sugar and one tablespoon of lemon juice.
(Eg. if there are four cups of liquid you would need to add four cups of sugar and four tablespoons of lime/lemon juice.) Put this mixture back on fire and bring to a boil.
Lower heat and cook, stirring constantly (as the liquid tends to boil over), till the liquid starts coating the spoon thickly and the juice/jelly drips from the spoon in jointed drops.
Let stand for half an hour and pour into jars while still warm.
Cover and seal.
Questions & Replies

I just made this Jelly! My mom used to make it all the time. Thank you for the recipe where we do not have to use Pectin. As for sugar content - depends on the amount of water/juice each of us end up with - I feel. I had larger amount of initial juice due to water I added when boiling the Guavas, so I tasted the sweet level and adjusted accordingly. I did have to simmer for quite sometime, which is fine as I had more initial juice. Came out perfect and now I can enjoy my childhood favorite thanks to this author. THANK YOU!

 
Reviews
this nearly got 1 star, cause I made it and it looked right, but it was still liquid when it got cold :( SO, I put it back on the heat and simmered for ages , and then I bottled it, and OMG it is great. the colour, the smell and the taste is perfect!!! and for an added thrill, I mixed some with Chrissy O's wato's chillie sauce, and I reckon I could sell that magic drop for about $100 an ounce!!! thanks so much for fab and easy recipe!!

 

Made this once as written, and thought it was a good base recipe, but way too sweet and lacking for interest. In all fairness, we can't grow guava around here so lord knows how fresh/fragrant the ones are that get shipped here. But... second time, I made some variations, and my husband said it might've been the best thing he ever put in his mouth! 1. I added a small finger of ginger to pot with the first boil. Quartered it to expose the flesh, but left it big enough to remove easily later. 2. I didn't do the four hour strain thing. Took it right from the stove and poured it through a fine mesh strainer, and used a rubber spatula to push most of the pulp through the mesh, leaving the seeds and ginger behind. Took a grand total of five minutes. 3. I used roughly half the sugar. 4. I subbed lime juice for the lemon. 5. After boiling it down to the right consistency, I added orange zest and red pepper flakes, and simmered about five minutes longer to bloom the flavors. I never had quava jelly before, so might be missing the mark for nostalgia factor... but seriously, with these changes, it was absolutely incredible!

 

Does the jam thicken a lot on cooling ? The last time I made it and bottled it, it was so hard in the bottle. I had a tough time taking it out and had to eat it like candy but the taste was excellent. I m trying it out again today so please advise. How much jam would I get for one kilogram of guava Regards Anna

 
RECIPE SUBMITTED BY
I live in New Delhi, India. I am a stay-at-home grandmom. I spend a fair amount of time on the net....and while surfing for a recipe ran into this site. After that; this is it....a one-stop station for every kind of recipe. I have no favourite cookbook but love collecting recipes from any source. I play a lot of scrabble (Any potential scrabblers out there?!) and hate cooking in summers. Temperatures run into the 40 degrees cent. range and our kitchens are not airconditioned!! I love travelling and, given a chance, would take a month long luxury cruise which touched exotic ports! Aaaahhh....pure bliss!!!!
View Full Profile