Ground Beef and Potato Casserole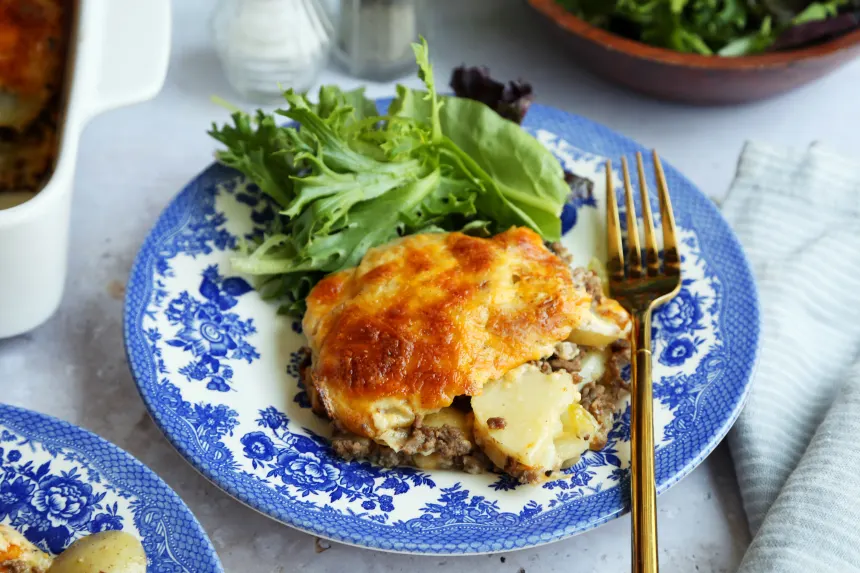 photo by Jonathan Melendez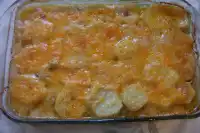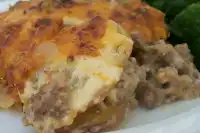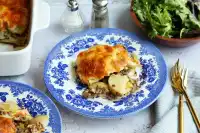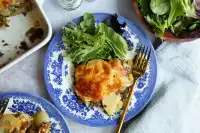 Ready In:

1hr 10mins

Ingredients:

19
directions
Spray a baking dish with cooking spray.
Preheat oven 375 degrees.
Spray a large skillet with cooking spray and brown ground beef.
Drain ground beef, if necessary.
Add onions and celery to same skillet and cook until soft, adding rest of spice ingredients through pepper flakes. Stir well. But in a bowl and set to the side.
In same skillet, melt butter (or use 1 tablespoon of leftover grease from browning ground beef). Add flour to butter, stirring for one minute over medium-high heat.
Gradually add milk and cook till bubbly and thickened.
Add cheese, nutmeg, salt, pepper, and chili powder continue to stir until melted.
Spoon 1/4 cup of the ground beef mixture and spread evenly on bottom of a baking dish.
Add 1 layer of potatoes.
Alternate ground beef mixture, then potatoes until completely used.
Pour cheese sauce over ground beef and potato mixture.
Top with a pinch of paprika and grated cheese.
Bake for 1 hour, or until potatoes and beef are bubbly and done.
Reviews
Yes, I tweaked making in a 3 quart dish. I used 4 potatoes which I sliced just before layering so no need to cover with water and chill. I browned 2 pounds of 90 percent less fat beef skipped the oil and sauteed the onions celery and garlic right in with the beef, so no need to remove. I skipped the butter and sprinkled 3 tablespoons flour right over the beef mixture. Stirred it in then added 2 cups of low fat milk and 1 cup cheese heated till thickened stirring in the spices. Now I sliced the potatoes in which I layered with the meet mixture. Quick and easy and a lot less clean up with quicker results. I do suggest covering the casserole dish with foil for 45 minutes to prevent the top from browning to quickly. At which point add the remaining cheese to melt! Comfort food! Oh my son just had to top his with ketchup and I found it pretty good. Thanks for the warmth!

 

Wow! This dish is like a combination of scalloped potatoes and shepherd's pie! It's so delicious and definitely comforting. I sauteed my meat in a deep skillet with the veggies then took it off the heat and added raw, diced mushrooms and zucchini. I didn't want to dirty more dishes so I didn't layer my casserole; instead I just spread my potatoes over my meat mixture then the cheese sauce over that. I had to bake my for 1 1/2 hours total (probably because the way I stacked ingredients). I put the skillet lid on it for the first 45 minutes. The last 20 minutes I sprinkled it with shredded cheese and fresh grated parm. This was awesome and very versatile. Will make again. Thank you!!

 

The husband loves it, my 4 yr old refused to eat it but he hates meat for some reason and my 6 yr old she loved it. I added ranch to my beef and cheese and it turned out amazing. I didn't do pepper flakes because the kids aren't to keen on spicy. Even though my potatoes were thinly sliced some were raw-ish at the end which the hubby decided to make sure I knew lol. But overall it was very tasty!

 

This was a very good meal. For our tastes, the spices could have been stronger and it could have used more onions but it was a very good jumping off place. I used a mandolin to cut my potatoes thinly and they cooked in 45 minutes. I would also cover the dish for most of the cooking time, uncovering it only at the end to give the topping some color. <br/><br/>With a bit more seasoning, I can see this becoming part of our regular rotation.

 
Tweaks
I made this recipe using unpeeled potatoes to increase the fiber content. I also doubled the amount of onions and celery. For the sauce I replaced the butter with 1/4 cup of light Miracle Whip. I think that next time I'll try replacing the flour and butter with light cream cheese. For the cheese sauce I substituted fat reduced old cheddar and used skim milk. I thought the end result was a bit bland but DH liked it alot. The changes I made reduced the calories only slightly to 439. The fiber increased to 4.6 g or 18% and the total fat was reduced to 15.8 g. The fiber was probably a bit higher since Zaar doesn't seem to offer unpeeled potatoes as an ingredient option. Made for the 'Make it Healthier' Cooking tag game.

 

What can I say? There are only two of us, and the entire pan was cleaned out by the end of the night. I had one "healthy" serving, and my hubby kept going back for more! He is a meat and potatoes kind of guy! I used ground venison in place of beef. The only option I added was celery salt in place of the regular salt and celery leaves. I also had some mirepoix (onions, celery, carrots) left in the fridge so I subbed that for the chopped onions and celery. What an easy, tasty meal.

 
RECIPE SUBMITTED BY
I have been a member of food.com (Recipezaar) since January 2007. . I love to photograph food and have reviewed almost 1500 recipes. I used to be a forum host here for many years, but now - all that has gone away. Memories are all that exist. I hope you enjoy any one of my recipes and make it your own. Thanks for visiting my page.
View Full Profile