Grilled Snow Crab W/Shrimp, Scallops and Crawfish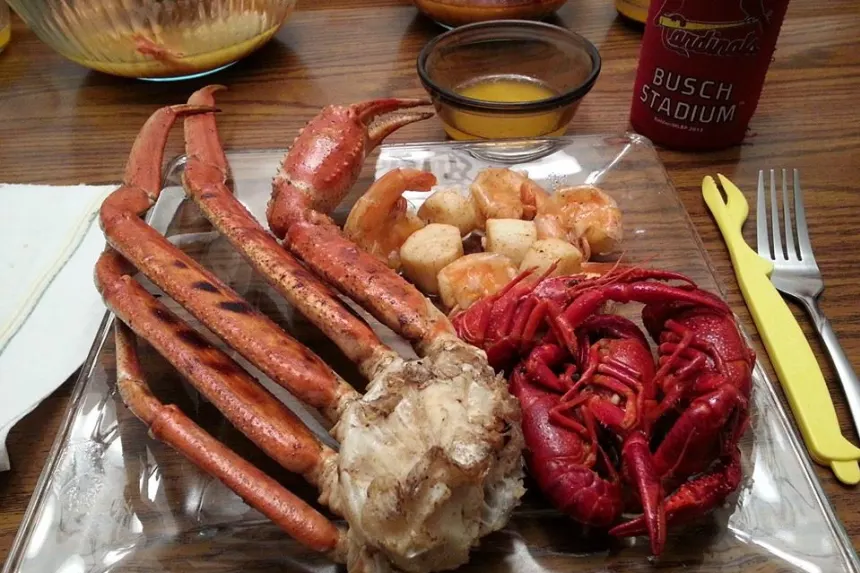 photo by Chef 165grNosler

Ready In:

1hr 20mins

Ingredients:

13
ingredients
6

snow crab legs

12

ounces extra-large raw shrimp (shell on, de-veined)

12

ounces sea scallops (remove side muscle)

15 -20

crawfish

2

cups butter (sticks are easier to use)

2

tablespoons Old Bay Seasoning

3

tablespoons tony chachere creole seasoning

3

tablespoons slap ya mama hot cajun seasoning

2

teaspoons olive oil
1⁄3 cup lemon juice
minced garlic (store bought jar)

3

tablespoons sea salt

1

tablespoon finely chopped fresh rosemary
directions
You will also need two 8" foil pans.
Crab butter (x2): 1.5 sticks butter (softened), 1tbsp Old Bay, 1tsp Olive oil, 1tsp Garlic juice (from the jar). Blend all together. One for basting the crab, one for dipping.
As with most outstanding dishes, the preparation is key to developing the flavors. This is how I prep these dishes and the family loves the results. Due to my location, all of these ingredients are frozen from the store. Fresh is always best, but you make do with what you can get your hands on.
Snow crab: To thaw these I use a large roasting pan and add sea salt (2 tbsp), lemon juice (1/4 C), and garlic juice (2 tbsp) to the water (just enough to cover most of the crab) and place in fridge overnight. About 4 hrs before cook time, drain the crab legs and pat dry with paper towels. Brush crab butter liberally all over the clusters and return to roaster, cover and refrigerate.
Shrimp and Scallops: To thaw I use a large bowl to combine these and use the same set up as with the crab legs, just adjust the salt/lemon juice/garlic accordingly to the smaller amount of water used. After finishing the snow crab prep, prep your shrimp and scallops-rinse/drain well, back in the bowl and sprinkle 1.5-2 tbsp Tony Chachere over the shrimp and scallops while gently mixing to get a good coverage on all. Cover and back in fridge.
Crawfish: Since I have to buy these frozen (pre-cooked) to thaw I use the same as the shrimp and scallops, prep is the same also except use the Slap Ya Mama (mudbugs gotta have heat!).
Prep your grill for around 350 degrees (med to med high) but no hotter than 360. Set up with 3/4 of surface direct heat and 1/4 indirect. I am a charcoal guy so this prep time gives me about 20min to get the rest of my prep stuff done. You gassers will have to adjust accordingly….
Final prep for shrimp, scallops and crawfish: Take the two 8" foil pans and add ½ stick of butter (softened), 1tsp lemon juice, and 1tsp minced garlic to each. One pan is for the shrimp and scallops and one is for the crawfish. Done worry about melting the butter and mixing all the ingredients for now.
Shrimp and scallop pan: also add rosemary and 1tsp Tony Chachere, add shrimp and scallops to pan.
Crawfish pan: add 1tbsp Slap Ya Mama then add crawfish.
Place uncovered pans on your grill, directly over coals and close the lid. Give it about 4-5 minutes (no peeking!). By this time your butter should be bubbling, if not close lid and wait a couple more minutes. Once your butter is bubbling in both pans, gently stir both pans and tightly cover/seal with foil (this really gets the butter/seasonings cooked in). If you have a larger grill, place both pans on the indirect heat area. If you do not have a large enough grill, then place pans in a pre-heated oven (300 degrees).
Grab your crab legs, left over crab butter, long handled baster brush, and tongs: the size of your direct heat cooking area will determine how many clusters you cook at once. (Be sure to have a serving dish handy to transfer cooked legs onto so that you can keep cooking. I place my serving dish on top of the 2 foil pans so everything stays hot. Another covered roasting pan on the side will work as well.) I cook my crab legs 3 clusters at a time for about 2-3 min per side (pale underside will brown and top sides will deepen red). 3 clusters provides adequate space for the clusters to be spread out and cook evenly. Don't pile the clusters on top of each other, this will cause uneven cooking. Back to the grilling: add your clusters and close the lid immediately, this will minimize the flaring up as the butter melts. 2-3 minutes and then flip the clusters and baste with crab butter; close lid immediately. 2-3 minutes and place in serving dish, brush with crab butter and repeat with next set of clusters. Watch your time as it is very easy to overcook the crab which will dry out the meat.
Remove all from the grill, transfer shrimp/scallops and crawfish into serving bowls, serve immediately and enjoy!
Questions & Replies

Got a question?
Share it with the community!
Reviews
Have any thoughts about this recipe?
Share it with the community!