Gooey Philadelphia German Butter Cake (Butterkuchen)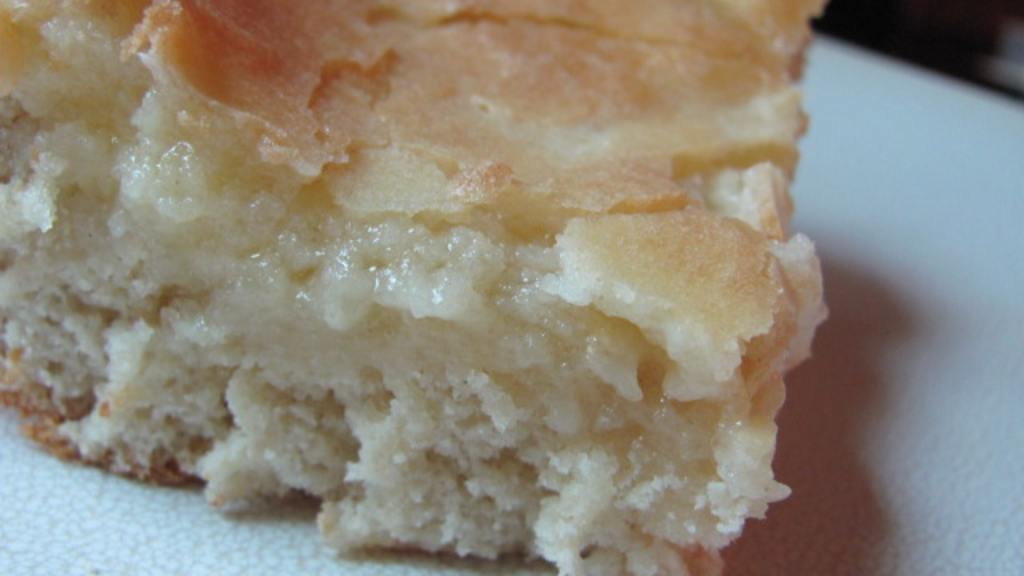 Ready In:

2hrs 30mins

Ingredients:

14
directions
Mix sugar, shortening, and salt in a bowl.
Add egg, and beat together for 1 minute.
Dissolve yeast in warm milk.
To egg/sugar mixture, add flour, then yeast mixture and vanilla, beating about 3 minutes (with dough hook or by hand).
Turn dough onto lightly floured board and knead 1 minute.
Place in a lightly greased bowl, cover with a towel and let stand in a warm place to rise 1 hour or until double.
Make Topping: Cream butter in a mixer.
Mix together flour and sugar; gradually beat into butter.
Add eggs, one at a time, beating well after each addition.
Add vanilla.
Gradually add just enough milk to bring mixture to an easy spreading consistency, being careful not to make it too runny. Set aside until dough is doubled and ready for use.
When dough is doubled, punch it down and divide in two sections.
Roll or pat halves into bottom of two well-greased 8" square pans (or a 13x9 pan).
Crimp edges halfway up sides to hold topping. Prick dough with a fork to reduce bubbling.
Spread topping evenly over dough. Let stand 20 minutes. Heat oven to 375°F.
Bake 30 minutes for 13x9 or 20 minutes for 8x8 or until top is just golden and crusty, but still gooey.
DO NOT OVERBAKE!
Join The Conversation
The dough/bread part of the recipe is not something I enjoyed the first time I made this. The dough didn't rise, and I found it dry, tough, and the flavors didn't match. The second time, I made a homemade yellow cake batter and piped on the topping using a zip loc baggie; then, I baked all for 30 minutes together. Although it was incredible, the top was as firm as the bottom. I still received rave reviews from my friends, and the piece I had was super yummy. Today, I baked the yellow cake for 10 minutes; then, I piped on the topping same as last time. However, where the topping sunk, these were the only pieces that were gooey. The pieces where the topping stayed suspended were as firm as the yellow cake (just like the second time I baked this). Again, it's dynamite this way but, in all honesty, I truly believe this cake will be best with most of the yellow cake as the base, piping the topping as an upper-middle layer; then, piping a very thin layer of the yellow cake on top of the topping. Next time, I will be cutting the piping hole much smaller so I can achieve this layering technique to get every piece gooey. I am originally from PA about 45 minutes from Philly, and my parents would buy German Butter Cake for us. This recipe in it's original form is not what I remember. What I'm making now is closer to the original.

I grew up outside of Philadelphia and there was a bakery named Ralph's in my town that made the most delicious butter cake, after searching high and low for a copy-cat recipe i finally found one! this matched what i remembered about butter cakes the best! it's not the easiest to make, but well worth your time! I'm going to make it again and bring one to my parents!

I use 1 cup flour in the topping. my bottom is different, I prefer a more shortbread sweet bottom not this version with yeast which is more bred like and too bland. my crust/bottom: mix 2 sticks unsalted melted butter, 1 1/2 cups sugar, 2 t. baking powder, 1/4 t. salt, 1 egg, 2 cups AP flour, and 2 T whole milk. this will form the dough which you place on the bottom of a 9x13 pan, spread it out evenly and up the sides as much as possible. Then add the topping on top, spread evenly, and bake 25-30 minutes.

Not sure why this didn't work for others. I grew up in Philly on Barnett St and we had a bakery up the block that made EXACTLY this. I searched for years to find this recipe and the second I tasted what I'd made, it brought me right back there! I will admit you've GOT to follow the directions exactly, but if you do it right, it's amazing. Hardest part is punching down the dough and crimping in the pan.