Frozen Fruit Pops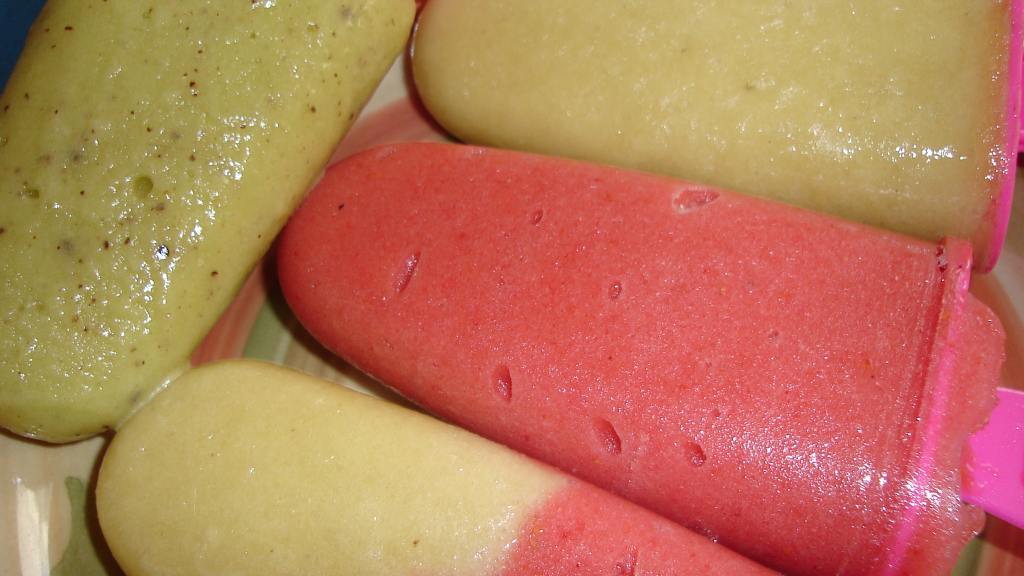 Ready In:

2hrs 20mins

Ingredients:

5
ingredients
2

bananas, peeled and halved

2

very ripe kiwi fruits, peeled and halved (you may sub peaches, grapes, mango, etc.)
2⁄3 cup strawberry (fresh or frozen, or other berries of your choice)
1⁄2

cup orange juice

3

tablespoons light corn syrup
directions
Several hours or day bdfore serving prepare fruit purees: Place bananas, kiwifruit, and fresh strawberries in freezer until partially frozen and firm.
(If using frozen strawberries, allow to thaw slightly until just softened.) Pour orqnge juice into glass dish or pie plate; freeze until almost solid.
In food processor with chopping blade or blender, combine 2 banana halves, 1 tbls.
corn syrup, and the orange juice; process until mixture is smooth and pureed.
Divide between two 3-ounce metal timbale molds, two 5-ounce paper cups, or any 3-ounce popsicle molds.
Puree kiwifruit with 1 banana half and 1 tbls.
corn syrup; divide mixture between 2 molds or cups.
Puree strawberries with remaining banana and corn syrup; divide between 2 molds or cups.
Place all fruit-filled molds in freezer.
After 45 minutes, insert popsicle sticks in center of pops.
Freeze pops several hours or overnight until completely frozen.
To serve, remove pops from molds by quickly dipping molds into hot water; then, holding stick, pull pop out of mold.
If using paper cups, paper can be peeled off.
Enjoy!