Flour Tortillas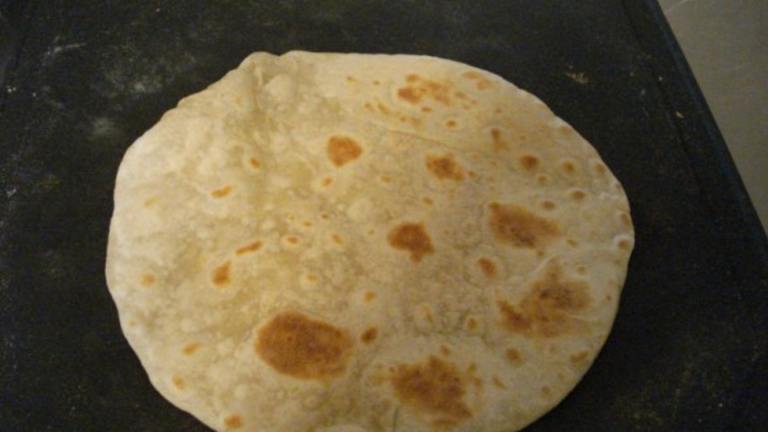 I found this recipe on the Texas Highways Magazine website. Homemade tortillas are so much better than store-bought!
Ready In:

40mins

Serves:

Units:
directions
Combine flour and salt in a large mixing bowl.
Heat lard (or shortening) and water in a small saucepan over low heat until lard has just melted.
Allow mixture to cool for a few minutes, then gradually stir it into the flour mixture.
Form into a dough by hand (or if you have a stand mixer, turn on low speed until well combined, scraping down the sides of the bowl).
The result should be a dough that is neither wet nor dry and crumbly. ~NOTE~ If too wet, add a little more flour; if too dry, add a little more water. I normally don't have to add anything at this point.
Knead dough briefly by hand or mix with stand mixer until dough starts to wrap up the bread hook.
Place dough on a lightly floured surface and divide dough into 12 pieces.
Roll the pieces of dough into little balls between the palms of your hands and place on a flat surface such as a baking sheet.
Cover with a slightly damp towel, and allow to rest for at least 10 minutes (or up to 1 1/2 hours).
Using a rolling pin, roll dough into thin rounds about 6-7 inches in diameter.
Preheat a large, heavy skillet or griddle over medium-high heat.
Place a dough round on the cooking surface; within about 30 seconds the dough should start to bubble, and some little brown spots should begin to form on the bottom.
Flip tortilla, and cook another 30 seconds on the other side.
The tortilla will puff up, at this point, I usually mash them down with a spatula, but it itsn't necessary.
Once the tortilla has turned white with little brown spots on it, it is done.
Remove from heat and place on a dinner plate. Use another dinner plate inverted to act as a lid to keep tortillas warm.
You might need to adjust heat, as necessary, as you cook remaining tortillas.
Submit a Recipe Correction
RECIPE MADE WITH LOVE BY
"I found this recipe on the Texas Highways Magazine website. Homemade tortillas are so much better than store-bought!"
Doesn't cut it for me. I use a recipe with shortening, but today was out so found this one with oil. I think it has too much baking powder, and it turned heavy the second I started adding the water. Also, it pretty much needs the water listed, mine were on the dry side and just not good. Sticky dough is not bad for tortillas, much easier to roll out. A good recipe is "my abuela's tortillas" and the proportions are 3 C flour, 2 tsp baking powder, 1 tsp salt, and then 4-6 Tablespoons lard. Much better!! Or google "chewy tortillas recipe" and it uses milf and is very good too.

I decided after 20 years of living on the Texas/Mexico border, it was high time I made my own tortillas. These were just like "buttah"! (butter) Awesome taste--delicious right from the griddle. So great. so easy. So inexpensive. There is no reason for anyone to buy store-bought tortills again. Thanks Kim D for a great recipe!