Flaky Pie Crust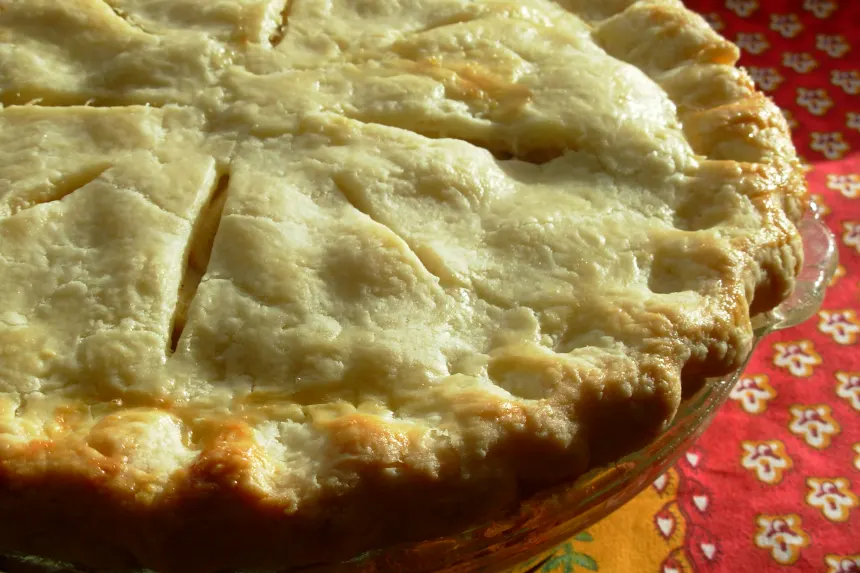 photo by Fiddler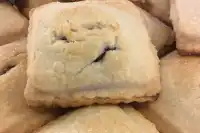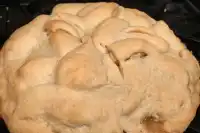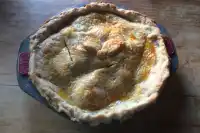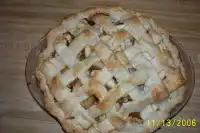 Ready In:

1hr 10mins

Ingredients:

7

Serves:

16
directions
Blend flour, sugar and salt in processor.
Add shortening and butter and cut in using on/off turns until mixture resembles coarse meal.
Transfer mixture to bowl.
Mix 6 tablespoons ice water and vinegar in small bowl; pour over flour mixture.
Stir with fork until moist clumps form, adding more ice water by teaspoonfuls if dough is dry.
Gather dough into 2 balls; flatten each into disk.
Wrap each in plastic and chill 30 minutes.
(Can be prepared ahead and refrigerated up to 2 days or frozen up to 1 month. If frozen, thaw overnight in refrigerator. Soften slightly at room temperature before using).
Zelly Bell I'd say you have a way more modern oven than I do, thank goodness, and you should "tailor" this recipe to what what works for you and your oven, as I imagine most ovens are newer than mine, which I'm just used to mine now, and can even bake good cookies from scratch with it now. This recipe is simply a good easy pie crust easy enough for a beginner in even a not user-friendly oven.
Please Do NOT be intimidated at making your own pie crust, it's not that much work and way worth it. It's more enjoyable when they compliment you to say, "I made it from scratch". Bottom line it's worth trying. If I can make a good pie crust you can too.
Questions & Replies

Reviews
This was great!! I used very cold (but not frozen) shortening, and in between working on parts of this I stuck everything in the freezer to keep it workable. I will add that when I went to roll it out, the dough stuck horribly to my work surface. I scraped it off, floured everything very well (including the top of the dough), and it went smoothly. The dough came out wonderfully... I froze one for later baking, and used the other in Teresa M's Spiced Pumpkin Pie (# 21047)... the crust was flaky and delicious, and that said, I don't think I will ever buy another pie crust again!! Don't be intimidated by pie crust, folks, its easier than you think!

 

I am a licensed home baker and was asked to make mini hand pies for a wedding. I lost my original pie crust recipe during a move and so glad I did. This recipe is amazing and so forgiving! I literally just tossed all ingredients in my Ninja blender, pulsed a few times, then pulsed in vinegar and ice water. I also used chilled butter and didn't even bother chilling the shortening or the dough before rolling out. Wasn't necessary. Super easy to work with and amazingly tender and flaky!

 

I liked this recipe. I used it for a meat pie which I will post later. I also used not frozen but very cold shortening and very cold unsalted butter. I have a micro food processor...the key word being micro and couldn't use it for this recipe but I do have a pastry knife and it really wasn't that much work. It came together nicely and I didn't roll it out in between waxed paper...but maybe I'll try that in the future. Thanks!! I'll use this recipe again.

 

This was my very first pie crust and it came out perfectly. I made this for Libby's Famous Pumpkin Pie (Recipe #101104), and I got a lot of compliments. Next time I make this, I'm going to bake the pie crust on its own for a few minutes before I put the pie filling in. I don't know if this is something you're supposed to do, because obviously I'm new at this... I'm going to bake the crust though because I noticed in the center of my pumkin pies (i made two at a time) the crust was just a little soft. It was fine that way, I don't think anyone really took notice, but to bring the pie to perfection, I would have liked a dryer crust. Thanks for the recipe, it was so easy! ----------- Christmas 2006 Update: Hi again Teresa! Hope you had a great holiday. I re-visited your pie crust, and this time I "toasted" it in my oven for about 10 minutes at 350, before putting the pie filling in. At first I thought this was a mistake because the crust got soft and moist, sliding down the sides of my pie pan. But I let it cool and refrigerated it, and then baked my pies the next day. The crust was PERFECT! No soggy middles! Thanks again, and have a great New Years!

 
Tweaks
The first words out of my mouth were "Honey, WE made a flaky pie crust- check it out!" This was my first time making pie crust from scratch, and it was a success! I followed the directions exactly except that I substituted 2t lemon juice for the apple cider vinegar because I forgot to buy the vinegar and have seen lemon juice used in another recipie- the acidity aparantly does something great with the flour- it works is all I know! Made it for Thanksgiving pumpkin pies using the recipie on the can of pumpkin, and then my husband made some cookie cutouts with the leftover dough- sprinkled them with cinnamon sugar- YUM. Thanks, Teresa!

 
RECIPE SUBMITTED BY
Thanks for checking out my about me page. Jeff is my husband of 8 years. We have 1 dog that someone dropped off at the side of the road and I brought home, and she rules the house. I love dogs, and hate to see a dog tied up and forgotten. I love to grow different kinds of tomatoes from seed to can, and give the "extras" away (when I'm working and don't have time to can).
View Full Profile