Ethiopian Flat Bread (Injera)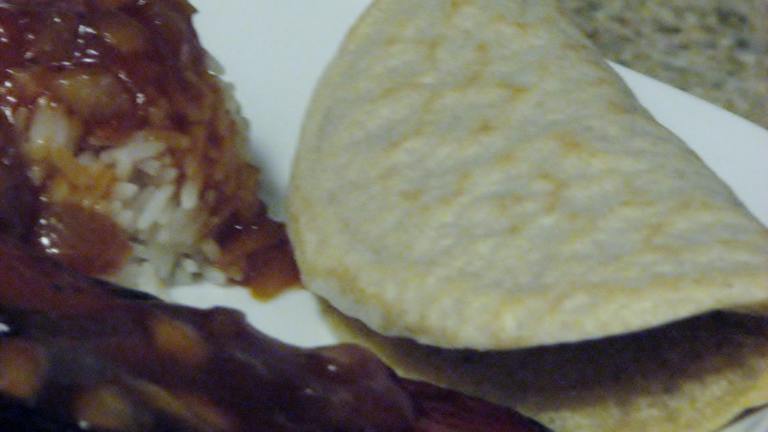 Not an authentic recipe as it misses out the Teff flour. I made this version as I cannot find Teff anywhere!
Ready In:

1hr 40mins

Serves:

Units:
directions
Mix everything together to form a batter.
Let set in large bowl, covered, an hour or longer, until batter rises and becomes stretchy.
It can sit as long as 3-6 hours.
When ready, stir batter if liquid has settled on bottom.
Then whip in blender, 2 cups of batter at a time, thinning it with 1/2 - 3/4 cup water.
Batter will be quite thin.
Cook in non-stick frypan WITHOUT OIL (is that a great instruction or what?) over medium or medium-high heat.
Use 1/2 cup batter per injera for a 12-inch pan or 1/3 cup batter for a 10-inch pan.
Pour batter in heated pan and quickly swirl pan to spread batter as thin as possible.
Batter should be no thicker than 1/8-inch.
Do not turn over.
Injera does not easily stick or burn.
It is cooked through when bubbles appear all over the top.
Lay each injera on a clean towel for a minute or two, then stack in covered dish to keep warm.
Finished injera will be thicker than a crepe, but thinner than a pancake.
Submit a Recipe Correction
RECIPE MADE WITH LOVE BY
"Not an authentic recipe as it misses out the Teff flour. I made this version as I cannot find Teff anywhere!"
Tasted authentic enough for my family. For me, I had to wait around fifteen minutes for the texture of my injera to get rid of it's initial sticky/gooey/mushy-ness, but after the fifteen minutes it was PERFECT. Considering it was My first time making any form of injera I would say it went pretty well. My husband and his brother loved it with kitfo, Gomen, and misir wot.

It would be pretty difficult to make authentic injera in the U.S. as it is made with a plant fiber from the false banana tree that has been fermented for 3 months in the ground. This plant is used for everything including porridge, bread, meat dishes, etc. It is often powdered for use in some dishes. It is very slimy and resembles cornstarch when wet. I think a sourdough version would come closest. : )

This was fun recipe to try. I added a bit of vinegar as others had suggested. Mine had kind of a raw flour flavor that I couldn't get past.I had a really hard time not flipping them, they looked like they were begging to be flipped, but I stayed true to the recipe and left them alone. I was really surprised that they didn't want to stick to the pan or burn. Thanks for sharing the recipe.