Easy Curried Yellow Dal (Yellow Split Peas)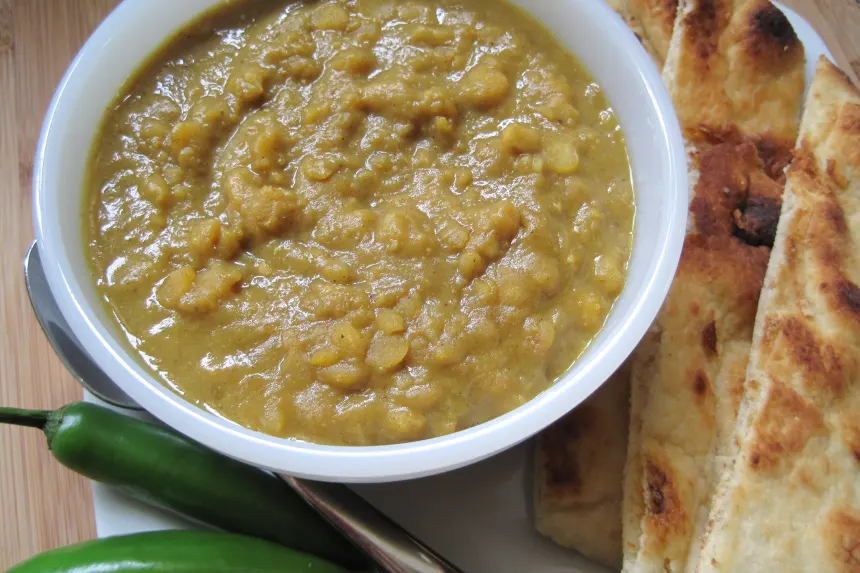 photo by magpie diner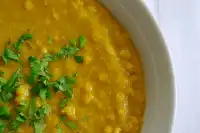 Ready In:

1hr 10mins

Ingredients:

15
directions
In a medium saucepan melt butter over medium heat. Add chopped onion and salt. Saute until soft, about five minutes. Add garlic and saute until fragrant, about 30 seconds.
Add remaining spices and stir. Saute for about 1 minute, cooking spices. If spices start to stick to pan, add some water - 1/4 cup should do. Add peas and stir to coat with butter, onion, and spice mixture. Add broth, 1/2 cup water and bring to boil. Cover and reduce heat to simmer.
Simmer for 40-50 minutes or until peas are tender and most of the liquid has been absorbed. (Check peas periodically - you may need to add more water during cooking if peas are absorbing the liquid too quickly). Garnish with chopped cilantro/coriander leaves before serving.
Options: Serve with hot basmati or brown rice for a filling one-dish meal. Or, double the broth/water to make a curried pea soup. To turn this into a spicy curry, add some finely chopped jalapeno, serrano, or chile pepper at the same time as the garlic.
Update 1/6/2010: Some people have reported issues with the peas taking longer to soften. I have never had an issue but try cooking the onions without salt and waiting until the last 10 minutes or so of cooking time to add the salt. I have heard salt interfers with lentils softening perhaps it is the same for split peas. Curry powder - I usually use a mild Indian yellow variety, the all-purpose kind found in most US supermarkets. But I have also made this with a hot Madras and it was also delicious (but spicy!).
Questions & Replies

Got a question?
Share it with the community!
Reviews
Indian food - one of the last things I am still willing to pay for in a restaurant rather than doing at home. Combination of price and simply never done it before. This is a good first try recipe. What is there to mess up really? Agreed with Enemil - whatever dried legume you use should be soaked for hour or more before. You'll know they are soaked enough because they will have a sort of "al dente" bite to them - bit more al dente than you would want with pasta and couldn't be dished up without additional cooking. I was a bit heavy with the broth so too much liquid. Simple fix - mash the peas a bit to make thicker. Not quite as much as mushy peas. Spices - missing a few on the list and couldn't be bothered to make trip to the store. As long is there are a few classic Indian (generic yellow curry powder, turmeric, or the like) your good. Used a bit of tomato paste in it. Rather than chili powder (kids), used sweet paprika powder. Didn't want to make naan bread and the closest Indian isn't so good. Used flour tortillas with a bit of garlic butter spread on top and few minutes in the oven. Not 100% but close enough that wife and kids didn't have a problem. Really - give it a go - 5 minutes actual play time with the food - 45 cooking hands free with occasional check that there is enough liquid - and dinner is on. Also, tasty reheat for lunch next day at work.

 

Salt according to Martha Stewart and other sites doesn't affect legume cooking time, and adding salt later might make your beans blander.<br/><br/>If your beans are coming out hard, the two primary culprits are 1. adding an acid, like tomatoes, which slows cooking or 2. your dried beans are too old, which leaves beans drier and less flavorful. Try pre-soaking your lentils for 30-60 minutes or more, but this still won't bring back lost flavor. Try buying your dried legumes from a store with high turnover and use your beans in a timely fashion.

 
Tweaks
This is good. I used butter, recipe#418911 instead of vegetable stock, sea salt, recipe#442889, no turmeric as the chicken stock had some added already, did not use chili powder but did add recipe#279714 and the cilantro garnish plus the rest. It took way longer for the peas to become soft. I won't make this again.