Drunken Garlic Crock Pot Roast
photo by SharonChen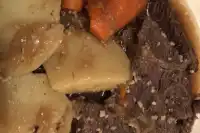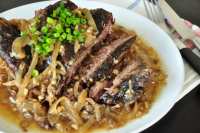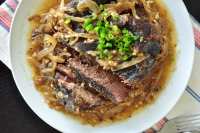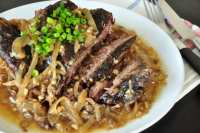 Ready In:

7hrs 15mins

Ingredients:

13
directions
In a large skillet, heat 1 tablespoons of the oil and brown roast on both sides, seasoning with salt and pepper; remove to a platter and keep warm.
Add the remaining tbsp of oil to the pan and add the onions, cook until they just start to wilt then add the garlic, them cook until the onions are tender, a few minutes more.
Add the bouillon cubes to the hot water and stir to dissolve; add that to the skillet along with the beer, brown sugar, mustard, and vinegar; stir to mix well.
Pour mixture into the bottom of the crock pot.
Place roast on top of liquid, cutting into pieces if it doesn't lay flat.
Set the crock pot on low and cook for 7-8 hours.
Remove meat from crock pot and pour liquid into a pan on the stove; heat to a boil, and mix a slurry out of the cornstarch and water; thicken pan liquid with slurry to make a gravy.
Serve gravy over meat or with potatoes or noodles.
Reviews
This was easy & delicious - my kind of Monday night recipe! I didn't change anything except to leave the roast in the crockpot for 12 hours (I am gone from 7 to 7 on Mondays) and this worked out fine - the meat was nice & tender. The night before, I browned the roast as required and then refrigerated. And I also prepared the liquid and spice mixture ahead & placed in the crockpot. In the morning, all I had to do was pop the roast in the pot, switch it on, and go! Thanks, Sue!

 

We had this roast for dinner last night and it was excellent!!!!!!!!I did everything the night before and threw the crockpot in the fridge as others suggested. It only took 5 minutes to thicken up the gravy, make the mashed potatoes, and egg noodles. I did, however, make some changes as we are major garlic lovers. I used 35 large cloves of garlic, 1 huge sweet vidalia onion, and mixed the cornstarch with beef broth. We don't do leftovers, but the dog had a very delicious dinner too!!!!!!!Thanks for posting this recipe, it's a keeper and I'll be making it again soon!

 

Delicious recipe! Made it as written in my Instant Pot (IP) except omitted the hot water and one bouillon and reduced the sugar. Used Sauté function on the IP to brown the meat. Removed it to a platter, added a bit more olive oil for the onions and garlic. After sautéing, added about 12oz of Guinness (so opted to omit the water and one bouillon), Dijon, red wine vinegar, 1 bouillon, and based on reviews, just one tsp brown sugar. Stirred it around - it smelled so good - and put the roast back in. Closed the lid, switched to Manual, set for 40min, waited...it takes about 10min to build pressure...and it started cooking and counting down. Did Quick Release, opened the lid, threw the potatoes and carrots on top, closed the lid, pressed Manual and set for 10min (it did need about 10min to build pressure again). After the countdown, did Quick Release again and dinner was ready. There was plenty of juice and I didn't feel it needed to be thickened, so we served as is (otherwise, I would have removed the roast and used the Sauté feature with the slurry). This was my 4th time making this recipe. It worked great in the crockpot too. Thanks!

 

Very good. I had a 2 lb. chuck roast and it was done in 5 hours cooking it on low in the crock pot. I used the entire bottle of Guinness and only 1 tbsp of brown sugar. I think I will omit the brown sugar next time and see what I think. I also mixed 1/4 cup flour and 1/4 cup butter to use in place of cornstarch as this is the way I always do my gravy, add it after you get the drippings to a low boil and turn the heat to low after you get everything mixed well together and you have perfect gravy every time.

 
Tweaks
This was great! As others suggested, I reduced amounts of brown sugar and Dijon mustard; 1 heaping packed tbs of brown sugar (light) and 1 tsp of mustard. Used a Boston lager, trimmed excess fat from meat; stirred every 2 hours or so. Followed recipe otherwise. There was enough gravy - thankfully for sides. So often I double sauce or gravy in recipes - we are a saucy house. No need for this recipe - enough to dress starches and/or veggies. I served with steamed broccoli, egg noodles, and mashed potatoes. I assure all those in doubt of quantity of garlic cloves, the amount is necessary and absolutely not at all overwhelming! Surprising - I know. Because I prefer more the dominant flavor of savory rather than sweet, I made the tweaks above accordingly and it was so spot on. I cooked on low for 8-9 hours and the meat fell apart like a short rib. Truly a crowd pleaser!

 

As my boyfriend can not eat beef I substituted turkey thighs. Reduced the sugar to 1 T of dark brown sugar, and instead of the beef bouillon I used wegman's organic stir-fry sauce ( 4 T). Still added the hot water. It changed it but not nearly as much as you might think. It is soy sauce with ginger and (more!) garlic, red miso, sesame oil, two kinds of vinegar, rice wine, etc. But it did not taste Asian at all. Just a rich, dark gravy (make as much as you can!).

 
RECIPE SUBMITTED BY
I am a longtime member since 2002. While I have many recipes here, most of my current recipes are on my food blog at palatablepastime.com I may occasionally post something extra I have here. If you have questions, you can always contact me at contact@palatablepastime.com
View Full Profile