Dill Pickles by the Jar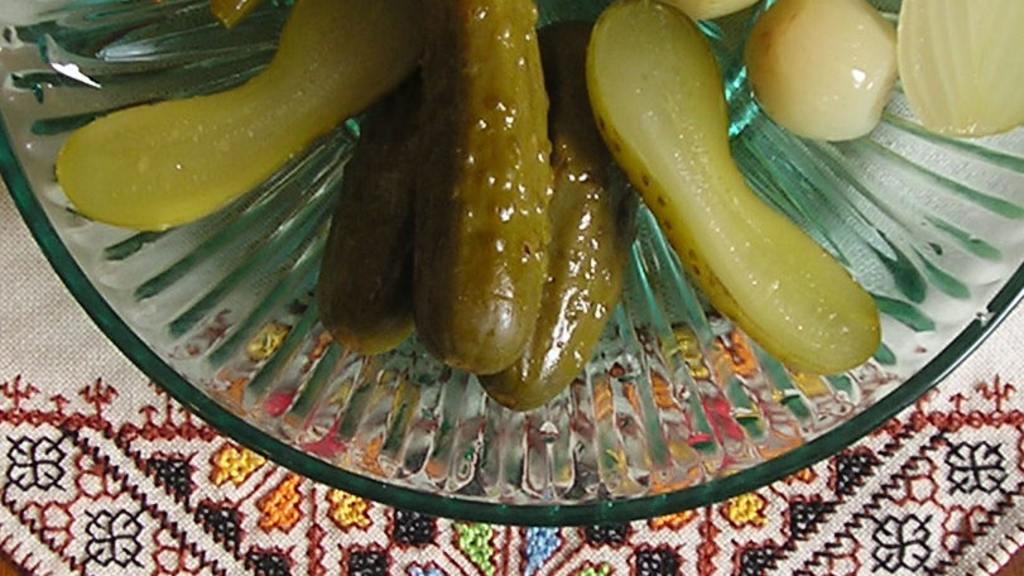 Ready In:

1009hrs

Serves:

Units:
Nutrition Information
directions
Using a soft vegetable brush, thoroughly scrub the cucumbers in cool running water. Cut 1/16 inch off the blossom end. Discard any cucumbers that are bruised or damaged.
Put however many quart canning jars that you need into a canner and cover them with water; bring to a boil and boil for 10 minutes.
Make the brine with the water, vinegar and salt; put them in a pot and heat until the salt is dissolved.
Put a couple good heads of dill seed into each sterilized jar.
Seed heads should be well-formed but still green.
Add a clove of garlic and/or a hot pepper if desired.
Pack the jar with the cucumbers.
I find it easiest to start with the jar on its side, laying some of the larger cucumbers along the bottom then keep stacking on top of them. Use the end of a large wooden spoon to gently push more cukes in once it gets snug in there. Then repeat with a second row of stacked cukes, picking ones that will fit in without sticking too far up in the jar. There may then be room to lay a couple on top.
Pour the hot brine over them, and cap at once with a sterilized lid.
Do not hot water process.
Store jars on newspaper in case they overflow while fermenting.
Can be opened in 6 weeks but much better after 6 months!
Submit a Recipe Correction
Join The Conversation
This recipe uses a fermentation type of pickling, as opposed to fresh-pack or quick process pickles (i.e., whole cucumber dills, crosscut cucumber slices, bread-and-butter pickles), which are made by the addition of an acid such as vinegar and not by the natural fermentation of the vegetable. The tart flavor of these easily prepared products is due to the acetic acid in vinegar . <br/><br/>This means that when you make a fermentation type of pickle, you'll be setting up special conditions that allow "good" bacteria to grow on your cucumbers. These bacteria do not spoil your cucumbers. Instead, they digest the cucumber's sugars and produce lactic acid, changing the vegetable's flavor and texture and turning your cucumbers into pickles in about three weeks. The lactic acid also helps to preserve the pickles. <br/>After fermentation is complete, the pickles are refrigerated, which would retard or end bacterial processes. <br/><br/>This method yields a crispy type of dill pickle, similar to the Claussen pickles in the grocer's refrigerator case. <br/>Tip <br/>During fermentation, there may be a few white spots on your pickles. Don't worry; they'll go away when you process them. <br/>Tip<br/>Follow recipe exactly. Careful setting up and monitoring of conditions %u201Dingredient quantities, temperature, time, and cleanliness%u201D are essential to the success and safety of fermented pickles. <br/>Tip<br/>Don't taste your pickles until they are evenly colored or evenly translucent throughout. <br/>Tip<br/>Any scum on the brine surface is yeast growth. It must be removed or it will cause spoilage of your pickles.