County Fair First Prize Blue Ribbon Lemon Bars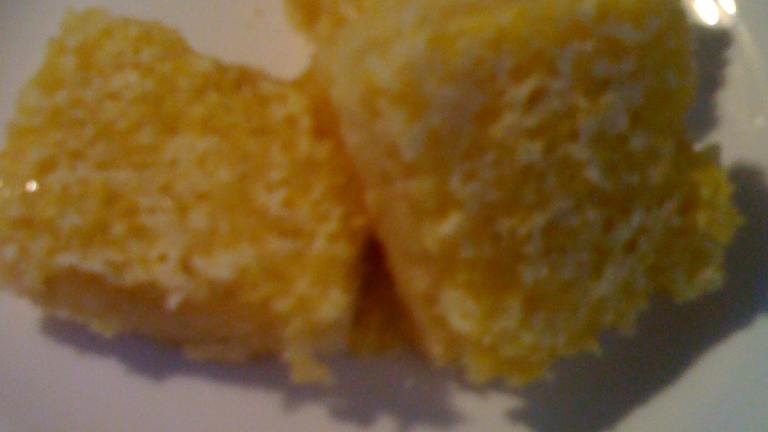 Melt in your mouth Blue Ribbon winners ! I make these at Least once a month.
Ready In:

50mins

Serves:

Units:
directions
First Make the Base:

2 cups flour.
¼ cup sugar.
1 cup butter softened.
Preheat Oven to 350.
Cut ingredients together in a large bowl.
Pat crust into 13 X 9 inch baking dish.
Bake for 15 minutes.

Then:

Make the Topping :

2 cups sugar.
1 tsp baking powder.
¼ cup flour.
3 eggs.
2/3 cup lemon juice.
Grated rind of 2 lemons.
Mix ingredients together in a large bowl and pour over crust. Bake another 20 minutes.
Cool, sprinkle with powdered sugar and cut into squares.
Submit a Recipe Correction
RECIPE MADE WITH LOVE BY
"Melt in your mouth Blue Ribbon winners ! I make these at Least once a month."
Let me start by saying, I don't know anything about cooking or baking. I need my hand held.<br/><br/>I used unsalted butter and "cut" the crust ingredients with a fork. I wasn't sure how fine this mix was supposed to be but mixed until it was smaller than pea size for the most part. It seemed a bit dry but I dumped it in the pan and pressed it firm, making it quite dense. <br/><br/>Baked at 350 for 15 mins. it seemed to have puffed up a little bit. Crust is thick. Mix up top ingredients, again, with a fork (...thrilled to find there is a micro-planer in the house!I learned about zesting today, too. What a day!) Poured on, left lots of bubbles on top. Looks cute. Seems like it barely covers the crust. <br/><br/>Back in oven for 20 mins. Seems quite 'unset', contemplate leaving in another 5 min but after checking aother recipe, it claimed it would set, so I pulled them out. <br/><br/>Maybe I should have put them in the refrigerator to chill as opposed to cool, which I did on the counter. <br/><br/>At the end I found I had no powdered sugar so I made some in the vitamixer then used a wire strainer to sprinkle it over the top. Another kitchen lesson. Thank you, internet.<br/><br/>After cooling at room temp for several hours the lemon didn't set firm. Again I will mention, I need my hand held. Maybe chilling would make the difference. It turned out more lemon crumble than lemon bars but nonetheless everyone thought it was delicious. <br/><br/>C+ for execution<br/>A for effort and taste

This is an incredible recipe! I can see how it achieved a blue ribbon! The flavor is amazing. My husband found it a bit sweet, but I found it perfect. He needs all the sweet he can get! Enjoy these! They are a PERFECT dessert for a summer picnic! Thank you for sharing this amazing recipe! XO LA :-)

Perfect in every way! The only suggestion I have is to use parchment paper for easy removal. By far the best lemon bars I've ever made. Husband even loves them and he's not a lemon bar fan :-) Recipe is a keeper, I've been using it now for 2 years, it actually replaced a family recipe that is similar...however the base on this one is far superior.