Corn Fritters With Crispy Bacon, Roasted Tomatoes & Avocado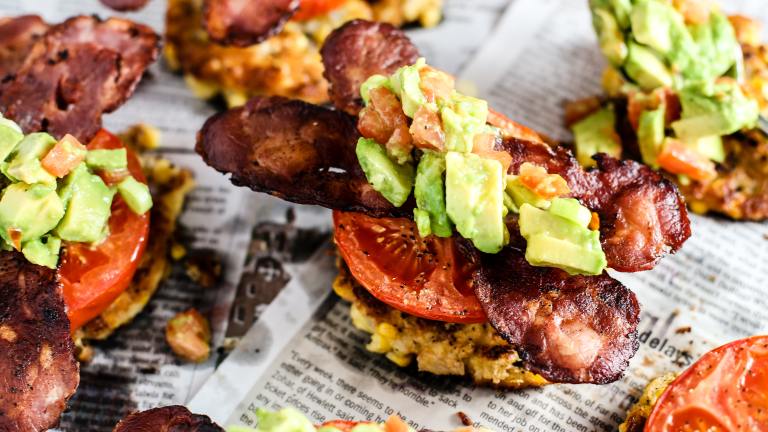 Corn Fritters for breakfast is a cherished event in our house. We both love this dish.... ALOT. I would go so far as to say this is my favourite breakfast of all time. And looking around the interwebs it looks like I'm not the only one. When we lived in Sydney we were frequent visitors to Bill Granger's restaurants where this dish was one of the stars. In London I've been slowly perfecting it, doing my very best to faithfully recreate each element. I used the Corn Fritters with avocado salsa recipe in bills open kitchen as the base. However in his restaurant Bill also serves his corn fritters / avocado salsa with crispy grilled bacon, oven roasted tomatoes and fresh spinach. These elements really make the dish complete for me (but of course this a fantastic vegetarian dish sans Bacon). So here is my homage to Bill Granger and his wonderful Corn Fritters... with crispy bacon, oven roasted tomatoes, baby spinach and spicy avocado salsa. http://gourmetlovers.blogspot.com/2010/04/corn-fritters-with-crispy-bacon-roasted.html
Ready In:

45mins

Serves:

Yields:

Units:
Nutrition Information
directions
Tomatoes& Bacon.
Start with the tomatoes: Preheat the oven to 180°C Cut each tomato in half lengthwise. Place on a roasting tray, cut side up. Drizzle with olive oil and season generously with salt and pepper (and tiny pinch of dried herbs if you fancy). Roast for 20-30 minutes. For the final 10 mins - move the tomatoes to bottom rack and turn the grill on. Lay out your rashers of bacon (suggest 2 per person) onto a grilling rack. Grill until crisp and crunchy turning regularly. Watch carefully to ensure bacon doesnt burn. Ideally bacon should be stiff and can practically be snapped like a biscuit. Remove both bacon and tomatoes and put aside. Turn oven down to 120°C (for keeping Corn fritters warm whilst cooking).
Corn Fritters.
Place half of the corn kernels and the onion, eggs, coriander, flour, baking powder, salt and pepper in a food processor (or in a bowl with hand held whizzer) and process until combined. This is an important step! Whizzing the corn up in this way gives the binding agents a distinct corn flavour which I find lacking in other fritters which do not do this. I believe this is one of the secrets that make Bill's fritters so damn good! Place in a large bowl, add the remaining corn and stir to combine.
Heat 1 tablespoon of the vegetable oil in a non-stick frying pan over a medium to high heat. When the oil is hot, drop 2 heaped tablespoons of mixture per sweetcorn cake into the pan and cook in batches of three for 1 minute each side.
Drain on paper towels and keep warm in the oven while you are making the rest of the cakes. Serve with the avocado salsa.
Avocado salsa.
Place all the ingredients in a bowl and stir very gently to combine. Season well.
To serve.
Create stacks of the various elements in any combination you wish (see picture above). Place a fritter on the plate, then any combination of bacon, spinach, tomatoes and other fritters that your heart desires. Top with avocado salsa and drizzle with olive oil.
YUM!
Submit a Recipe Correction
RECIPE MADE WITH LOVE BY
"Corn Fritters for breakfast is a cherished event in our house. We both love this dish.... ALOT. I would go so far as to say this is my favourite breakfast of all time. And looking around the interwebs it looks like I'm not the only one. When we lived in Sydney we were frequent visitors to Bill Granger's restaurants where this dish was one of the stars. In London I've been slowly perfecting it, doing my very best to faithfully recreate each element. I used the Corn Fritters with avocado salsa recipe in bills open kitchen as the base. However in his restaurant Bill also serves his corn fritters / avocado salsa with crispy grilled bacon, oven roasted tomatoes and fresh spinach. These elements really make the dish complete for me (but of course this a fantastic vegetarian dish sans Bacon). So here is my homage to Bill Granger and his wonderful Corn Fritters... with crispy bacon, oven roasted tomatoes, baby spinach and spicy avocado salsa. http://gourmetlovers.blogspot.com/2010/04/corn-fritters-with-crispy-bacon-roasted.html"
Join The Conversation
With all the fresh corn coming from the garden decided to try this for something different, oh my - was it good, rave reviews from everyone, and requests for a repeat performance. I followed the directions for mixing and really think the processer step for blending half of it is a must. Where I did go a little different was in the frying, decided to deep fry, dropping the dough by the spoonful into the hot oil, the end result was light, fluffy inside with a delightful crisp outside. One of the best recipes I've made lately. Thanks for posting