Ciabatta (Crusty Slipper Bread)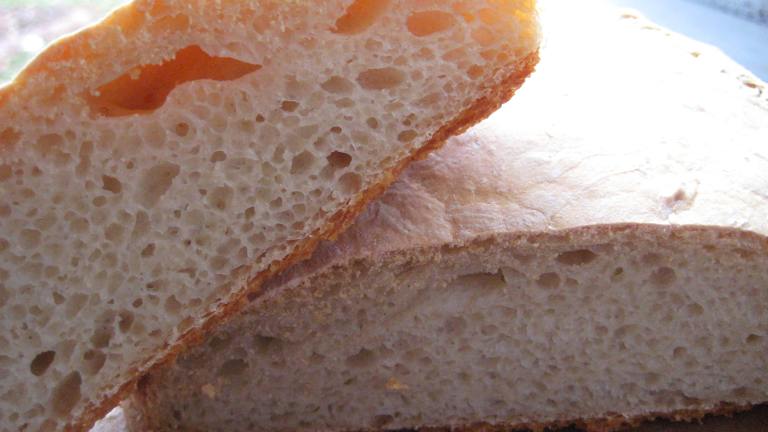 Ready In:

1hr 40mins

Yields:

Units:
Nutrition Information
directions
You will need a baking stone or 2 jelly roll pans that fit side by side in the oven, plus a cookie sheet with no sides or a piece of stiff cardboard to slide the loaves into the oven.
In the bowl of an electric mixer, stir together the flour and salt.
In another bowl, whisk the yeast into the water; then stir the yeast mixture into the flour.
Fit the mixer with the paddle attachment and mix the dough for 1 minute on lowest speed.
Stop the mixer and let the dough rest for 10 minutes.
Beat the dough again on medium speed, until smooth and elastic, about 2 to 3 minutes.
Oil a 3-quart bowl and scrape the dough into it; turn the dough over so that the top is also oiled.
Press plastic wrap against the surface of the dough and let the dough rise at room temperature until it is doubled in bulk, about 1 hour.
About 30 minutes before you are ready to bake the dough, place the baking stone on the middle rack of the oven and preheat to 500°; if you are using pans instead of the stone, invert the two pans side by side on the middle rack of the oven and preheat at the same temperature.
To form the loaves, scrape the dough onto a floured work surface, deflating it as little as possible; gently pat the dough into an 8-inch square; cut in half to make 2 rectangles.
Sprinkle the cookie sheet or cardboard with cornmeal and arrange one of the pieces of dough at the far end, stretching the dough very slightly as you place it on the pan.
Open the oven and slide the loaf onto the stone or one of the inverted jelly roll pans, quickly jerking away the cookie sheet or cardboard.
Repeat with the remaining piece of dough.
Bake until they are very dark golden and reach an internal temperature of about 200 degrees, about 25 minutes.
Cool the breads directly on a rack.
To serve: cut the loaf into thick vertical slices to serve it with a meal; to use the loaves for sandwiches, split them horizontally.
Submit a Recipe Correction
Join The Conversation
Excellent recipe! Very easy to make-I actually couldn't believe how easy. I used SAF instant yeast, so I didn't even have to mix the yeast separately with the water-just added with the flour and salt. I also used 2 c. white whole wheat flour, with no noticeable change in texture or flavor. I used the bread to make mozzarella, tomato, basil, balsamic vinegar and olive oil sandwiches for company, and got rave reviews. Thanks!