Chicken Adobo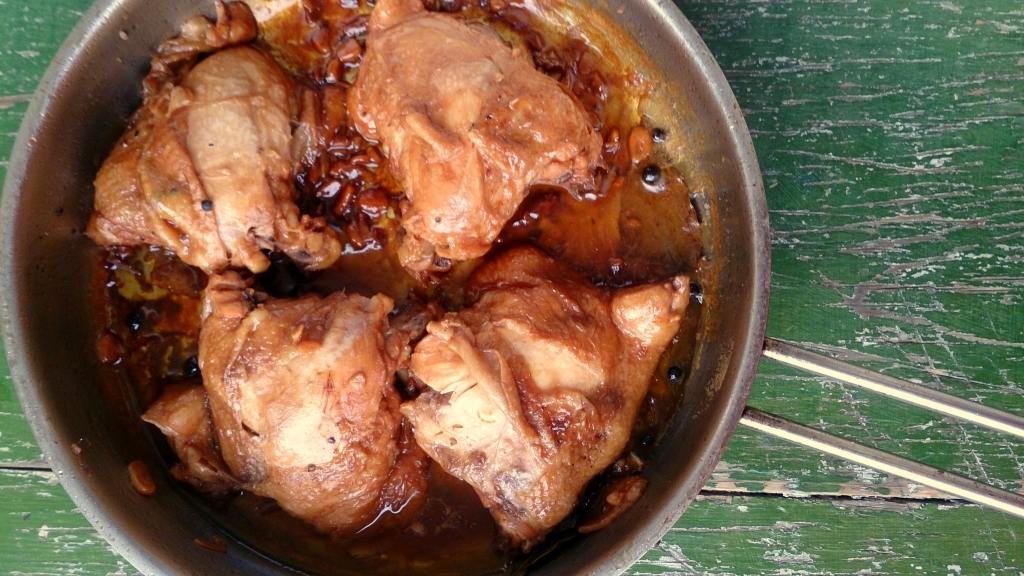 Ready In:

1hr 30mins

Ingredients:

10
directions
In a large mixing bowl combine thawed chicken, water and salt.
Allow chicken to soak several minutes while preparing the other ingredients.
Just before adding to frying pan, drain on paper towels.
In a medium saucepan combine water, vinegar, soy sauce, bay leaves and pepper.
Heat on medium low setting, covered, about 15 minutes.
In a 12" skillet or chicken fryer combine oil and sliced garlic over medium low heat.
Cook for 5 minutes, stirring occasionally.
Drain chicken pieces and add, skin side down, to garlic oil, increasing heat to medium high.
Cook 5 minutes per side.
Reduce heat to simmer and pour vinegar-soy mixture over chicken.
If finishing adobo in skillet, partially cover pan and continue cooking, turning occasionally for 30-40 minutes, or until sauce is reduced by half.
Alternate Slow Cooking Method: After browning chicken, place in 3 or 4 quart slow cooker, on low setting.
Pour vinegar-soy mixture over top, and cook 2 hours, covered.
Remove cover, increase setting to high and finish cooking an additional 1 hour.
Variations May substitute 1 1/2 pounds either cubed pork or beef for the chicken.
Brown 1" cubes on all sides a total of 5 minutes, then proceed as above.
Stew meat works well here.
May use one, (1 to 1 1/2 pound), package boneless, skinless chicken thighs or breasts in place of the regular chicken thighs.
May replace one cup of water in the vinegar-soy mix with same amount of coconut milk.
Proceed as above.
*Discard bay leaves before serving.
Join The Conversation
I made this once years ago and I remember it turned out great. Which is amazing if you know that I hate vinegar. This time around it was just as good. Very fresh and tasty and easy to make. I agree that it can take more soy sauce or just plain salt. An some more water for the simmering (I assumed that the two cups of water were for that).

The family liked this alot. It would be great served over rice, but DH and I recently jumped on the low carb bandwagon, and so we served it over mock mashed potatoes, with a salad. Dinner rolls wouold have been great, too, so sop up all that juice. Anyways...I recommend pulling the chicken off the bone before serving or it makes a big mess when trying to eat. Nothing disgusts me more than taking a bite and finding a fine chicken bone. Do that, and enjoy.