Cherry Fruitcake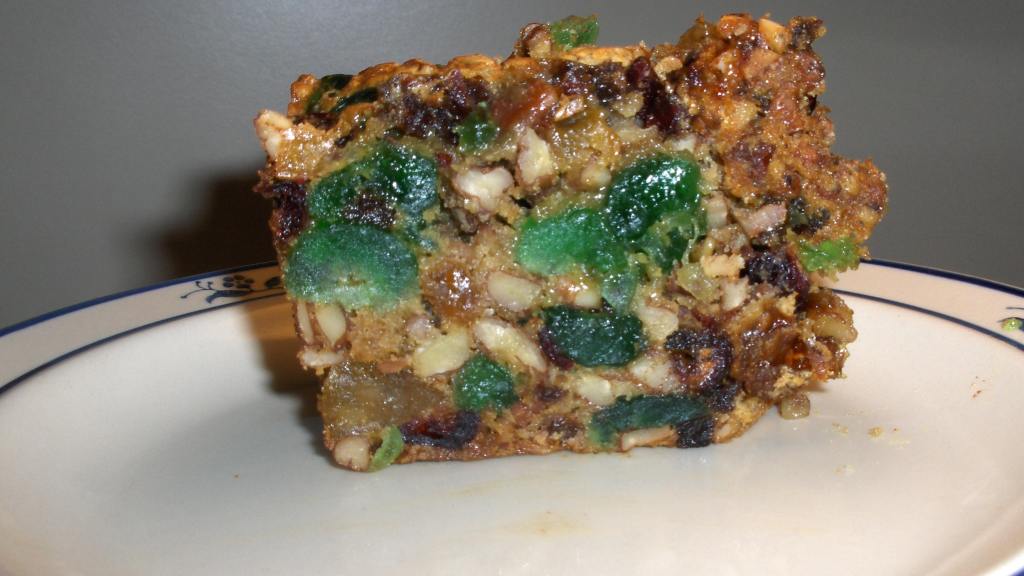 Ready In:

2hrs

Ingredients:

11
directions
Using a tube pan (line bottom with two greased layers of greased waxed paper, and grease sides of pan); or using two loaf pans or eight mini-loaf pans (line bottom/sides with two greased layers of waxed paper). Be generous with shortening on the layer next to the cake.
Cut pineapple, red and green cherries in half; cut dates in 3 pieces.Using hands, combine pineapple, cherries, dates, and pecans in a large bowl. Add sugar, mix well, and set aside for 10 minutes.
Beat eggs& vanilla until light and fluffy; pour over fruit and nut mixture. Using hands, mix well. In a separate bowl, combine flour, baking powder, and salt. Pour on above mixture until"syrupy", again, using hands.
Preheat oven to 275°F Add cake mixture evenly to pans and pack down tightly. Bake until a toothpick inserted in the middle of the cake comes out clean, approximately 90 minutes for a tube pan; 1 1/4 hr for 2 loaf pans; and check starting after an hour for mini-loaf pans.
Remove cake (s) from oven, cool slightly, and remove waxed paper while still warm.
Join The Conversation
I made this as directed and opted for the 8 mini loaves for x-mas gifts. When I had all the stuff in the pans it didn't look full enough so I only did 6. After baking I wish I'd have chosen the tube pan. They came out looking kind of okay but would have been better a little taller. The taste is fine and the slices do look pretty.

I spent many hours looking for a fruitcake recipe, and finally decided on this one. It was exactly what I wanted. It was so good I made one way after Christmas. The 2nd time I did use 1/2 the dates, added golden raisins, and dried cranberries, and it came out great, too. Thanks! (Photos show an all green cherry cake.)