Candied Lime Slices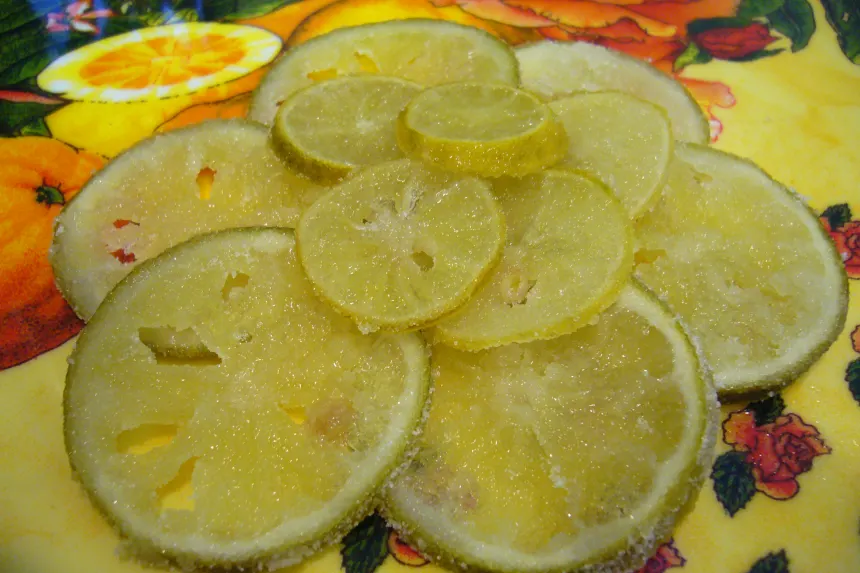 photo by cookiedog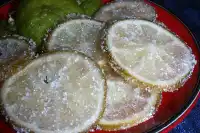 Ready In:

25mins

Ingredients:

4

Serves:

16
directions
Slice limes into thin rounds, blanch in a pot of boiling water for 2 min & drain.
In the same pot, combine water & 1 cup sugar. Bring to a simmer & add lime slices. Simmer for 10-15 min, till white pith of limes looks translucent (May take longer if pith is esp thick or dense).
Drain & spread out on a cooling rack to dry for at least 1 hour.
Put 2 tbsp sugar in shallow bowl or saucer. When limes are dry, coat both sides of the lime slices by pressing them into the sugar (May need more sugar for good coverage).
Store in an airtight container & layer between parchment paper or plastic wrap till ready to use. I freeze these when I make a batch & then just take out what I need to use.
Questions & Replies

Hello from West Virginia! My Grandmother, from a Dunkard background, spoke sometimes about her family Christmases, and mentioned that among the favored 'sweets' were Candied Lemon and Candied Lime. I understand the sweet, yet sour, aspects with the Dunkards, but am wondering if you think that Meyer Lemons would be appropriate for Candied Lemon Slices, or should I stick with the tarter and more acidic Lisbon or Eureka Lemons? Meyers are coming in season now, so I would love to try them if they would work. Hope you can help so we can honor our sweet, but slightly tart Grandmother, now a Great-Great-Grandmother to our youngest generation. Regards!

 
Reviews
I was given some limes recently and decided that candied peel would be a great way of using them. However this recipe gave me a lot of grief. I tripled the recipe using 9 limes and when I blanched them a lot of juice came out in the water. When I boiled them in the sugar syrup, even more came out making them watery and tart. I then put them on a rack to dry but they remained soggy so in despair I threw them back into the pot and boiled them for another half hour with a lot of sugar. This time they candied up properly and I was able to dry them on a rack. However when I tried them., the peel was very tough and hard to chew although the flavour of the inside part was fine if a little bitter. I am not sure what went wrong and didn't want to leave a rating. It could be the limes we have in Greece, the fact that I have never made anything remotely like this before or maybe the cooking time was wrong. Is there something I can do to make the peel softer?

 

Easy recipe. The rinds came out a bit leathery, but they were hard before they were candied, as well. I'll make sure to get a different kind of lime next time. Also, a lot of the flavor leeched out in the blanching process. Next time I plan to substitute my favorite limeade for the water in the candying stage, to give an extra burst of lime flavor.

 

I registered to make this comment.<br/>First of all, I have done many citrus rhind recipes and this was very easy.<br/>Just wanted to let you know I used Key Limes and added White Tequila (3 shots) and<br/>Agave Nectar (2 tbsp). I used my dehydrator to drie them and the came out wonderful. <br/>Thanx for the inspiration

 
RECIPE SUBMITTED BY
I am an American transplanted from Dallas to Iceland by marriage to a native Icelander & I retired to become his "Kitchen Queen". We love to entertain our family & friends, so I have an eclectic collection of recipes. I especially love simple, easy-fix, flexible & make-ahead recipes - BUT also like challenging myself on occasion. I enjoy baking & food photography. I am devoted to the "More is Always Better Principle" & apply it liberally to bacon, butter & garlic. I can have ingredient issues due to availability here in Iceland & my DH is medically diet-restricted from some ingredients as well. Either situation might require me to modify a recipe, but I will do my best to be true to your recipes & fair/honest in my reviews. Mary Pat (aka twissis)
View Full Profile