Buttermilk Rusks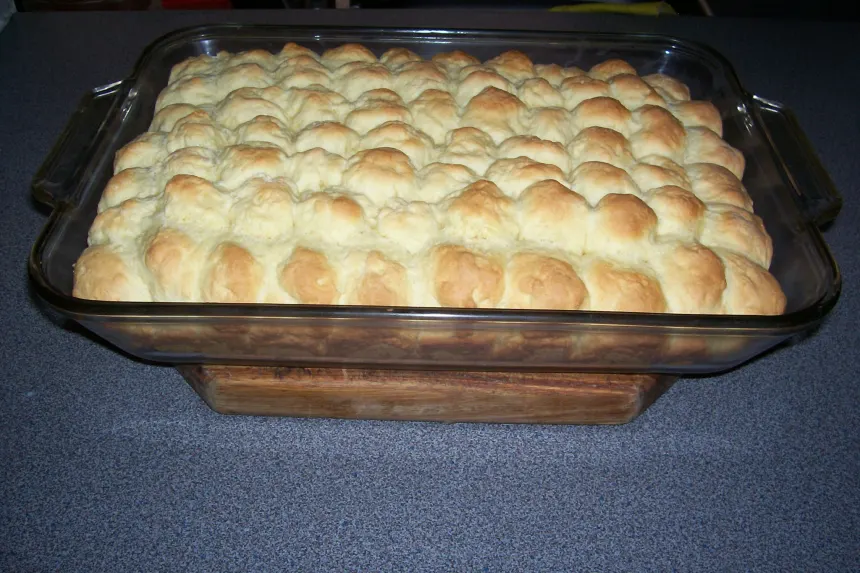 photo by Keltria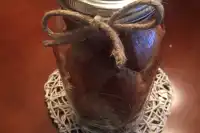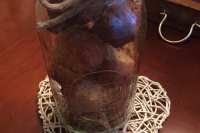 Ready In:

1hr 15mins

Ingredients:

10
directions
Preheat oven to 240°C.
Sift the dry ingredients and stir til well mixed.
Cut in butter - the mixture should resemble corn meal when done.
Beat buttermilk and egg together and add to dry ingredients.
Mix to a firm dough.
Pinch off golf ball sized pieces of dough and press lightly into rectangular shape approx 2cm thick.
Place close together in two greased loaf pans (30cm x36cm x 7cm) and brush the sides of each row of balls with oil so that the rusks will break apart easily after being baked.
Brush with diluted milk.
Bake at 240C for 10 minutes, then reduce heat to 190C and bake for further 50 minutes.
Turn out on cooling rack and break in two or three places so that the rusks will cool more quickly.
When cool, break neatly into individual rusks and allow to dry out in a very low oven (120C).
Reviews
YUM! I didn't do the whole ball rolling thing as we never used to make our rusks this way. I just put the whole lot into one huge roasting pan and cut them up when slightly cooled. I dried them on about 80 degrees C (fan forced) from about 11:30 that night until 6 or so the next morning. These were yummy as. The only mistake I made was bringing them out when our relatives came over. They were ALL gone in half an hour!

 

Well, I must say, this tender rusk dough would make a suitable "platform" for strawberry shortcakes, in my opinion. I found that the total dry mixture weighed @ 3 lbs. So, I simply saved 1-1/2 pounds of it in an airtight container, and prepared the other half as directed with half-amounts of the butter, egg, and buttermilk. I took 10-15 minutes off the 50-minute baking time @ 190 C.

 
RECIPE SUBMITTED BY
I was born and raised in South Africa but now live in Delaware USA. Since I can remember I have been cooking! My first real cooking experience was when I was 7. I came home from school one afternoon and felt like French toast. My elder brother was home with his friends and did not want to make it for me, so I got a pan out, put it on the stove, turned the stove on to high. After that I could not remember what to do, but I knew that French toast involved bread so I put the bread in the hot pan without grease and poured milk over it! Oy vey... My brother's friend asked me what I was trying to make and I told him. He laughed and told me I was making it wrong but he also taught me how to make French toast the right way. I came home every day after that and made French toast. I felt so confident with the little bit of knowledge I had acquired that I soon started experimenting with other things. Nothing was going to stop me! The first full meal I ever made for my family was boiled rice and oven roasted chicken pieces with a steamed vegetable medley. I was 8 years old and my mom was in hospital. My dad was struggling to hold down an intensely busy job, keep the family going and be with my mom, so I thought I would help him. I don't think he believed that I had done it on my own. I remember telling him that I read in a cookery book how to make a roast chicken but I did not know what "a" rosemary was so I just put the chicken in the dish without it. Decades later with a myriad tried and tested recipes behind me - flops and failures included - I know my way around any food item and kitchen utensil, much to my family's delight!
View Full Profile