Bridge Club Salad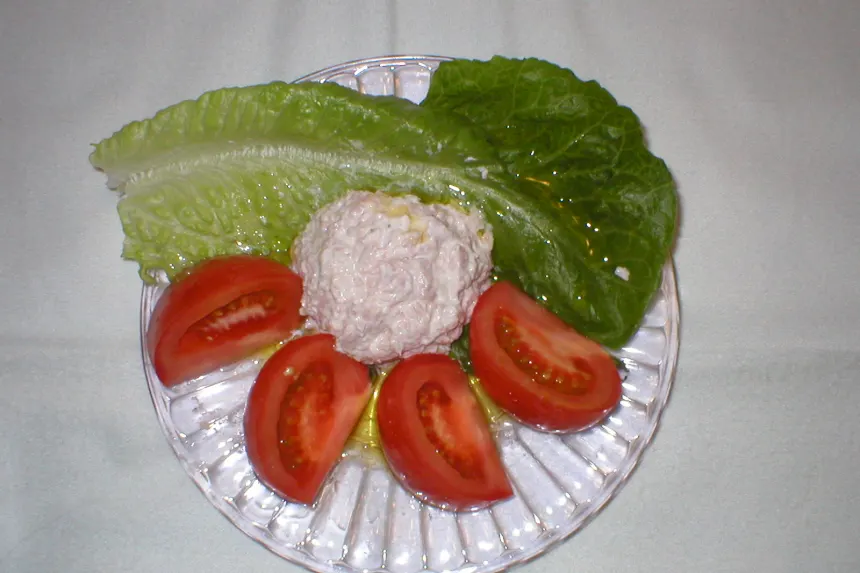 photo by Bill Hilbrich

Ready In:

15mins

Ingredients:

8
directions
Cut the spam into small cubes and then mash with a fork or pluse several times in a food processor Add sour cream, garlic and pepper and mix.
Add the olive oil to the basil.
Cut the tomatoes into 8 pieces and shake out the seeds.
Place one lettuce leaf on each salad plate, top with the spam, and arrange 4 tomato wedges around edge of each plate.
Spoon the the oil and basil over the tomato wedges.
Serve chilled.
Questions & Replies

Got a question?
Share it with the community!
Reviews
Although I am pleased that Jenny has decided to go public with her affection for my cooking skills, I must offer some defence to the product produced in my beloved State of Minnesota. The Nutrition Facts for a serving of Spam is very similar to those on the package of Ball Park Franks. Spam is nothing more than pork, salt, water, and sodium nitrate. The list on the hot dog package goes on for three more lines. A can of Spam can be thrown into a camper's backback, or on the shelf of an RV and left there for years, while my package of hot dogs must be refrigerated and eaten within a couple weeks. Cooking is a Creative Sport, and when I am done playing, I might not eat Spam again .... but it is interesting stuff. Bill

 

I won't prepare this recipe simply because I'm more concerned with eating healthy and in my opinion Spam is anything but healthy, being loaded with fat, no matter the nutritive 'values'. Bill usually submits delicious and nutritious solo recipes and I have made most and enjoyed them. I admire his talent tremendously for being able to toss together a great meal in minutes! I prefer his chicken recipes.

 
RECIPE SUBMITTED BY
Some of you know me as Brother William. No, I am not really a Monk, but I have grown to enjoy my simple and solo lifestyle. My love for humanity is based on fellowship rather than sensuality. I PROMISE that I will never share a recipe unless I have tasted the food. Most of the recipes are mine, but I have included a few classics, and some recipes that were written by very creative people, that are just so good that I had to share. From time to time I have found recipes with my name on them in print magazines, but they are always altered in some way by the publisher. So there is no reason why you should not add your own personal touch. If you leave this page with just one thought, I hope that it would be that Cooking is a Creative Sport. I grew up in Glenview Illinois, just north of Chicago. My Mother loved those little exotic cookbooks, that were sold as a weekly series in grocery stores in the 1950's. I was taught to eat whatever was put on my plate so I ate food from a different culture every week. If I had to pick a favorite, it would be Mediterranean. After leaving my Mother's table, I have lived and enjoyed eating in Colorado, Missouri, Montana and Nebraska, before settling in Saint Cloud, Minnesota in 1975. After a 30 year marriage with mixed reviews, I am now pleasantly single again, and plan to stay that way. Up until recently, I had occupied my evenings just talking with people and sometimes sharing recipes, while soliciting donations for Non-Profit Organizations. Yes .. that's right, for over 20 years, I was a Telemarketer. The perfect job for a Taurus. I enjoy reading cook books the same way most people read novels,and I am still improving my skills in the art of Solo Cooking. However; my true passion will always be sharing my favorite recipes with all of you.
View Full Profile