Beef Consomme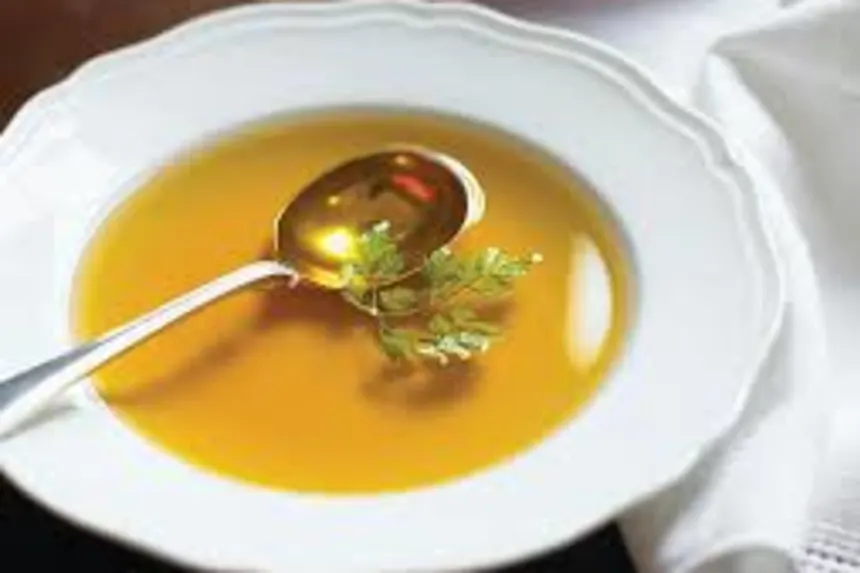 photo by Malinda J.
Ready In:

2hrs

Ingredients:

14
directions
Whip egg whites until frothy.
Combine egg whites, beef, mirepoix, and tomatoes in a stockpot.
Add COLD beef broth, mix well.
Put spices, except salt, in cheesecloth, tie to seal, and put in broth.
Add salt to taste to broth.
Bring mixture to a simmer (DO NOT BOIL) you should see a little steam over the surface of the broth, but no bubbling, or as few bubbles rising to the surface as possible.
Stirring occasionally.
The beef and vegetable mixture will eventually harden and rise to the top.
Do not stir after this has happened.
Break a hole in the beef mixture to allow broth to bubble through.
Simmer approximately 90 minutes.
Strain through cheesecloth, degrease.
Adjust seasoning.
Questions & Replies

I am currently in the process of making this. I just strained the mirepoix and beef "brick" through the cheesecloth and sieve. Out of curiosity, I tasted the grey, mushy beef "discard" and OMG it's delicious! It seems like a crime to simply toss it! Has anyone done anything interesting with it? I doubt I'll receive a response tonight, so I'm going to research a bit more and try SOMETHING with it (thinking a pate of sorts...). Anyway! It smells amazing and looks BEAUTIFUL so far!! I'll update with whatever I do with it and pics! Yay!

 
Reviews
This is A.MAZ.ING. I had beef consomme several times on a recent cruise and LOVED it, so I decided to some myself. I already make my own beef stock, so I figured I was halfway there. This is somewhat time consuming, but not really hard at all. The first time I made it I used this recipe and took a tip from The Joy of Cooking, which says to use the egg shell along with the whites. I've got my second batch simmering on the stove right now, without the shell added, so I'll have to wait and see if the shell makes any difference. I also did not add as many egg whites; I found four was enough. On the cruise it was served with Tiny Choux Puffs (get that from Epicurious) and garnished with chives, or just plain with some little enoki mushrooms and tiny diced carrots. Really, any small addition would be fine, just don't add too much of anything, the consomme is the star here. This stuff is SUBLIME. Thanks, Pink Eye!

 
RECIPE SUBMITTED BY
<p>I've been working in foodservice for over ten years now in many different guises. I like to think that I have a very unique perspective on food since I know it from so many different angles. Ask me anything. I don't bite, unless you look like food.</p>
View Full Profile