Basic Tea Jelly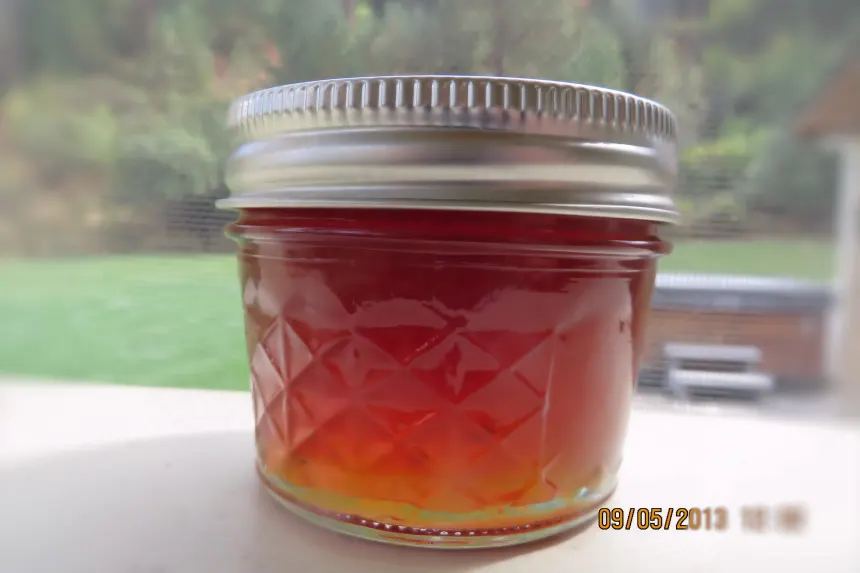 photo by Bonnie G #2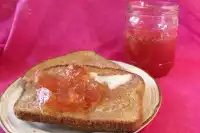 Ready In:

1hr

Ingredients:

5

Serves:

24
directions
(If not including juice and using a tea infusion as your only liquid, increase the amount of water to 2 cups.).
Bring water to boil, add tea bags and steep for 30 minutes.
Discard tea bags. Add sugar (and optional juice) to brewed tea and bring to a boil.
Boil for 2 minute stirring.
Remove from heat and add pectin, return to boil and allow to do so for 1 minute.
Skim off any foam.
Pour hot jelly into jars and process for 20 minutes.
Questions & Replies

The tea I drink gets horribly bitter if I steep it for the recommended 30 minutes. I steep mine for 5 minutes. I did find that this refuses to set for me...I think I might not be cooking it long enough to get some of the water out of it. Do you think that would work? I wasn't clear on the instructions for the steeping. Is that just sitting time or are you actively boiling during that time? Also, 2 cups of liquid is only 1 pint, or two half-pints, so I would guess that is why some of the folks don't get the full four half-pints out of the recipe.

 
Reviews
This recipe proved to be touchy for me. I made four separate batches (followed the recipe to the letter) and only one set properly. Even after waiting two weeks and reprocessing a batch, they still remained as syrup. I can't imagine the type of tea would make a difference but I made orange spice, corn (yes, corn tea!), apricot and red lavender. The red lavender, which was the only one that set up, was lovely. Guess I'll have to keep trying with different flavors!

 

I haven't made jelly since I had to finish making strawberry jam when my oldest sister went into labor.....that was a mighty loooong time ago. That baby is now a grandmother! Anyway, I used peach passion tea and key lime juice. I know it sounds weird, but it is delicious!! I really like tart tastes! Thnx for sharing your recipe, dividend. Made for Comfort Cafe Snow Queen Chalet Jan 2010.

 
RECIPE SUBMITTED BY
I'm a programmer by day, bread baker by night. To make a living, I do process automation for management at an inbound call center. (It's really not as exciting as it sounds.) Actually, I enjoy my job. There are worse things I could be doing to finance my cooking / baking habits. I never really knew how to cook growing up. Some of you in the Breads and Baking forum have heard my disastrous story about making Nestle Toll House cookies... When I went to college and moved out of the dorms, I started to become interested in actually learning how to cook. I had a lactose intolerant boyfriend, and a limited budget, so it made sense to stop eating take-out pizza and Taco Bell every day. I have to credit The Dairy Free Cookbook by Jane Zukin as my first real guide. (I still cook out of it , even though the boyfriend is long gone!) With that as a start, I set about systematically teaching myself how to cook. Five years later, I'm getting a reputation from friends and family as being a good cook. I love baking bread from scratch (I could really become a sourdough freak - thanks Donna!) - I can't seem to make enough cinnamon raisin swirl to keep my mom and grandmother happy. I'm enjoying getting back to eating seasonally, eschewing over - processed prepared food in favor of simpler, healthier, better tasting, cheaper meals I make myself. When I set out to learn, I never imagined I'd be making stock, roasting whole chickens, baking bread, or shopping at our local farmer's market. Now I can't imagine going back to the way I used to eat. I hope someday to learn enough about bread baking to open a local bakery/cafe, somewhere in Westport or Downtown Kansas City. I love my city, and the kind of place I have in mind will be a place that gives back to the community. I want to leave this city a better place for my having been here. Here's my standard metric for how I review recipes here, because I want my reviews to be helpful and consistent: ***** Fantastic as is. Wouldn't change a thing and will make it often. 0**** Fantastic tweaked a little to suit my tastes. Will make it often. 00*** Had to tweak it alot to get something I would make again. 000** Not very good. May try tweaking it again at some point. 0000* Not good. Probably won't try making again, even with tweaks. <img src="http://i23.photobucket.com/albums/b399/susied214/adopted_1_1.jpg" border="0" alt="Photobucket - Video and Image Hosting">
View Full Profile