Auntie Anne's Pretzels - Copycat
photo by Andrew Purcell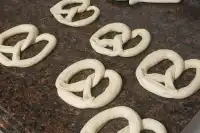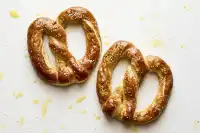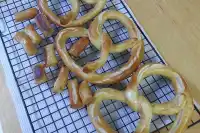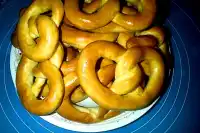 Ready In:

25mins

Ingredients:

10
directions
Sprinkle yeast on lukewarm water in mixing bowl; stir to dissolve.
Add sugar, salt and stir to dissolve; add flour and knead dough until smooth and elastic.
Let rise at least 1/2 hour.
While dough is rising, prepare a baking soda water bath with 2 cups warm water and 2 tbsp baking soda.
Be certain to stir often.
After dough has risen, pinch off bits of dough and roll into a long rope (about 1/2 inch or less thick) and shape.
Dip pretzel in soda solution and place on greased baking sheet.
Allow pretzels to rise again.
Bake in oven at 450 for about 10 minutes or until golden.
Brush with melted butter.
Toppings: After you brush with butter try sprinkling with coarse salt.
Or for Auntie Anne's famous Cinnamon Sugar, try melting a stick of butter in a shallow bowl (big enough to fit the entire pretzel) and in another shallow bowl make a mixture of cinnamon and sugar.
Dip the pretzel into the butter, coating both sides generously.
Then dip again into the cinnamon mixture.
Notes: The longer and thinner you can make the dough rope, the more like Auntie Anne's they will be.
Questions & Replies

This is my first time making pretzels. I ended up having to add an extra cup of bread flower in the first part because it was super runny. I made sure the water was the right temp when adding the yeast. Any idea what I may have done wrong here? I am currently waiting for 30 minutes to see if the dough rises.

 
Reviews
A great recipe, and two additional "copycat" tips:<br/><br/>Auntie Anne salts her pretzels before baking them so the salt adheres better to the surface<br/><br/>She does not let them rise again before putting them in the oven<br/><br/>You can spray a plain one with non fat baking spray to make a no fat cinnamon sugar to avoid all the butter.<br/><br/>Having the baking soda water mix as warm as you can comfortably tolerate leads to more brown less spotty coloration. <br/><br/>Enjoy!

 

This recipe was really good. I did add one more tablespoon of brown sugar and 2 tablespoons of melted sweet cream butter to the dough. I mixed the sugar, water and yeast together (to dissolve the brown sugar) then added the remaining ingredients to the mixer and let it knead for 8 minutes. If you let the dough rise for 2-3 hours, you will get a great texture. If the dough ropes spring back too much, let them sit about 10 minutes as dough needs to rest. I'm a pastry chef, and I did like the results. This also doubles easily, and as fast as they go, you will want to double the batch! ***Also, to get the great chewy texture, boil the water, add the baking soda and dip the pretzels in for about a minute before baking!!!

 

This is a fantastic copy cat recipe. There are two tricks to getting the flavor and texture exact: first, for the baking soda and water bath, boil the water and baking soda, and dip the raw pretzels in this with two spatulas, immersing for five seconds, then put them on the baking sheet. This eliminates the spotting you get with a tepid bath that contains undissolved baking soda. Second, you have to sweeten the melted butter before you use it to coat the cooked pretzels. I used a healthy pinch (maybe 1/8 tsp) of brown sugar into the hot melted butter and stirred well before coating the pretzels. <br/><br/>It's true, you don't need to let the pretzels rise before you bake them. And of course, just like at the mall, they are best right out of the oven versus reheated.<br/><br/>Great recipe!

 
Tweaks
Next time I will do a couple things different: 1. I will use a little less flour. Maybe 3 3/4 or 3 1/2 cup. 2. I will not salt the tops at all. The butter has the right flavor on its own. Also, I'd recommend using a little more brown sugar in dough and maybe only 1 tsp salt. I think that would make them spot on.

 

Fantastic recipe. Very easy to follow and fabulous result, my husband was eating them about as quick as I was finishing them lol. Great texture too. I think I need to work on my toppings, next time I think I'll try icing sugar and cinnamon instead of castor sugar. Will definately try these again, thanks for the fab recipe.

 

Great recipe! Perfect thing to make for a father and his 4 year old. We had a blast rolling them out together. Like another review, I also used 1 Cup Wheat Flour in place of the bread flour. After rolling in cinnamon sugar, I wasn't sure if I was eating a pretzel or a donut, but it didn't matter...it was great! Thanks.

 
RECIPE SUBMITTED BY
In Memory of Maxie, a beloved pet who we love and miss so very much. Our sweet Maxie was a black lab who wss put to sleep because of stomache cancer. 1997 - October 31, 2007 In Memory of Cheech, a beloved pet who we love and miss so much. March 1996 - July 9, 2005 In memory of Tanner, a beloved pet I love and miss you. July 15, 1999 - February 14, 2004 I live in Missouri, USA. I am a stay at home mom to 2 boys. Chance - January 1999 and Blake April 2005. My favorite cookbooks are: Kitchen Secrets by Reader's Digest, The Phillsbury Cookbook, Cambell's Favorite Recipes, Dinner On Hand by Kraft, The Complete Holiday Cookbook, Taste of Home Cookbooks, and a few family cookbooks. My favorite recipe sites are: Recipe_Center (http://groups.yahoo.com/group/Recipe_Center/), Classy Clones (http://groups.yahoo.com/group/Classy_Clones/), www.Recipezaar.com, www.Cooking.com, www.MyMeals.com, www.Cambellkitchen.com, www.copykat.com, www.verybestbaking.com, www.allrecipe.com, www.recipesource.com and www.topsecretrecipes.com I have 3 pets. Oreo, male cat Drake, Yellow Koi (fish) Rocky, Turtle
View Full Profile