Chewy Mall Pretzels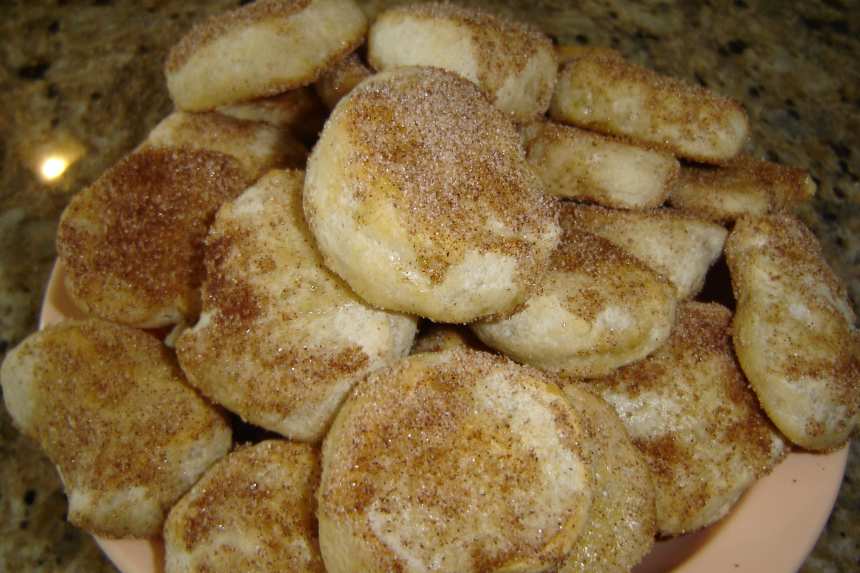 photo by Chris from Kansas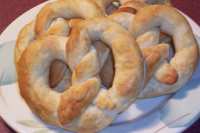 Ready In:

2hrs 8mins

Ingredients:

10
directions
In a large mixing bowl, dissolve the yeast, brown sugar and salt in 1 1/2 cups warm water.
Stir in flour, and knead dough on a floured surface until smooth and elastic, about 8 minutes.
Place in a greased bowl, and turn to coat the surface.
Cover, and let rise for one hour.
Combine 2 cups warm water and baking soda in an 8 inch square pan.
After dough has risen, cut into 12 pieces.
Roll each piece into a 3 foot rope, pencil thin or thinner.
Twist into a pretzel shape, and dip into the baking soda solution.
Place on greased or sprayed cookie sheets.
Brush pretzels with melted butter and sprinkle with garlic powder, parmesan cheese, sugar/cinnamon, coarse salt, etc.
(get creative;) Let rise 15 to 20 minutes.
Bake at 450 degrees for 8 to 10 minutes, or until golden brown.
Brush with additional melted butter, if desired.
Questions & Replies

Got a question?
Share it with the community!
Reviews
I hate writing bad reviews, but this recipe was a disaster. I followed it to a "T" and the dough came out way too sticky. I tried to roll the dough into ropes, but it was impossible and adding more flour just made it tough. I admire those of you who made this recipe successfully -- I don't know what your secret is. I am going to the store for a box of Super Pretzels now. Sorry, Manda :(. I wish I could give this recipe a better review but I have to be fair.

 

I made these into cinnamon/sugar pretzel bites, which are our favorite at the mall. I made the dough in the bread machine, then cut it into bite-size pieces, let it rise again and then baked. When it was finished baking, I brushed the bites with melted butter and then rolled in a cinnamon sugar mixture. The kids (and the adults) loved them!

 

YUM! These turned out surprisingly well after all the mishaps they endured at my hands! Haha.... first, I used dud yeast and the dough wouldn't rise (it was in date so I didn't bother proofing it first - mistake!). So I worked another packet of yeast (quick rise this time, all I had on hand) into the dough with another 1/4c water and a little more flour. Well, it rose, but by that time it was time for bed! So I wrapped it in plastic wrap (sprayed with pam) and put it in the fridge overnight. This morning I saw it had risen more during the night, split open the plastic wrap partway, and the parts exposed were hard as a rock! LOL... anyway, I cut off those parts, made my pretzels and baked as directed (except without toppings - like to put mine on afterward)- except I BARELY greased the baking sheet - another BIG mistake! These babies stuck like glue and I ended up ripping off the bottom 1/4 of each pretzel trying to pry them from the pan. However, all that said - we managed to force them down INSTANTLY because they were STILL completely delicious even after all I put them through. Needless to say, I decided not to take a picture of my mangled, tasty mess... but I will post one next time - and there WILL be a next time! Thanks for posting what truly is an easy recipe... we will enjoy it over and over! :) **Update** Made these again - YUMMO!!! No mishaps this time. :)

 

These pretzels were awesome. I thought they tasted very close to Auntie Anne's pretzels. I made the dough in the bread machine and the dough turned out almost perfect. I sprinkled a little flour under and over the dough before separating into pieces. That bit of flour helped with the stickiness some people experienced. Thanks for sharing!