30 Minute Fresh Mozzarella Cheese Homemade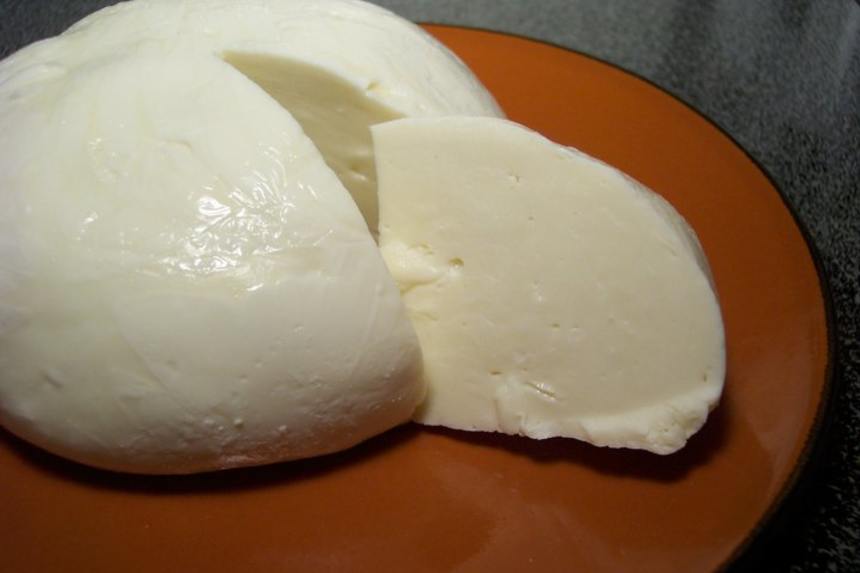 photo by LILLIANCOOKS

Ready In:

40mins

Ingredients:

5

Serves:

16
ingredients
1⁄2

rennet tablet

1⁄4 cup cool chlorine-free water (most bottled waters are chlorine-free)

1

gallon 2% low-fat milk (1%, or skim)

2

teaspoons citric acid

1

teaspoon salt (optional)
directions
Crush the rennet into the water and stir to dissolve.
Pour milk into a non-reactive pot (no aluminum or cast iron).
Place over medium heat. Sprinkle the citric acid over the milk and stir a few times. Heat milk to 88°F; milk will begin to curdle.
At 88°F, add the rennet solution and continue stirring slowly every few minutes until the milk reaches 105°F Turn off the heat. Large curds will appear and begin to separate from the whey (the clear, greenish liquid).
With a slotted spoon or mesh strainer, scoop the curd into a large glass bowl. (If it's still too liquid, let it set for a few more minutes). Press the curds gently with your hand and pour off as much whey as possible.
Microwave curds on high for 1 minute, then drain off all the excess whey.
With a spoon, press curds into a ball until cool.
Microwave two more times for 35 seconds each, and continue to drain the whey and work cheese into a ball.
In the meantime, place the whey over medium heat and let it heat to about 175°F.
When cheese is cool enough to touch, knead it like bread dough until smooth. When you can stretch it like taffy, it is done. You can sprinkle 1 to 2 teaspoons salt into the cheese while kneading and stretching it. The cheese will become stretchy, smooth and shiny. If it is difficult to stretch and breaks easily, dip it into the hot whey for a few seconds to make it warm and pliable. Then pick it up again and stretch it into a long rope. Fold over and stretch again. Dip in hot whey as needed to make the cheese pliable.
When the cheese is smooth and shiny (this takes just a few minutes), it is ready to eat. Shape it into a log or golf-size balls, then store in a solution of 2 teaspoons salt to 1 cup water.
Reviews
This was so easy and tastes WONDERFUL! My first attempt at this didn't work out... I used a cheap glass bowl for the microwaving part, and it exploded in my hand landing me in the ER. I used a Pyrex bowl this time and it turned out perfectly! I used half whole milk and half 2% milk. And it really did only take about 30 minutes to make. Thanks for sharing!

 

I have made this many times and my guests always love it! One time I made it and added a large clove of crushed garlic while I was kneading the cheese! It was delicious! I've even made it and added chopped kalamata olives. Just heat the chopped olives before adding it to the cheese during the kneading process, to keep the cheese from seizing up. YUM!

 

This was fun! I made the mistake though of using liquid rennet from the health food store. I found that 20 drops of the liquid is equivalent to 1 tablet so I used 10 drops for the half tablet. The curds for some reason didn't get very big so what I had was more like ricotta cheese. It could also have been due to the amount of citric acid. However, I was able to salvage the batch by sticking it in the microwave for over a minute at a time until it started to melt together. I then rolled it into little balls and have it stored in the fridge in a mixture of olive oil and rosemary. YUM! I've been wanting to do this for so long. Thanks for the easy recipe to get my courage up Bethany!

 

This was an extremely expensive and frustrating mess. Curds were small like ricotta and never became a stretchy ball, just a crumbly mess. So I have a big mess in my kitchen and a hole in my pocketbook from the rennet, citric acid and farm fresh milk. Easier/cheaper to buy the "fresh" moz from the store.

 
RECIPE SUBMITTED BY
I learned to cook out of desperation. My Grandmother was a great "Down Home" cook and she spoiled me. My Mom was into TV Dinners, yes those things that used to come on a foil tray. Yuk. My first experience with cooking actually was in Boy Scouts over a campfire. After a few times at cooking, I allways got "drafted" because all the other kids likes my cooking better. I've dome all the cooking for my family for over 30 years. and my kids are so spoiled, when they come home for college, they turn down going out and want me to cook. (Can you say "Spoiled") I only really follow a recipe when I'm baking. The rest of the time I either modify it, or I just wing it with out a recipe. ( It pays to write stuff down when you do this though because sometimes you stumble on something awesome, and then you can't recreate it) <img src="http://i23.photobucket.com/albums/b399/susied214/permanent%20collection/adoptedspring08.jpg" border="0" alt="Photobucket">
View Full Profile