24 Karat Cake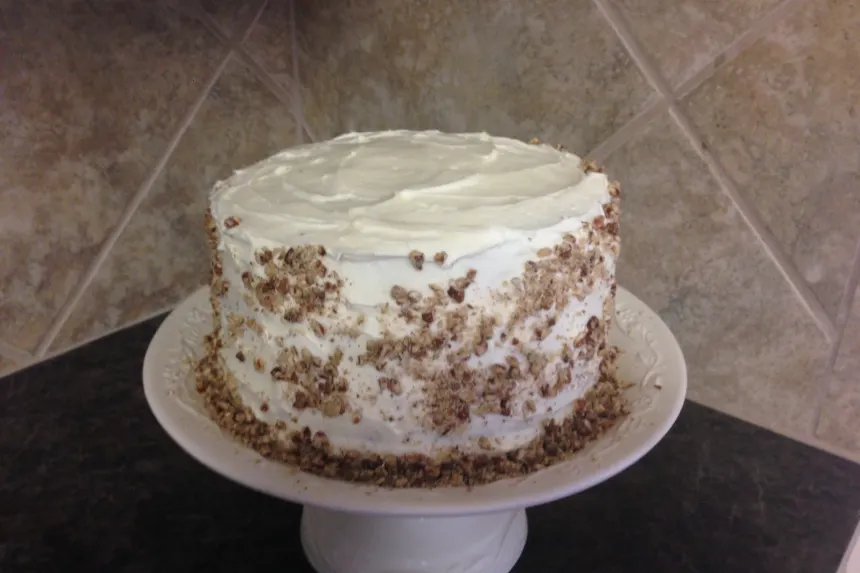 photo by Catherine H.
Ready In:

1hr 20mins

Ingredients:

23
directions
Prepare Cake:

Place oil in mixing bowl of electric mixer. Mix on low speed, adding sugar.
Mix all dry ingredients together.
Add eggs to oil and sugar mixture; mix.
Add dry ingredients and mix.
Add the carrots, pecans, raisins and crushed pineapple. Fold together.
Coat three 10 x 2 inch round cake pans with vegalene spray. Press a circle of parchment paper into the bottom of each pan and spray again to coat with vegalene. Coat the pans with flour and remove the excess.
Divide the batter evenly between the cake pans.
Bake at 300°F for 18 to 22 minutes or until a toothpick or cake tester inserted in center of cake comes away clean.
Remove from oven and allow to cool 20 to 30 minutes. Invert the cake pan onto a parchment paper-lined sheetpan. Refrigerate until cold before assembly.

Prepare Filling:

Place sugar, flour and salt in saucepan. Mix until well combined.
Gradually stir heavy cream into dry ingredients. Add butter and stir.
Place saucepan over medium heat, stirring constantly until mixture comes to a simmer.
Simmer, stirring constantly for 20-30 minutes or until the mixture is light golden brown. Cool to room temperature and then stir in nuts and vanilla.
Refrigerate until needed.

Prepare Frosting:

Place butter and cream cheese into the bowl of electric mixer. Mix at medium high speed until mixture is very light and fluffy.
Gradually add sugar and heat on high speed until light, fluffy and lump-free. Fold in vanilla.
Hold at room temperature - do not refrigerate.

Assemble your creation:

Place a cake layer onto a 12" plate and top with half of the Pecan Caramel Filling, spreading evenly to the edges.
Top with second layer and then remaining Pecan Caramel Filling. Spread evenly to the edges.
Top with the third layer. Use a spatula to remove any excess filling from around the edges.
Frost the cake with Cream Cheese Frosting about 1/4 inch all over. Sprinkle top of cake with additional pecan pieces, if desired.
Refrigerate at least 2 hours before slicing.
Remove the cake from the refrigerator. Heat a knife with hot water and cut the cake into 8 or 10 portions. Heat the knife between each cut for a neat, precise cut.
Place onto plates and serve immediately.
Questions & Replies

Got a question?
Share it with the community!
Reviews
I made this cake yesterday for my daughter's birthday and received rave reviews from everyone and my daughter took the remainder of the cake to her office and now I'm getting private messages about how they thought it was the best carrot cake they've ever tasted. Like many people have said, my Mother made the best carrot cake I'd ever tasted but the recipe has been lost over the years. I was worn out when I undertook this task and it took me a lot longer than 1 1/2 hours. I tried using two 8 1/2 round pans and filled to within 1/2 inch from the top. I wouldn't recommend that as it took an hour or more to cook at 300 degrees so I increased the oven temperature to 325 and ended up putting foil around the edges to prevent it from burning. I've heard some people skipping the pecan filling but OMG, that was such a treat! One of my daughter's friends owned a bakery shop and she loved the cake and filling. I may try a different cream cheese frosting the next time I make this cake. Bon appetite and thank you for sharing this recipe!

 

I used to own a restaurant and made this cake for the menu for years. It is truly the best carrot cake. I misplaced my recipe - in storage somewhere - so I set out to find it on the Internet. It is not as popular as the standard carrot cake but this is so much better. I'm glad to have found it and I know it will be excellent. From memory, I made the filling and let it set out at room temperature for 4 to 6 hours. Also, I added shredded coconut to the filling and I will again when I make this cake for a friend's birthday next week. Since 10" pans are used I find the cake serves more than 10 persons. I recall getting 16 pieces out of the recipe since it is so dense and rich. You will not go wrong with this cake when you want to impress!

 

Hello everyone. I made the cake. My mom always made a 24 Karat Carrot cake, all the while I grew up, and our family raved about hers, and only wanted hers. Well my own mom says this recipe is really good and comes super close. I took it over my uncle's house for Christmas, and I almost came home with none, because people wanted to take some home. I followed the recipe to the "t." The only thing I found that I needed to adjust was that I had to turn up the oven to 325 degrees, because it took too long for me at 300 degrees. Make sure if you make it you use a large enough pan, or you'll need to make another cake. I used a square PYREX pan, and had enough mix to make two. I did not layer mine because I did not have time. I made the other cake just a moment ago. I too skipped the Pecan topping/frosting/filling and opted instead for the classic cream cheese frosting. I found the cream cheese frosting recipe at www.finecooking.com, from their classic carrot cake, if I recall correctly. The frosting is good, and it received high ratings! I am not one to promote one site over the other, I just want what tastes good. So to whomever put this recipe out, if you would prefer I not give reference to other food websites, please feel free to email me and let me know, and I will not do that. I just wanted the next "chef" to have the option that I had. Thank you for this recipe.

 
RECIPE SUBMITTED BY
<p>Live and work in the heart of the US - Ohio! I work as a Risk Management Consultant, and I do have to work to pay the bills (at least for now), but my passion is cooking.....and eating with as much variety as I can find. I am incredibly lucky in that my BF will eat anything I cook and will give me his honest opinion. What more can you ask from a guy? Well.....let's not go there...at least not online LOL. <br />We share our home with four rescued cats and two Beagle Dachshund mixes (beaners!). We'd rescue more if I could afford the vet bills. <br />Other passions include my vegetable and herb garden, and BF provides the needed grunt work (laughs).</p>
View Full Profile