Ziti Al Forno (From the Sopranos Family Cookbook)
CindiJ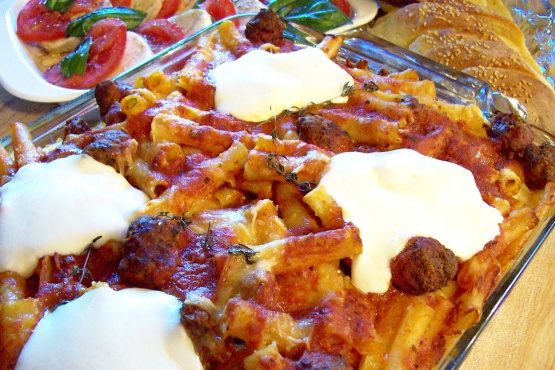 This is our family's recipe for baked ziti, too. Sometimes I also add spinach in with the cheeses, especially if I happen to have some leftover creamed spinach. I always use more sauce than the recipe calls for, it seems the pasta eats it up!
Put all the ziti in a large bowl.
Toss ziti with 3 cups of the gravy and half of the grated cheese.
Spoon half of the ziti into a casserole dish.
Spread the ricotta over the top of the ziti.
Sprinkle with the mozzarella and rest of grated cheese.
Pour on 1 cup of sauce.
Top with remaining ziti and rest of sauce (it will be almost overflowing) sprinkle with more grated cheese.
Bake covered with foil for 45 minutes and then uncovered for 15 minutes.
Let stand 15 minutes.
Tell me immediately how it was!