Minestra (Escarole and Little Meatballs Soup)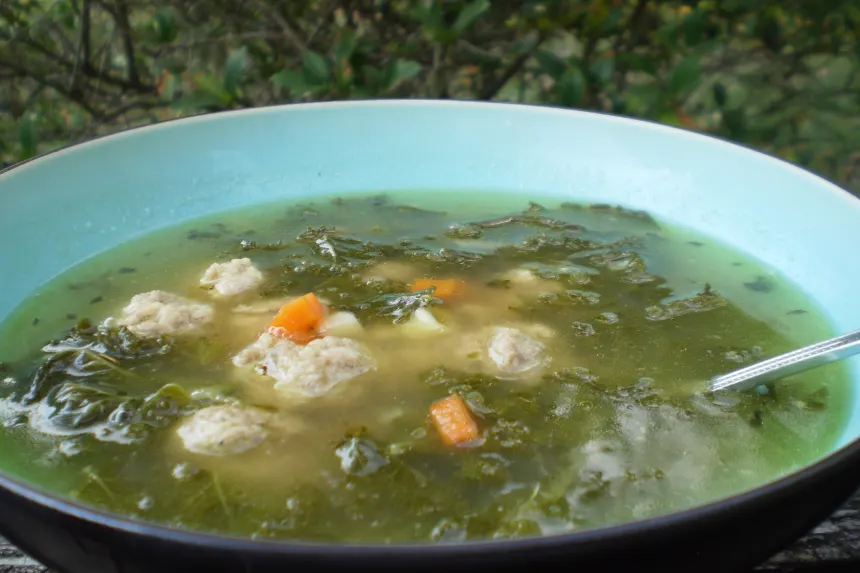 photo by breezermom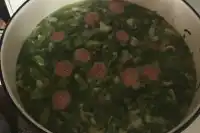 Ready In:

1hr 10mins

Ingredients:

13
directions
Trim the escarole and discard any bruised leaves. Cut off the stem ends. Seperate the leaves and wash well in cool water, especially the center of the leaves where soil collects. Stack the leaves and cut them crosswise into 1 inch strips. You should have about 4 cups.
In a large pot, combine the escarole, broth, carrots. Bring to a simmer and cook until the escarole is almost tender, about 30 minutes.
Meanwhile, mix together the ingredients for the meatballs. Shape the mixture into tiny meatballs, less than 1 inch in diameter.
When the escarole is cooked, stir in the pasta and return the soup to a simmer. Drop the meatballs into the soup. Cook over low heat, stirring gently, until the meatballs and pasta are cooked, about 20 minutes. Taste for seasoning. At this point I drizzle in one mixed egg and stir. It makes pretty egg flower strings throughout the soup.
Top with grated Parmesan and serve hot.
Reviews
I made this exactly as posted, except I forgot the eggs at the end....I don't think I missed them, except it would add bulk to the soup. I halved the recipe expecting to get 3 servings, but ended up with about 7 servings. Other, than this, this soup is spot on....delicious! I added the seasonings I liked at the end, as the poster suggested. I did add garlic in the first step, as I can't seem to make anything without garlic. Do check your seasonings before serving...I used homemade stock, that had no salt added. So I added salt. I also added pepper and a bit of italian seasoning. But if you use canned stock, you might not need salt. Taste before adding seasonings! This soup is delicious and very filling....made for PAC Spring 2011.

 
RECIPE SUBMITTED BY
<img src="http://www.recipezaar.com/members/home/521430/homecooking4.gif"/img> I am a California born desert rat (born & raised in 29 Palms; it's a dry heat! LOL!) transplanted in the boonies of New Jersey. Home is where the Air Force sends you and currently it's Jersey so forgetaboutit! LOL! I am a lucky lady. I met my better half and best friend in PE class in high school back in 1984. We have been together ever since. We will celebrate our 21 year wedding anniversary in Nov '08. After being told I could never have children we are blessed with two wonderful children. What can I say except that I love my family!I love to eat! I love to cook (I do have days I'd rather go out and eat LOL!). I'm addicted to Food Network! I watch it everyday. I also watch Top Chef, Hell's Kitchen and some of the cooking shows on the BBC ( Masterchef, Daily Cooks, etc..). Thank goodness for Tivo. ;) My honey on his first deployment to the Middle East in '03: <img src="http://www.recipezaar.com/members/home/521430/daddy2sm.jpg"/img> <img src="http://www.recipezaar.com/members/home/521430/sp.gif"/img><img src="http://www.recipezaar.com/members/home/521430/bthome.gif"/img> <img src="http://www.recipezaar.com/members/home/521430/misc414.gif"/img><img src="http://www.recipezaar.com/members/home/521430/milwife.jpg"/img><img src="http://www.recipezaar.com/members/home/521430/sparkle%20fairy.gif"/img><img src="http://www.recipezaar.com/members/home/521430/misc325.gif"/img><img src="http://www.recipezaar.com/members/home/521430/gallery30.gif"/img><img src="http://www.recipezaar.com/members/home/521430/pierced.jpg"/img> <img src="http://www.recipezaar.com/members/home/521430/hogwarts.gif"/img><img src="http://www.recipezaar.com/members/home/521430/innerdork.gif"/img> I am always looking for good recipes to try. I like to try new recipes at least once a week or as our budget allows. My family and friends love being my taste testers. <img src="http://www.recipezaar.com/members/home/521430/MyFamily.gif"/img> <img src="http://www.recipezaar.com/members/home/521430/Jimbo.jpg"/img> With the last big dog food scare I stopped feeding our big boy commercial dog food. After researching and reading about commercial dog food over the past year and finding out that the dog food companies use nasty stuff not fit for human consumption (roadkill, euthanized animals, slaughterhouse gunk, etc...) I now cook for our family pet. I wish I would have made the switch sooner. Fortunately all his blood tests came back normal after eating some of the tainted food. I have put his favorite home cooked dog food recipes in my "Jimmy Boy" cookbook. My heart goes out to those of you who lost a pet to the tainted dog food. I highly recommend educating yourself about commercial dog foods and dog food companies. It is shocking what they can do and what they can get away with. A good book to read is: "Foods Pets Die For" by Ann Martin. <a href="http://www.newsagepress.com/foodpetsdiefor.html ">click here</a> How I rate recipes: If I make a dish and do not like it I don't rate it. I'd hate for someone to leave a bad rating on one of my recipes so I don't do it to others. I figure we are all different and we all have different tastes. Who am I to tell someone that their favorite recipe needs work because my tastes are different? <img src="http://www.recipezaar.com/members/home/521430/clean%20kitchen.gif"/img> <img src="http://i23.photobucket.com/albums/b399/susied214/permanent%20collection/Adopted1smp.jpg" border="0" alt="Photo Sharing and Video Hosting at Photobucket">
View Full Profile