Boomette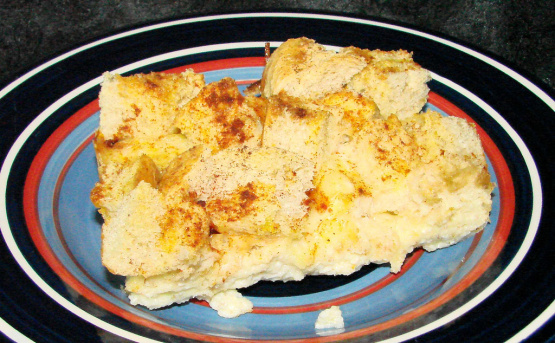 Taken from The Basic Shelf Cookbook. A nice basic recipe that can have many different additions like meats or veggies.
Preheat oven to 350°F.
Lightly grease an 8x8in baking pan.
Spread about half the bread cubes over the bottom of baking pan.
Sprinkle cheese over bread.
Arrange the rest of the bread cubes over the cheese.
Mix eggs, milk, butter, salt and pepper in a medium bowl.
Pour egg mixture over bread cubes.
Let stand 10 minutes.
Sprinkle paprika lightly over top.
Place baking pan in a larger pan that has been half filled with hot water.
Place both pans in oven together.
Bake about 40-45 minutes.
To see if the casserole is cooked, put a small knife in the middle of it, if it comes out clean, the casserole is done.