vrvrvr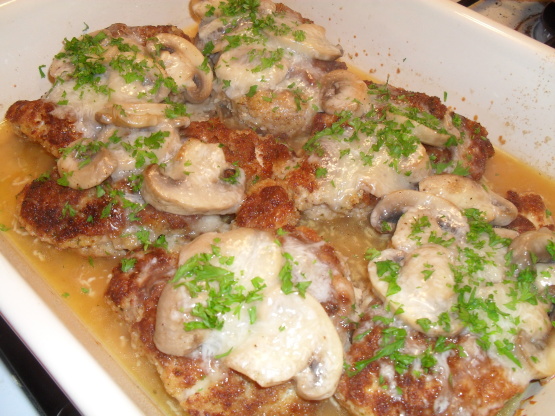 Chicken, Wine, Jack Cheese & Mushrooms! This is a recipe that my Grandmother came up with years ago. She called it Chicken Santa Cruz as she developed it after having something similar on the wharf in Santa Cruz, CA. My kids have always called it "The Yummy Chicken". It is definately YUMMY and is a family favorite.

This was fantastic! I did not have to cook it so long but the flavor was exceptional....a must try.
Preheat oven to 350 degrees.
Beat eggs and leave in bowl.
Pour parmesan cheese on to a small plate (for dipping).
Pour bread crumbs on to small plate (for dipping).
Pound chicken breasts to 1/8 thick (to tenderize).
Heat a small amount of oil in frying pan, just enough to cover the bottom.
Dip breasts first in parmesan cheese, then in egg, then in bread crumbs.
Brown to a nice golden brown on both sides and remove to a 9x13 cassarole dish.
Wash and slice mushrooms (1/2 lb was an estimate, use as mamy mushrooms as you like or none at all).
Saute mushrooms in same frying pan- just until soft.
Add the wine to the mushrooms (Just to cook off the alcohol) approx 5 minutes.
Cover the chicken breasts with the mushrooms and the wine.
Cover with cassarole dish with foil.
Bake at 350 degrees for 45 minutes.
Remove from oven, remove foil and place one large slice of jack cheese on each breast.
Cover with foil and return to oven for an additional 10-15 minutes or until cheese has melted.
Most of my amounts were estimates as I now make this from memory, but you can see, they are easily adjusted to suit your family size.
My daughter and I do not like mushrooms so we put them all on my hubbys pieces!