Redsie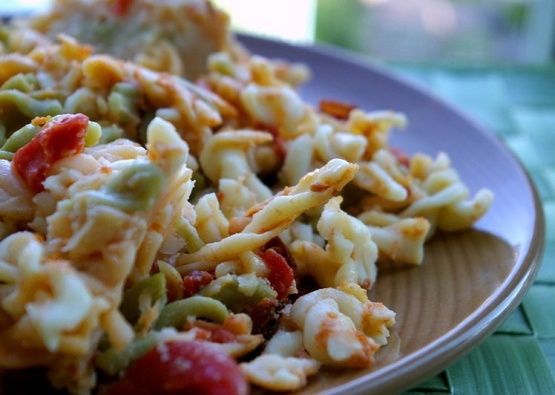 My grandaughter (with help from her Daddy) gave me a wonderful cookbook for Christmas called "The Whole Foods Market Cookbook". This is the recipe that my DS recommend to try 1st. It was full of fat so I have made it lower in fat. The original recipe said it served 6 in a 9X9 inch pan. There is so much of this stuff I can't imagine it fitting in that size of pan. I used a 9X13 inch pan and it was full.This is my version of this tasty dish. Still high in calories but lower in fat. Made WW friendly-7 points
Great low-cal alternative to Mac and Cheese. It ends up tasting almost like a nacho cheese casserole... and that's awesome. Thanks for sharing.
3

tablespoons light margarine
1 1⁄2 cups onions, chopped

3

garlic cloves, minced (1 1/2 tsp)
1 1⁄2 teaspoons cumin
1 1⁄2 teaspoons coriander
1⁄4 cup unbleached all-purpose flour

2

cups low-fat milk

1

large jalapeno pepper, seeded and chopped
1⁄4 teaspoon cayenne pepper
1 1⁄2 teaspoons salt

2

cups diced tomatoes, canned, undrained
1⁄2 cup part-skim mozzarella cheese, grated
1⁄2 cup low-fat cheddar cheese, grated
1⁄2 cup low-fat swiss cheese, grated

2

cups cooked chicken breasts, chopped

1

lb penne pasta, cooked and drained
1⁄2 cup parmesan cheese, grated
1⁄2 cup dried breadcrumbs
Preheat the oven to 350 degrees.
Melt the butter in a large saute' pan, and add the onion, garlic, cumin, and coriander.
Cook for 2 to 3 minutes, stirring often, or until the onion is soft.
Mix in the flour, and cook the mixture over moderate heat for 1 minute, stirring constantly.
Using a wire whisk, slowly incorporate the milk into the onion mixture until the flour and milk are blended.
Bring this to a boil, lower, the heat to a simmer, and stir in the jalapeno pepper, cayenne pepper, salt, and tomatoes with their juice.
Simmer for 15 minutes.
Remove the pan from the heat, and stir in the mozzarella cheese, cheddar cheese, and Swiss cheese, blending until well mixed.
Combine the sauce, cooked pasta and the chicken in a large mixing bowl.
Place the sauced pasta in a 9X13-inch baking dish, sprayed with cooking spray.
In a small bowl, mix the Parmesan cheese with the bread crumbs.
Sprinkle the Parmesan topping over the pasta.
Bake for 30 to 35 minutes, until the crumb topping is golden brown.