teresas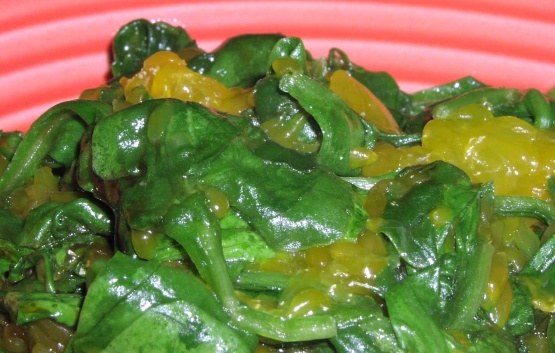 When my son was younger he didn't want to eat spinach, so when I found this recipe I thought he might like it because of the sweetness of the mandarin oranges. Well, he did like it and now eats spinach whatever way I prepare it.

This is great! I cut the recipe in half and used a packaged spinach. I did use the full can of mandarin oranges. Oh! and for the juice I used the mandarin orange juice. This was very tasty. I did think that the mandarin oranges would hold their shape but that didn't happen. :) Overall a great dish that will be made again. Thanks for posting.
Separate spinach into leaves. Swish in cold water and repeat several times to remove any grit. Pat dry with paper towels. Cut entire stem using a v-shaped cut into the spinach leaf and then discard stem. If using prepackaged spinach, it's already washed and cut up, so you can skip these steps.
Heat oil in wok or large saucepan over medium-high heat; add spinach and mandarin oranges. Stir-fry for 2-3 minutes just until spinach wilts. Transfer to serving dish. Heat soy sauce and juice in pan; pour over spinach and toss gently to coat. Garnish with orange slices, if desired. Serve immediately.