Wicklewood's Gluten Free Parmesan Thins
loof751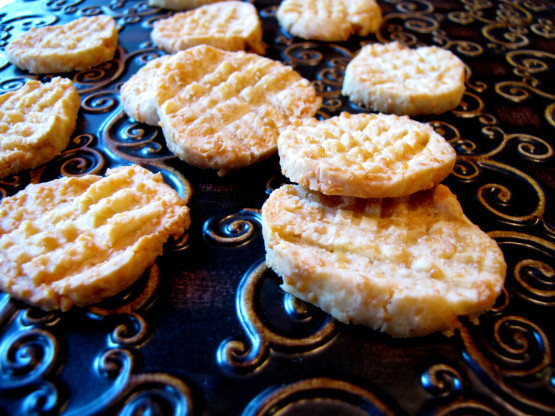 Cheese is my great weakness and this gluten free version of a favourite only makes it easier to indulge.

These are very tasty crackers! The fact that they're gluten free is just an added bonus. I tasted one about 10 minutes after they came out of the oven and it was great; waiting another 20 minutes they were perfect as they got delightfully crisp after they had completely cooled. Thanks for sharing a great recipe!
Preheat the oven to 200c 400f.
I a bowl rub together the flour and butter until it resembles breadcrumbs.
Work in the egg yolk, cheese, salt and mustard, bring together to form a dough.
Shape the dough into a log and wrap in cling film and chill for 15 minutes.
Cut the log in to 1/4" slices and arrange on a baking sheet, flatten slightly with a fork to decorate.
Bake for 10 mins or until they are crisp and light golden.
Allow to cool slightly before transferring to a cooling rack.