Wicklewood's Broccoli and Bacon Crust Less Quiche
PaulaG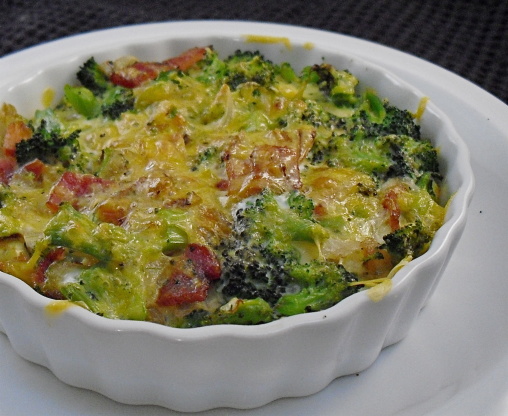 This is a great way of feeding a diabetic and a coeliac and a fussy eater all at the same time,,,and if I have to feed a vegetarian as well I simply leave out the bacon!!!!Simple.
Top Review by PaulaG
The recipe was reduced to 2 servings and I used individual dishes. The broccoli was steamed in the microwave and then roughly chopped. The onions were cooked in a dry skillet making the dishes a little healthier. This is a delicious and low carb making it perfect for a Diabetic diet.
Preheat oven to 180c.
In a pan of salted boiling water blanch the broccoli for 5 mins, drain and set aside.
Fry the bacon and onions together in a skillet until the onions are soft (approx. 5 mins).
Remove and add to the broccoli.
In a large bowl beat the eggs, cream cheese and seasoning together.
Add the broccoli, bacon and onion, mix well.
Spoon into a well-greased 9" baking tin.
Bake for 35 mins or until just set in the centre when tested with a toothpick.