White Wine Garlic Alfredo Sauce
glf721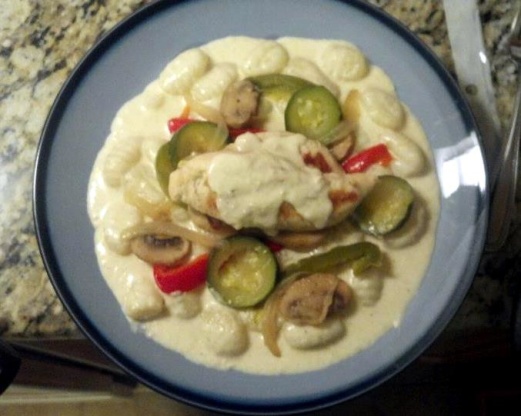 Couldn't seem to find a recipe I liked so I made my own and thus far all my friends have enjoyed it, hope you do too. Also its really important to use freshly shredded/grated parmesan, nothing pre-shredded/grated will melt correctly and it will be grainy and lumpy.

I looked all over www.foodnetwork.com for this recipe and not one person had this recipe. Thank you so much for adding this! You made me a food.com person! I love this because it is simple and delicious, and oh yea made with white wine. Prolly my favorite part haha. Anyways, thank you so much!!!
1. In medium sauce pan heat heavy whipping cream over medium low heat stirring occationally. (Do NOT let it boil.) Depending on your stove 5-15 minutes.
2. Add pressed garlic and mix well, slowly add parmesan cheese while constantly stirring.
3. Slowly mix in white wine while stirring, then add salt and pepper to taste. Reduce heat a little let sit stirring occassionally for 6-8 minutes.
4. Let cool slightly and serve over fettucini or linguini.
**I like to add 1 lb. grilled chicken and 2 cups steamed broccoli to the sauce before I serve it. Also I top with extra parmesan cheese. But it's of course optional!