White Chocolate Mousse Cake
CIndytc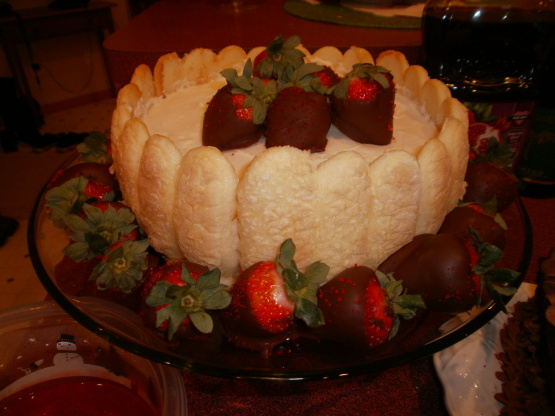 Found this recipe in an old Southern Lady magazine for Christmas. Want to make this for Christmas dinner as the picture is fabulous and it looks easy. Cooking time is refrigerator time.
Line bottom and sides of a 9 inch springform pan with ladyfingers; set aside.
In a heavy saucepan, combine milk, marshmallows, and chocolate. Cook over low heat, stirring constantly, until smooth. Remove from heat. Cool for 20 minutes.
Beat cream at high speed with an electric mixer until soft peaks form. Gently fold into cooled chocolate mixture.
Pour chocolate mixture into prepared pan. Cover and chill for at least 4 hours.
Serve with Strawberry Sauce.
Garnish with chocolate-dipped strawberries, if desired.