pincus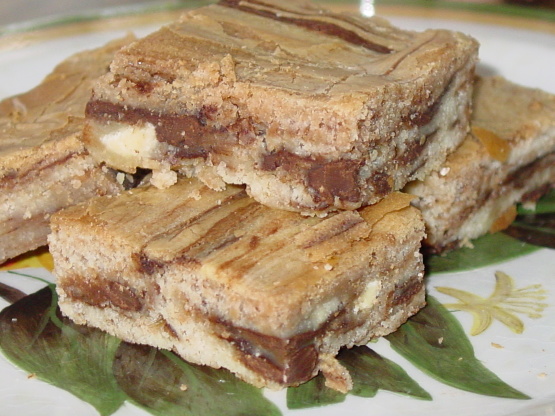 The original recipe came from the Eagle Brand 1-2-3 Dessert Cookbook. I changed it up a bit and called it mine. The chocolate and white chocolate chips are swirled through the batter to give it a marbled effect. I cut the pieces small because it is a little rich, but oh so good.
Preheat oven to 350°F Grease 13x0 inch pan. In large saucepan over low heat, melt 1 cup of chips and butter. Stir in sweetened condensed milk, egg and vanilla. Stir in flour and baking powder until blended. Stir in pecans and remaining chips. Spoon into mixture into prepared pan.
Bake 20 to 25 minutes. Cool. Sprinkle with powdered sugar; cut into squares. Store covered at room temperature.