Whats in the Fridge "spinach Dip"
Nif_H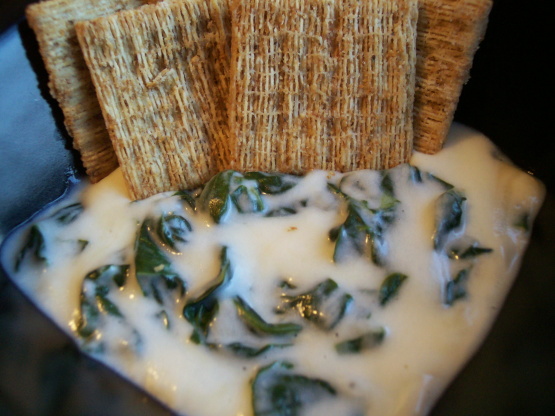 I had a last minute appetizer to make for a 40 people (my original appetizer got "accidentaly" thrown away!) I looked through the fridge and used what I had. I was out of sour cream and mayo so I made a basic cream sause for my base, really easy and cheep. I'll be making this again soon!

Top Review by Nif_H
I like what's in your fridge! This is the first time that I have had swiss cheese and spinach together but this will not be the last time! I scaled this down to feed 2 (OK, I ate it all myself!) and it worked out great. I had to skip running the spinach through the food processor because I just had a bit of spinach but it great without that step. Maybe add a little nutmeg next time, but that's about it! Made for my adopted chef for this round of PAC. Thanks Laura! :)
Thaw frozen or stem fresh spinach, then squeeze out all water; run through the food prossesor.
Cook butter and flour together for 1 minute or so,
add milk, cook and stir till thickened.
Add spinach, let cool a bit before adding your swiss cheese.
Add salt and pepper to taste.
Serve warm or at room temperature with bread and crackers.