Way Too Easy Char Siu Chicken Wings
ImPat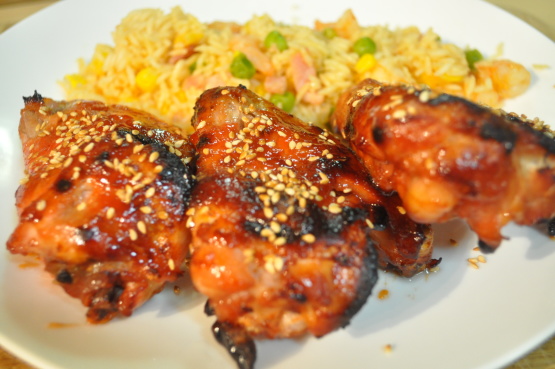 Sometime I don't have time to make a marinade so this works just fine. We leave the wing tips on and fold them back under the frst joint. This method creates pocket-like places for more marinade, it keeps them neat and tidy, easy to turn and no more burnt tips. The tips can be discarded by the folk who eat the wings.

Top Review by ImPat
I used a full recipe for 9 chicken wings (for 3 people and the wings weighed about 1 1/2K before cutting off the tips which I use to make stock/broth), I baked according to the recipe except on the timing which I initially baked 20 minutes and then put second coat of marinade on and baked and further 20 minutes and the result was beautifully sweet fall apart chicken wings. For me personally a little too sweet but loved by the DM and DS, so on a personal not I would add some chilli to give some zing for myself. Thank you omeomy #2, made for Bargain Basement.
Pre heat oven to 400F (about 220C).
Microwave Char Siu and water (or heat on stove) and stir to combine.
Wash and pat dry wings.
Place wings in a big bowl or zip-lock bag.
Pour the Char Siu/water mix over.
Marinate for at least an hour.
Place wings on lined cookie sheet.
Pour half the marinade over the wings.
Bake for 12 or so minutes.
Turn wings over and pour on remaining marinade.
Lower oven temp to 350°F.
Bake 15 minutes more until golden brown.
Place on serving platter and scatter with the sesame seeds.