ImPat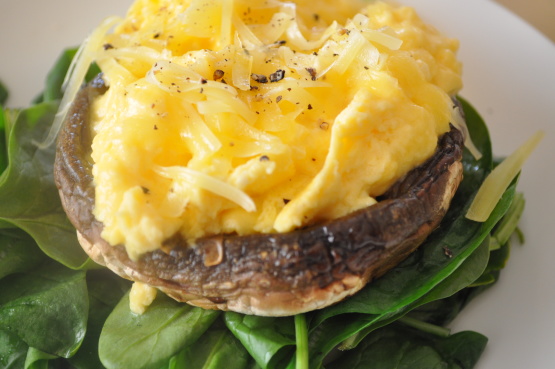 A great vegetarian breakfast from a small recipe book attached to the current copy of Better Homes Magazine. I liked this recipe as it has no bread and suits a vegetarian gluten-free breakfast. A great dish to serve to company. The large mushrooms form the base of the dish instead of using toast or rolls

Delicious! The parts come together so well, from the creaminess of the eggs to the mushroom with its tasty drizzle. I used fresh spinach leaves and grated sharp cheddar and just loved the extra boost of flavor it gave to the dish. Gorgeous presentation, yet still quick and easy to put together! Thanks for sharing!
Preheat oven to 180°C and line an oven tray with baking paper.
Place mushrooms, cavity side-up, on th etray.
Combine the balsamic vinegar, maple syrup and the oil. Drizzle over the mushrooms.
Bake the mushrooms for 15 minutes, or until the mushrooms are soft.
While the mushrooms are cooking - melt the butter in a large non-stick frypan or saucepan.
Ina seperate bowl- whisk the eggs, cream and cheese. THen pour them into the pan with the melted butter. Stir until scrambled, but not dry.
Spoon the scrambled eggs into the mushrooms. Season with salt and pepper.
Sprinkle over some extra grated cheese as garnish and serve with fresh or wilted spinach leaves.
Enjoy!